Women's Fermented Multivitamin
Codeage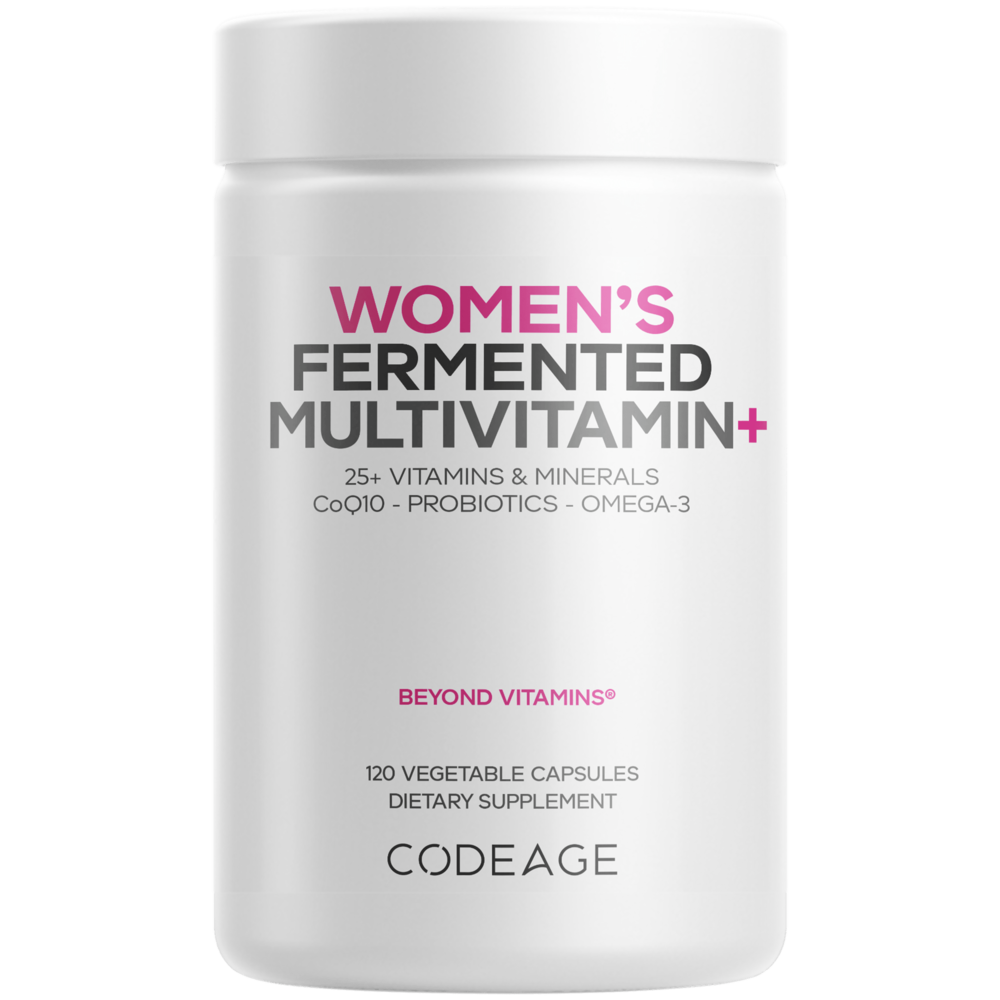 SKU: COD404-853919008311
Codeage Women's Multivitamin is designed specifically for women. This premium formula offers 25+ daily vitamins and minerals in an all-in-one solution. Their fermented women's multivitamin is made with real whole foods and offers probiotics, fermented vitamins, enzyme-activated minerals, fruits, vegetables and more. This advanced solution includes vitamin A beta carotene, plant based vitamin C acerola cherry, vegan vitamin D3, vitamin E from tocopherol, K2, and methylated B-Complex (folate, B6, B12, biotin). The formula features essential minerals such as calcium, magnesium, potassium, selenium, zinc, vegan omega-3 from microalgae, CoQ10, lutein & more. Probiotics and enzymes are also included to offer an all-in-one daily formula for women.
Promote hormonal health*
Promote vitality*
Support the immune function*


Suggested Use:
Take 3 capsules daily with 8 ounces of water or your favorite beverage. May be taken with or without food.


Serving Size: 4 Capsules

Amount Per Serving
Vitamin A … 900 mcg
(as Beta Carotene; from D. salina with Full Spectrum Carotenoids)
Vitamin C … 90 mg
(from Acerola Cherry Extract & Camu Camu Berry)
Vitamin D … 40 mcg
(as Plant-Based Fermented Cholecalciferol; from Wild-Harvested Lichen)
Vitamin E … 24.8 mg
(as D-Alpha Tocopheryl Succinate)
Thiamin … 3 mg
(as Thiamine HCl)
Riboflavin … 3 mg
Niacin … 20 mg
(as Niacinamide)
Vitamin B6 … 4 mg
[as Pyridoxal-5'-Phosphate (P-5-P)]
Folate … 680 mcg DFE
[as L-5-methyltetrahydrofolate (L-5-MTHF)]
Vitamin B12 … 6 mcg
(as Methylcobalamin)
Biotin … 300 mcg
Pantothenic Acid … 9 mg
(as Calcium Pantothenate)
Choline … 55 mg
(from Sunflower Lecithin)
Calcium … 110 mg
(as Aquamin & Citrate)
Iodine … 150 mcg
(from Kelp†)
Magnesium … 220 mg
(as Algae & Citrate)
Zinc … 11 mg
(as Amino Acid Chelate)
Selenium … 70 mcg
(as Yeast-Free L-Selenomethionine)
Copper … 0.9 mg
(as Amino Acid Chelate)
Manganese … 2.3 mg
(as Natural Sulfate)
Chromium … 35 mcg
(Organically Grown w/ GTF Activity)
Molybdenum … 75 mcg
(as Glycinate)
Potassium … 75 mg
(as Natural Chloride)
Fermented Women's Botanical Blend … 800 mg
Fermented Spirulina†, Fermented Camu Camu Berry†, Sprouted Fermented Canihua Seed (Chenopodium pallidicaule)†, Fermented Reishi Mycelium†, Fermented Schisandra Berry†, Fermented Sage Leaf Extract†, Fermented Astragalus Root†, Fermented Ashwagandha Root†, Fermented Amla Berry Extract†, Sprouted Fermented Chia Seed†, Fermented Dong Quai Root†, Fermented Holy Basil Leaf (Ocimum tenuiflorum)†, Fermented Chastetree Berry†
Vegan Collagen Booster Blend … 100 mg
L-Lysine HCl, Glycine, L-Proline
Probiotic Blend (5 billion CFU ) … 60.5 mg
L. acidophilus, L. bulgaricus, B. bifidum
Digestive Enzyme Blend … 55 mg
Lipase, Amylase, Protease
Omega 3 (from Microalgae) … 50 mg
Coenzyme Q10 (CoQ10) … 30 mg
Lutein (from Marigold Flowers) … 10 mg
Fermented Turmeric Root … 10 mg
Boron (as Amino Acid Chelate) … 1 mg
Vitamin K2 (as Menaquinone-7; from B.licheniformis) 120 mcg
Trace Minerals (from Sea Water) … 20 mcg
Vanadium Sulfate … 10 mcg

Other Ingredients: Methylcellulose Capsule.


Vegan. Non-GMO, dairy, soy and gluten free.



Warning
: Do not exceed recommended dose. Pregnant or nursing mothers, children under 18 and individuals with a known medical condition should consult a physician before using this or any dietary supplement. Please use caution if you have allergies or sensitives to any of the listed ingredients.