Men's Fermented Multivitamin
Codeage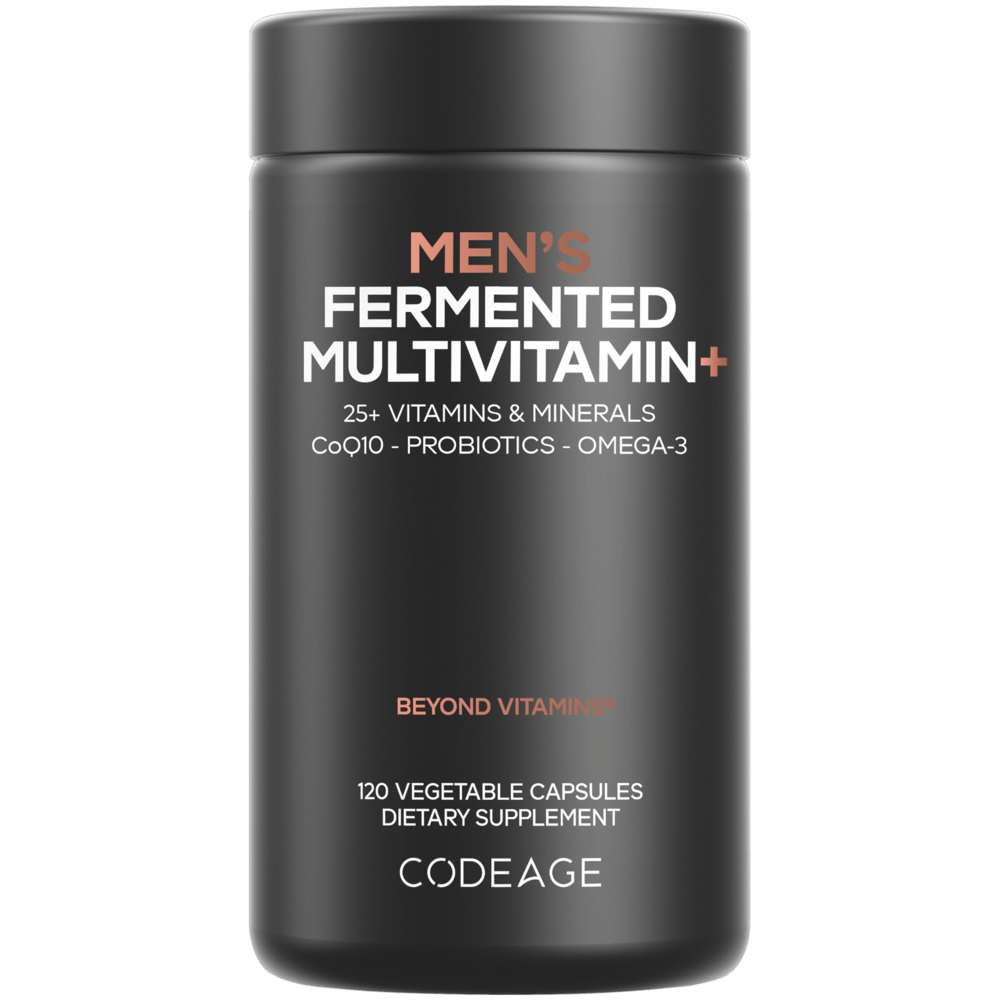 SKU: COD404-853919008519
Codeage Men's Daily Multivitamin is designed specifically for men. This premium formula offers 25+ daily vitamins and minerals in an all-in-one solution. Their supplement is made with real whole foods and offers probiotics, fermented vitamins, enzyme-activated minerals, fruits, vegetables, and a men's vitality blend. This advanced solution includes vegan vitamin A beta carotene, plant based vitamin C acerola cherry, vegan vitamin D3, vitamin E from tocopherol, K2, and methylated B-Complex (folate, B6, B12, biotin). The formula features essential minerals such as calcium, copper, manganese, magnesium, potassium, selenium, iodine, zinc, vegan omega-3 from microalgae, CoQ10, lutein & more.
Promote vitality*
Support the immune function*
Suggested Use:
Take 3 capsules daily with 8 ounces of water or your favorite beverage. May be taken with or without food.
Serving Size:
4 Capsules
Amount Per Serving
Vitamin A
… 900 mcg
(as Beta Carotene; from D. salina with Full Spectrum Carotenoids)
Vitamin C
… 90 mg
(from Acerola Cherry Extract & Camu Camu Berry)
Vitamin D
… 40 mcg
(as Plant-Based Fermented Cholecalciferol; from Wild-Harvested Lichen)
Vitamin E
… 32 mg
(as D-Alpha Tocopheryl Succinate)
Thiamin
… 1.5 mg
(as Thiamine HCl)
Riboflavin
… 1.5 mg
Niacin
… 20 mg
(as Niacinamide)
Vitamin B6
… 2 mg
[as Pyridoxal-5'-Phosphate (P-5-P)]
Folate
… 680 mcg DFE
[as L-5-methyltetrahydrofolate (L-5-MTHF)]
Vitamin B12
… 6 mcg
(as Methylcobalamin)
Biotin
… 300 mcg
Pantothenic Acid
… 5 mg
(as Calcium Pantothenate)
Choline
… 55 mg
(from Sunflower Lecithin)
Calcium
… 110 mg
(as Aquamin & Citrate)
Iodine
… 150 mcg
(from Kelp†)
Magnesium
… 220 mg
(as Algae & Citrate)
Zinc
… 15 mg
(as Amino Acid Chelate)
Selenium
… 70 mcg
(as Yeast-Free L-Selenomethionine)
Copper
… 1.5mg
(as Amino Acid Chelate)
Manganese
… 2.3 mg
(as Natural Sulfate)
Chromium
… 35 mcg
(Organically Grown w/ GTF Activity)
Molybdenum
… 80 mcg
(as Glycinate)
Men's Vitality Blend
... 800 mg
Fermented Astragalus (Root)†, Fermented Beet (Root)†, Fermented Fenugreek (Seed)†, Fermented Hawthorn Berry (Fruit)†, Fermented Licorice (Root)†, Fermented Maca (Root; Lepidium meyenii)†, Black Pepper Powder (Fruit), Fermented Cordyceps Mushroom (Fruiting Bodies)†, Fermented Ginger (Root)†, Fermented Grape (Seed)†, Fermented Panax Ginseng†, Fermented Reishi Mushroom (Fruiting Bodies)†, Fermented Schisandrra Berry(Fruit)†, Fermented Turmeric (Root)†
Probiotic Blend
(1 Billion CFU) ... 58 mg
L. bulgaricus, B. bifidum
Digestive Enzyme Blend
... 55 mg
Amylase, Protease, Lipase
Omega-3
... 50 mg
(from Microalgae)
Lutein
... 10 mg
(from Marigold)
Coenzyme Q-10
(CoQ10) ... 425 mcg
Boron
... 160 mcg
(as Amino Acid Chelate)
Vitamin K2
... 120 mcg
(as Menaquinone-7)
Trace Minerals
(Sea Water) ... 20 mcg
Vanadium Sulfate
... 10 mcg
†Organic Ingredient
Other Ingredients:
Methylcellulose Capsule.
Warning
: Do not exceed recommended dose. Pregnant or nursing mothers, children under 18 and individuals with a known medical condition should consult a physician before using this or any dietary supplement. Please use caution if you have allergies or sensitives to any of the listed ingredients.
Accidental overdose of iron-containing products is a lead cause of fatal poisoning in children under 6. Keep this product out of reach of children. In case of accidental overdose, call a doctor or poison control center immediately.