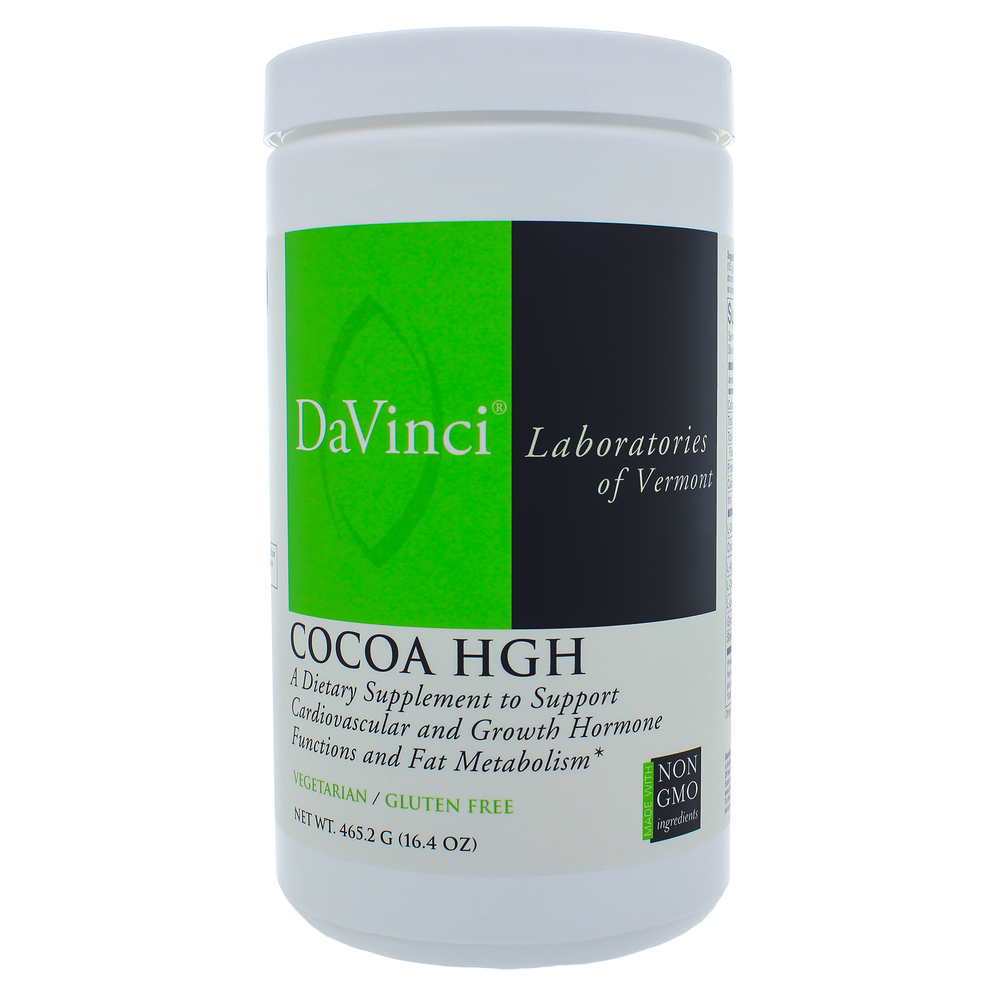 SKU: DAV-020036D030
Cocoa HGH is a delicious chocolate powdered drink mix that is vegetarian and gluten free. It is flavored with cocoa a natural source of flavonoids and polyphenols which provide beneficial antioxidant support.* Cocoa HGH contains a special blend of 5 free form amino acids known as secretagogues, which are specifically formulated to support the natural release of the body's own Human Growth Hormone (HGH).*
Cocoa HGH focuses on the release of stored human growth hormone by combining the proper quantities and ratios of L-Glutamine, L-Arginine, L-Ornithine, L-Lysine and Glycine. Supporting healthy human growth hormone levels, along with the synergistic and individual effects of the free form amino acids, makes this product that benefits a more healthy aging process.*
As a dietary supplement, mix 1 scoop (15.5 g) per day in 8 oz. of water and take on an empty stomach at bedtime or right after strenuous exercise or as directed by your healthcare practitioner.
Serving Size: 1 Scoop (15.5 grams)
Amount Per Serving
Calories ... 60
Calories from Fat ... 5
Total Fat ... 0.5g
Total Carbohydrates ... 2g
Fiber ... 1g
Protein ... 12g
Calcium ... 8mg
Iron ... 1mg
L-Glutamine ... 6, 000mg
Cocoa Powder ... 4, 500mg
L-Arginine ... 1, 000mg
L-Ornithine ... 1, 000mg
L-Lysine ... 1, 250mg
Glycine ... 1, 000mg
Stevia Leaf Extract ... 57mg
Other Ingredients: none
Color, flavor and sweetness of this product may vary due to variations of natural ingredients.
WARNING: Persons with kidney disorders should consult with their healthcare practitioner prior to using this product. If pregnant or nursing, consult your healthcare practitioner before taking this product.
CAUTION: Jar contains desiccant to reduce moisture and clumping. Do not eat desiccant.
Keep out of reach of children.
Store in a cool, dry place at 59-86°F.
If inner seal is broken, do not use.


WARNING: Consuming this product can expose you to chemicals including lead and arsenic, which are known to the State of California to cause birth defects or other reproductive harm. For more information go to www.P65Warnings.ca.gov/food