Cod Liver Oil Forte
Seroyal/Genestra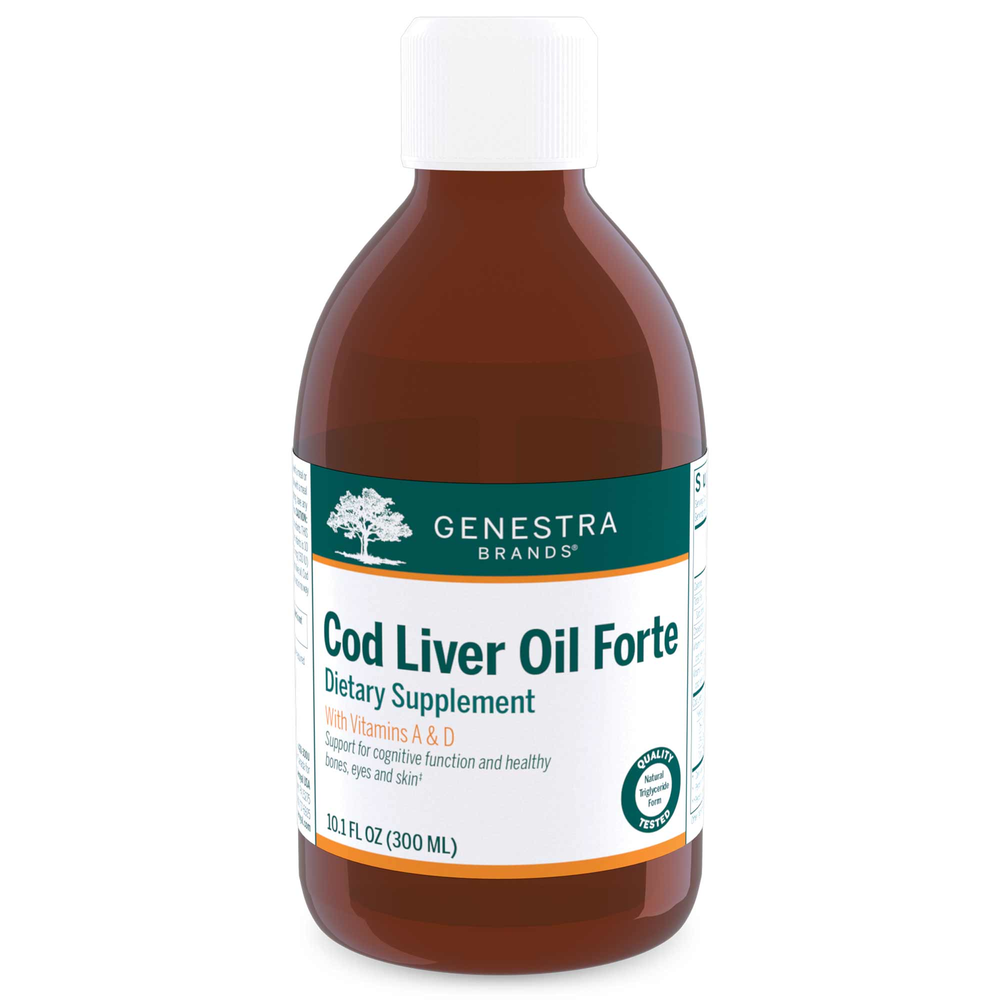 SKU: GN-10428
Cod liver oil formula with vitamins A and D
Supports cognitive function and brain and nerve development in children up to 12 years of age*
Supports healthy bones, teeth, eyes and skin*
Provides 300 mg of DHA and 330 mg of EPA per teaspoon
Also includes 850 mcg of vitamin A and 7 mcg (280 IU) of vitamin D per teaspoon
Comes in a delicious natural citrus flavor
Cod liver oil is a source of omega-3 fatty acids, which promote ocular development, visual acuity, and pre- and postnatal brain development. Cod liver oil contains high levels of vitamins A and D, which support healthy bones, teeth, and skin. Vitamin A promotes eye health and supports proper bone growth and development. Recent research indicates that 600 IU of vitamin D per day may promote optimal bone health in both adolescents and adults.*
Suggested Use:
Adults and Children (4 years and older): Take 1 teaspoon (5mL) daily with a meal or as recommended by your healthcare practitioner.
Children (1 - 3 years): Take ½ teaspoon (1.25mL) daily with a meal or as recommended by your healthcare practitioner.


Serving Size: 1 Teaspoon (5 ml)

Amount Per Serving
Calories ... 45
Total Fat ... 4.5g
Saturated Fat ... 1g
Cholesterol ... 20mg
Vitamin A ... 850mcg
(as cod liver oil)
Vitamin D ... 280IU/ 7mcg
(as cod liver oil)
Cod Liver Oil ... 3200mg
(from Atlantic cod, Gadus morhua)
Yielding
EPA ... 330mg
(Eicosapentaenoic acid)
DHA ... 300mg
(Docosahexaenoic acid)

Other Ingredients: Sunflower oil, organic sweet orange oil, organic lemon oil, rosemary leaf extract, mixed tocopherols concentrate.

Contains: Fish (cod)
Warning: If you are pregnant or lactating, have any health condition or are taking any medication, consult your health professional before use.

Caution: Accidental overdose of liquid vitamin D products can lead to serious adverse side effects in infants. THIS PRODUCT IS NOT INTENDED FOR INFANTS.

Keep out of reach of children.

Storage: Use only if safety seal is intact. Do not drink directly from the bottle. Refrigerate after opening. Like extra virgin olive oil, Cod Liver Oil Forte may occasionally become cloudy in cold conditions. This is perfectly normal and in no way affects the quality of the oil.