Cod Liver Oil Gems™ 460mg
Carlson Labs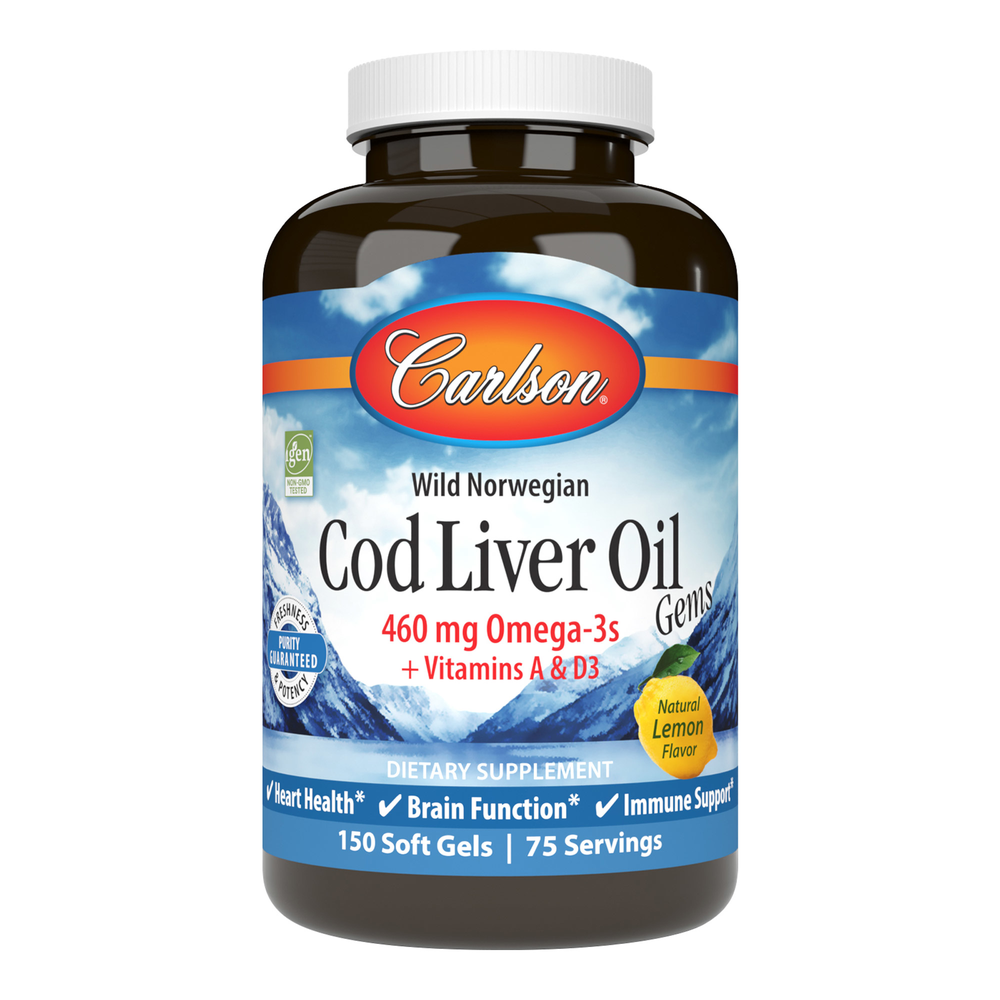 SKU: CL-1381
Each serving of Cod Liver Oil Gems™ provides 460 mg of omega-3s, which support heart, brain, vision, and joint health. Cod Liver Oil Gems™ have a delicious lightly lemon flavor, so soft gels can be chewed or swallowed. To ensure maximum freshness, Cod Liver Oil Gems™ are closely managed from sea to store. Cod Liver Oil softgels providing 460 mg of omega-3 and Vitamins A and D.
We source the highest quality Arctic cod off the coast of Norway using traditional, sustainable methods. The same day they're caught, our fish are transported to a highly regulated Norwegian facility for processing and purification. Like all Carlson omega-3s, freshness, potency, and purity are guaranteed.
Supports heart, brain, and immune function
460 mg of omega-3s per serving | Light lemon-flavored soft gels
Sustainably sourced from wild-caught Norwegian Arctic cod
IFOS and IGEN non-GMO certified
Freshness, potency, and purity guaranteed
Suggested Use:
Adults take two soft gels once daily at mealtime.
Serving Size:
2 Soft Gels
Amount Per ServingCalories
... 20
Total Fat
... 2g
Cholesterol
... 10mg
Protein
... <1g
Vitamin A
... 90mcg RAE
(from Cod Liver Oil and retinyl palmitate)
Vitamin D3
... 4mcg
(from Cod Liver Oil and cholecalciferol)
Vitamin E
... 2.7mg
(as d-alpha tocopherol)
Norwegian Cod Liver Oil
... 2g†
Total Omega-3 Fatty Acids
... 460mg†
EPA
... 170mg†
(Eicosapentaenoic Acid)
DHA
... 200mg†
(Docosahexaenoic Acid)

Other Ingredients:
Soft gel shell (beef gelatin, glycerin, water), natural lemon flavor.
Contains
fish (cod).

Gluten Free
No Artificial Preservatives