Solar D Gems 2000IU
Carlson Labs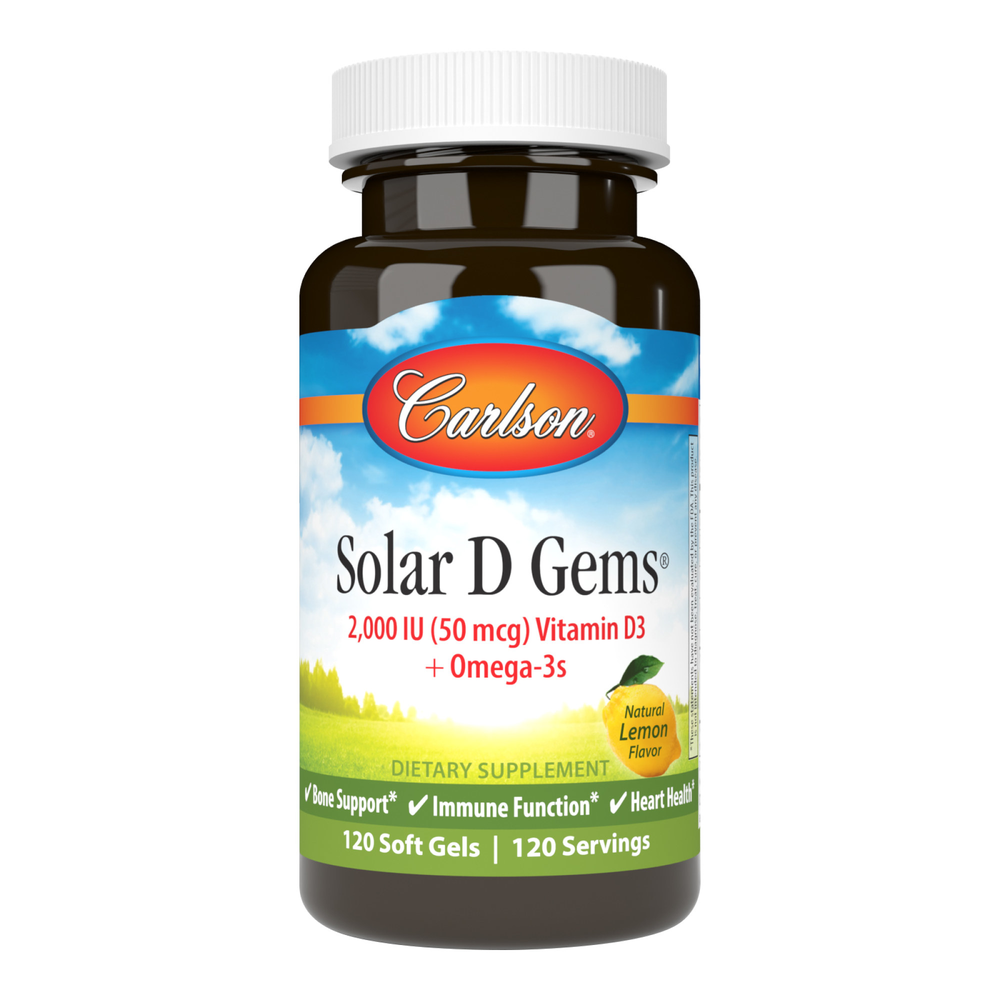 SKU: CL-1471
Solar D Gems® is a vitamin D3 supplement for those who don't get enough from food or the sun. Vitamin D is a superstar nutrient linked to many health benefits. What makes it so unique is that it's a vitamin you can get through food and also a hormone your body makes from the sun. Despite the multiple ways of getting vitamin D, many are still deficient due to changing seasons, sunscreen, skin color, age, and sun protection. Solar D Gems® also provides 115 mg of wild caught, sustainably sourced omega-3s, which support heart, brain, vision, and joint health.
Promotes bone health and immune function
Provides 2,000 IU (50 mcg) of vitamin D3 + 115 mg of omega-3s
Wild caught and sustainably sourced
Natural lemon-flavored soft gels
Freshness, potency, and purity guaranteed
Adults:
take one soft gel daily at mealtime.
Serving Size:
1 Soft Gel
Amount Per ServingCalories
... 5
Total Fat
... 0.5g
Cholesterol
... 2.5mg
Vitamin A
... 27mcg RAE
(as retinyl palmitate) (from cod liver oil)
Vitamin D
... 50mcg (2,000IU)
(as cholecalciferol) (from cod liver oil and cholecalciferol concentrate)
Vitamin E
... 0.67mg
(as d-alpha tocopherol)
Norwegian Cod Liver Oil
... 500mg
Total Omega-3's
... 115mg
DHA
... 50mg
(DocosaHexaenoic Acid)
EPA
... 42mg
(EicosaPentaenoic Acid)
Other Ingredients:
Soft Gel Shell (beef gelatin, glycerin, water), natural lemon flavor
Contains
fish (cod).
Gluten Free
No Artificial Preservatives