Colloidal Multi Mins Liquid
Seroyal/Genestra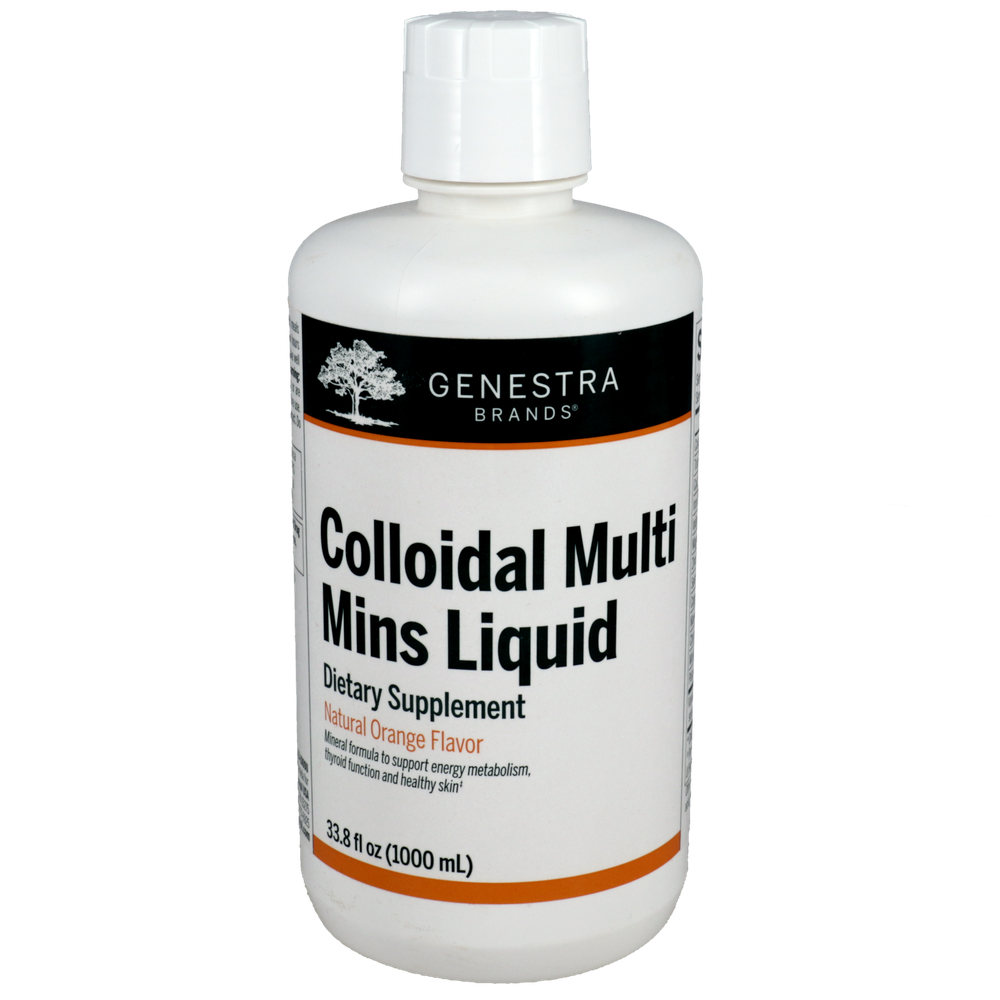 SKU: GN-04215
Multimineral formulation provides trace and colloidal minerals
With added sodium montmorillonite, which provides 49 colloidal minerals
Provides antioxidants for cellular support*
Helps the body to metabolize carbohydrates, fats and proteins*
Supports thyroid function*
Helps to maintain healthy skin and immune function*
Helps to prevent iodine, selenium, chromium and molybdenum deficiencies*
Natural orange-flavored
Great taste for excellent patient compliance
Ideal for vegans
Adults (19 years and older): Take two tablespoons two times daily with meals or as recommended by your healthcare practitioner. Take a few hours before or after taking other medications. Shake well before use. Do not refrigerate.
Serving Size: 2 Tablespoons (30 ml)
Amount Per Serving
Calories ... 15
Total Carbohydrate ... 3g
Calcium ... 6mg
(as calcium carbonate)
Iron ... 0.6mg
(as iron gluconate)
Iodine ... 100mcg
(as potassium hydroxide)
Magnesium ... 3mg
(as magnesium hydroxide)
Zinc ... 0.6mg
(as zinc gluconate)
Selenium ... 50mcg
(as sodium selenite)
Copper ... 0.2mg
(as copper gluconate)
Manganese ... 0.6mg
(as manganese gluconate)
Chromium ... 100mcg
(as chromium nicotinate glycinate)
Molybdenum ... 50mcg
(molybdenum citrate)
Potassium ... 4mg
(potassium sorbate/gluconate)
Vanadium ... 50mcg
(as vanadiumHVP chelate/sodium metavanadate)


Other Ingredients: Purified water, glycerin, organic sweet orange oil, citric acid, xanthum gum, potassium sorbate, organic stevia leaf extract.
Risk Information: If you are pregnant or breastfeeding, consult your healthcare practitioner prior to use.
Quality Assurance: Safety-sealed for your protection and for product freshness. Do not use if inner seal is missing or broken. Store in a cool, dry place. Keep out of reach of children.