Congest-Blaster™
Patient One MediNutritionals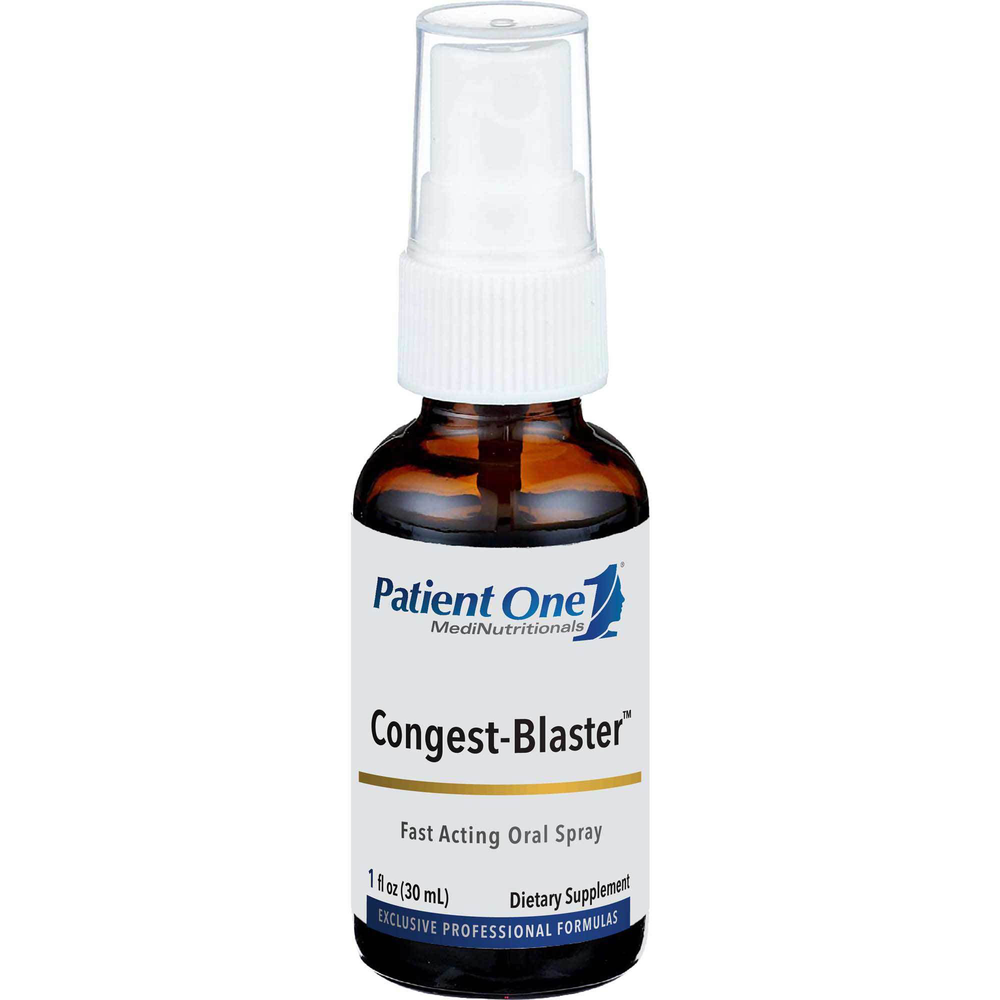 SKU: ONE631-P1033S
Fast-acting oral spray for natural sinus and respiratory support
Promotes clear sinus and nasal passages
Supports respiratory health
Helps maintain normal mucous secretion
Promotes healthy immune function
Patient One Congest-Blaster oral spray promotes clear respiration and healthy lung and bronchial function. Spray this blend of powerful botanicals into the mouth for fast-acting natural support during times of immune challenges or seasonal changes. Congest-Blaster was formulated to provide comfort from symptoms associated with sinus and mucosal congestion. It supplies a synergistic combination of immune-boosting herbal extracts including horseradish, echinacea, elderberry, peppermint, garlic, cayenne, olive leaf, horehound, licorice, goldenseal, spilanthes, wild cherry, osha, andrographis, onion and yarrow.

Our 1 fluid ounce bottle is convenient to carry when on the go or easily accessible on your bedside table.
Suggested Use:
Hold close to mouth, spray 2 times and swallow, or take as directed by your health practitioner. Repeat as needed. Shake well before use.
Serving Size: 2 Sprays (0.33 mL)


Amount Per Serving
Sinus Support Blend … 115 mg
Fresh horseradish root, echinacea angustifolia root, fresh spilanthes herb, elderberry fruit, garlic bulb, cayenne fruit, peppermint oil, olive leaf, horehound herb, licorice root, goldenseal root, wild cherry bark, fresh osha root, andrographis herb, onion bulb, yarrow herb.

Other Ingredients: Grain alcohol (37-47%), deionized water, vegetable glycerin, organic honey.


This product is free of milk, egg, fish, peanuts, crustacean shellfish, soy, tree nuts, wheat, yeast and gluten. Free of ingredients derived from genetically modified organisms (GMOs).
Warning: Do not take if pregnant or nursing. If taking any medications, consult doctor before use. Discontinue use and consult doctor if any adverse reactions occur. Keep out of reach of children.