CoQ10 600mg
Protocol for Life Balance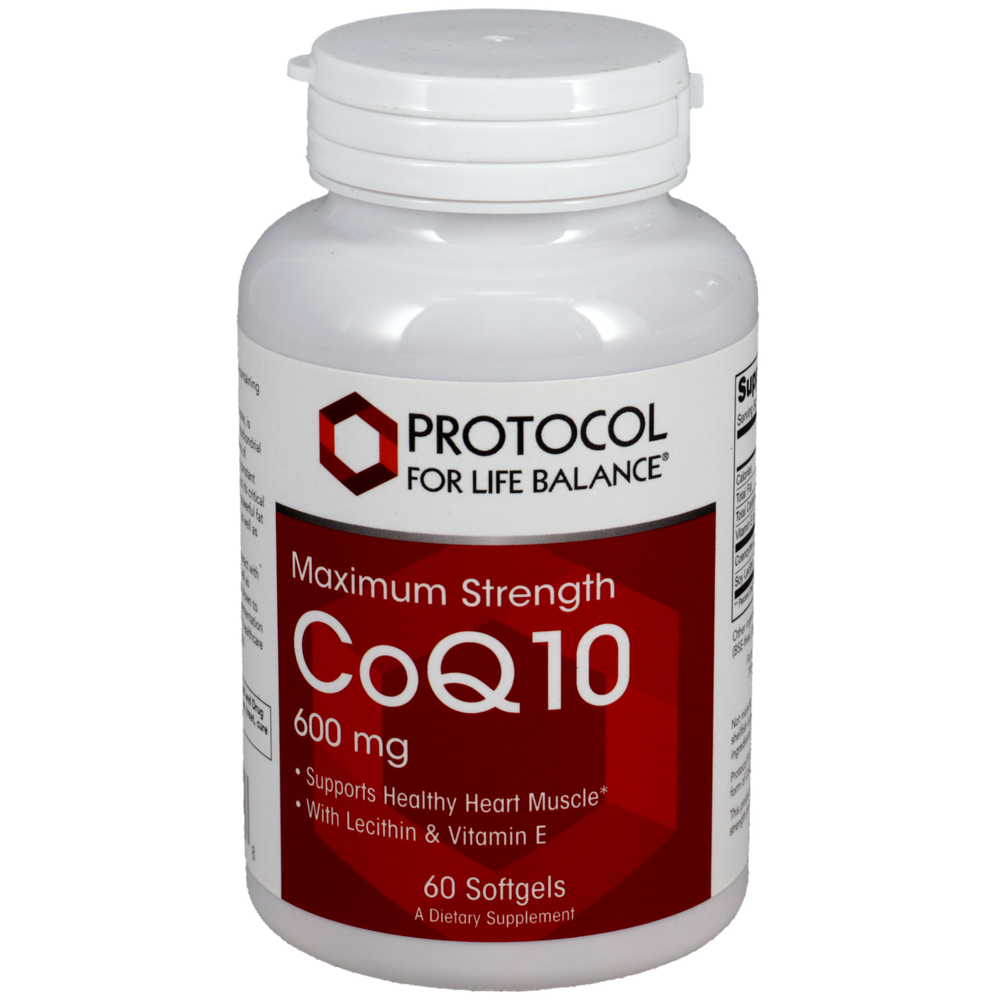 SKU: PROT-P3182
Coenzyme Q10, also called ubiquinone, is present in almost all cells, where it is necessary for mitochondrial energy production. The body's highest concentrations of Coenzyme Q10 (CoQ10) are found in the heart, where constant chemical energy availability is imperative. In addition to its benefits for cardiac function through energy production, CoQ10 also functions as a powerful fat soluble antioxidant, providing protection against free radical attack for vascular structures, as well as for other tissues.


As a dietary supplement, take 1 softgel 1 to 2 times daily with meals. For intensive use, take 180-1200 mg daily under the supervision of a health care practitioner.
Serving Size: 1 Softgel
Amount Per Serving
Calories ... 10
Calories from Fat ... 5
Total Fat ... 0.5g
Trans Fat ... 0g
Total Carbohydrate ... <1g
Vitamin E ... 30IU
(as d-alpha Tocopherol)
Zinc ... 4mg
(from Zinc Oxide)
Coenzyme Q10 ... 600mg
(CoQ10)
Soy Lecithin ... 50mg
Other Ingredients: Rice Bran Oil, Softgel Capsule (gelatin, glycerin, water, annatto extract, zinc oxide) and Beeswax. PEG-Free.
Contains no sugar, salt, starch, yeast, wheat, gluten, corn, milk, egg, shellfish or preservatives.


Protocol For Life Balance™ CoQ10 is a Pharmaceutical Grade natural, all-trans form produced by fermentation.
CAUTIONS AND INTERACTIONS: CoQ10 may reduce the anticoagulant effect of warfarin. In addition, CoQ10 may increase the effectiveness of certain blood pressure medication, including diltiazem, metoprolol, enalapril, and nitrate. Statin medications have been shown to decrease CoQ10 levels in the body and CoQ10 supplementation may be beneficial when taking these drugs.
Formulated by doctors and clinical scientists exclusively for licensed healthcare practitioners. Manufactured in an A-rated Good Manufacturing (GMP) Certified facility.
This bottle contains an Ageless® oxygen absorbing packet to ensure freshness. Do not eat Packet.
Store in a cool, dry place. Please Recycle.