Curaphen® Extra Strength
EuroMedica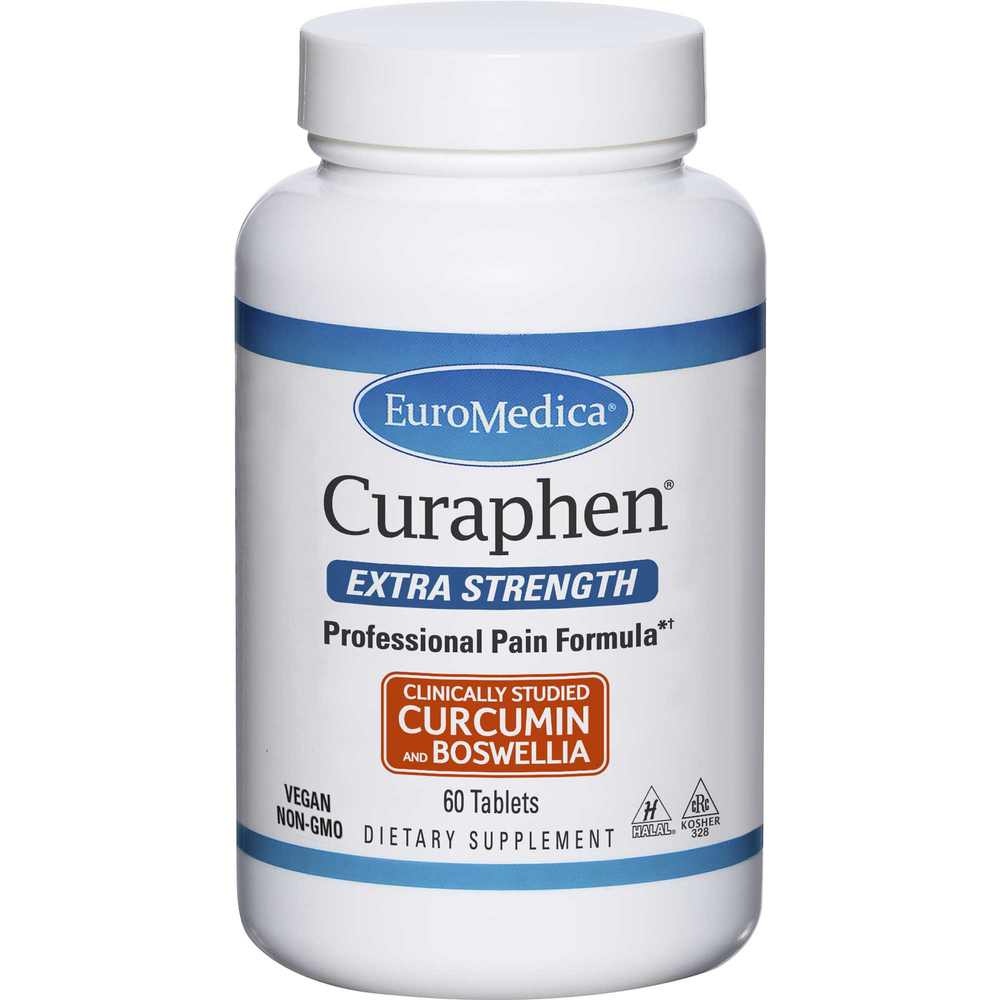 SKU: EUR866-61206
For Extra Powerful Relief, Curaphen Extra Strength is the Answer!*†

Curaphen Extra Strength features higher levels of targeted ingredients in a larger, more concentrated form than regular strength Curaphen. Each ingredient addresses pain via a different clinical pathway, which results in significant pain relief.*†

† Occasional muscle pain due to exercise or overuse.
1 tablet daily. May take one tablet three times daily, or as directed by your healthcare practitioner.

Serving Size: 1 Capsule

Amount Per Serving
Calories ... 5
Total Carbohydrates ... <1g
Proprietary Complex ... 902 mg
DLPA (DL-phenylalanine), Boswellia (Boswellia serrata) Gum Resin Extract (BOS-10™) standardized to contain > 70% Total Organic and Boswellic Acids with AKBA > 10%, with < 5% beta-boswellic acids, Curcumin (Curcuma longa) Rhizome Extract (BCM-95®/Curcugreen®) enhanced with turmeric essential oil and standardized for curcuminoid complex (curcumin, demethoxycurcumin and bisdemethoxycurcumin), Nattokinase

Other Ingredients: Cellulose powder, stearic acid, silica, vegetable source magnesium stearate, croscarmellose sodium, ethylcellulose.

Contains: Soy (less than 5 parts per million).

Does not contain: Sugar, salt, yeast, wheat, gluten, corn, dairy products, artificial coloring, artificial flavoring, artificial preservatives or GMOs.

Color variations are normal.

Ideal for vegans.
If pregnant or nursing, consult a healthcare practitioner before using.