Daily Fundamentals - Adrenal Health Packs
Standard Process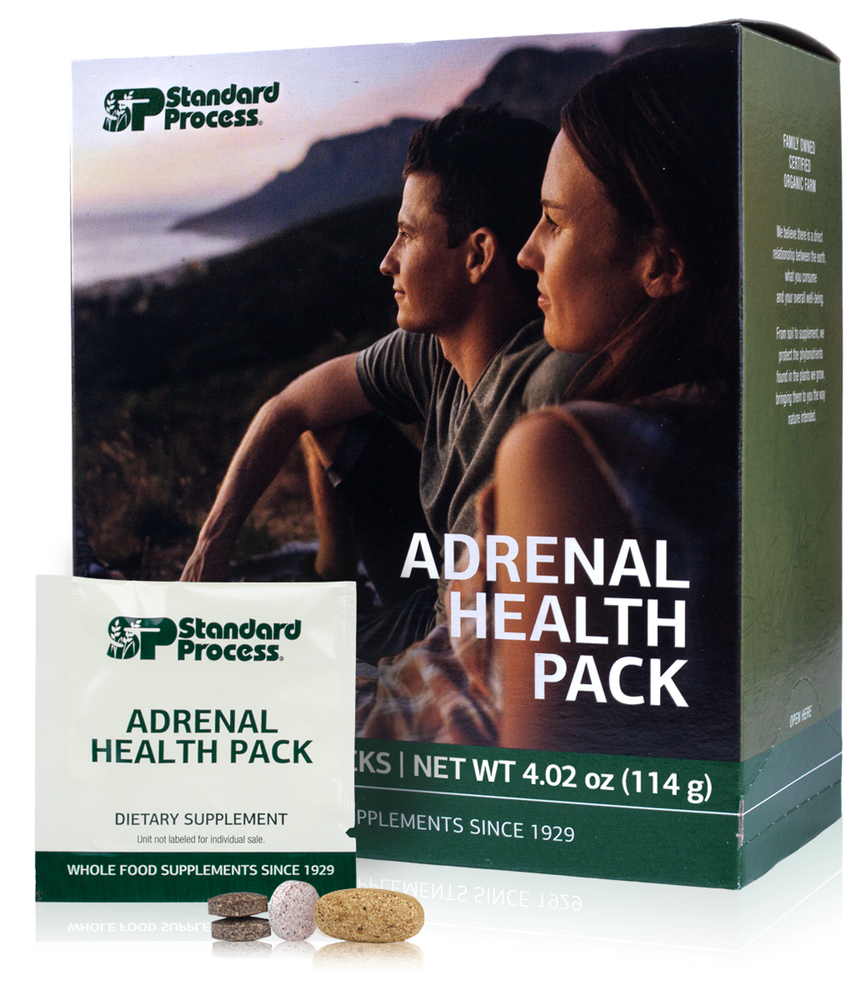 SKU: STP-13040
Adrenal Health Daily Fundamentals support healthy adrenal function and emotional balance.
Excellent source of riboflavin, niacin, and antioxidant vitamins A and C.
Good source of vitamin B6*
Suggested Use:
Take contents of 1 pack each morning and evening.
Serving Size:
1 Pack
Amount Per ServingCalories
... 10
Cholesterol
... 10mg
Total Carbohydrate
... 1g
Protein
... <1g
Vitamin A
... 250mcg RAE
Vitamin C
... 20mg
Riboflavin
... 1mg
Niacin
... 12mg
Vitamin B6
... 0.3mg
Choline
... 10mg
Calcium
... 50mg
Sodium
... 15mg
Proprietary Blend
... 1,200mg
Organic buckwheat (aerial parts) juice powder, organic buckwheat flour, rice bran, nutritional yeast, bovine adrenal, magnesium citrate, organic alfalfa (aerial parts) juice powder, bovine adrenal PMG™ extract, bovine liver, porcine stomach, organic sweet potato, organic carrot, bovine kidney, oat flour, bovine pancreas PMG™ extract, organic alfalfa (aerial parts), porcine duodenum, defatted wheat germ, bovine bone, organic shiitake mushroom powder, organic reishi mushroom powder, bovine pituitary PMG™ extract, bovine thyroid PMG™ extract (processed to substantially remove its thyroxine), porcine brain, sunflower lecithin, veal bone PMG™ extract, veal bone, d-alpha tocopherol (vitamin E sunflower), echinacea angustofolia (root), echinacea purpurea (root), calcium phosphate, medium chain triglycerides, and carrot oil.
Other Ingredients:
Calcium lactate, honey, cellulose, choline bitartrate, ascorbic acid, niacinamide, calcium stearate, modified corn starch, arabic gum, riboflavin, pyridoxine hydrochloride, vitamin A palmitate, and sucrose.
Contains
: Wheat
Caution:
This product is processed in a facility that manufactures other products containing soy, milk, egg, peanut, tree nuts, fish and shellfish.