DHA Junior Liquid Strawberry Liquid
Nordic Naturals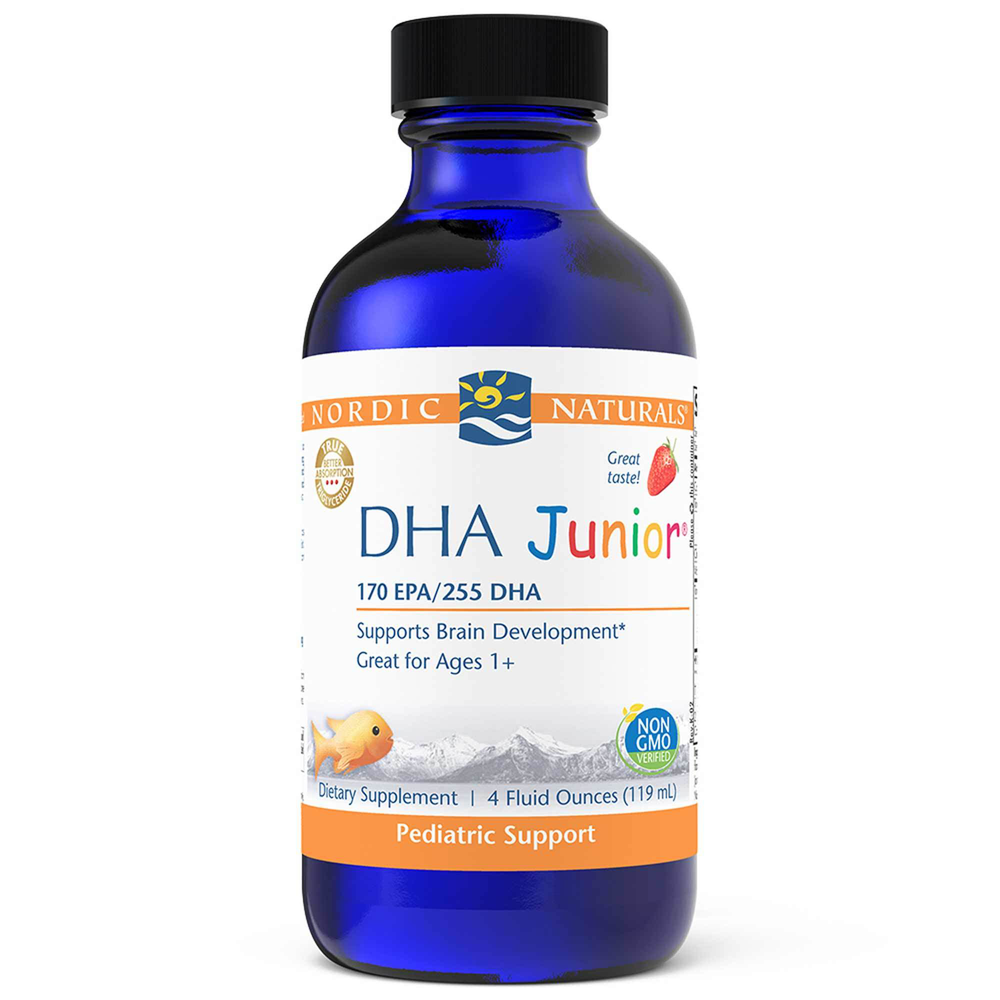 SKU: NORD-03183
Supports brain and visual function for children ages 3+*
Available in strawberry-flavored liquid and chewable soft gels
Kids everywhere love Nordic Naturals strawberry-flavored DHA Junior®. Made entirely from Arctic cod liver oil, these products are rich in the omega-3 DHA. DHA is essential for the proper development of the brain, eyes, and nervous and immune systems.* DHA Junior also contains healthy levels of 100% natural vitamins A and D.
One-half teaspoon daily, with food, or as directed by your health care professional or pharmacist. Consult your pediatrician for use in children younger than 12 months.
Serving Size: 1/2 Teaspoon (2.5ml)
Amount Per Serving
Calories ... 25
Calories from Fat ... 25
Total Fat ... 2.5g
Saturated Fat ... 0.5g
Trans Fat ... 0g
Cholesterol ... 10mg
Vitamin A ... 115-460IU
Vitamin D ... 0-10IU
Total Omega-3s ... 530mg
EPA ... 170mg
(Eicosapentaenoic Acid)
DHA ... 255mg
(Docosahexaenoic Acid)
Other Omega-3s ... 105mg
Ingredients: purified arctic cod liver oil, natural strawberry flavor, d-alpha tocopherol, rosemary extract (a natural preservative).
This product does not contain
gluten
milk derivatives
artificial colors
artificial flavors
Do not take if tamper-evident seal is broken or missing. Keep out of reach of children. Gently shake before serving. Refrigerate after opening. Best if used within 3 months after opening.
Warning: Consult with your physician before using this product if you are allergic to iodine, use blood thinners, or anticipate surgery.