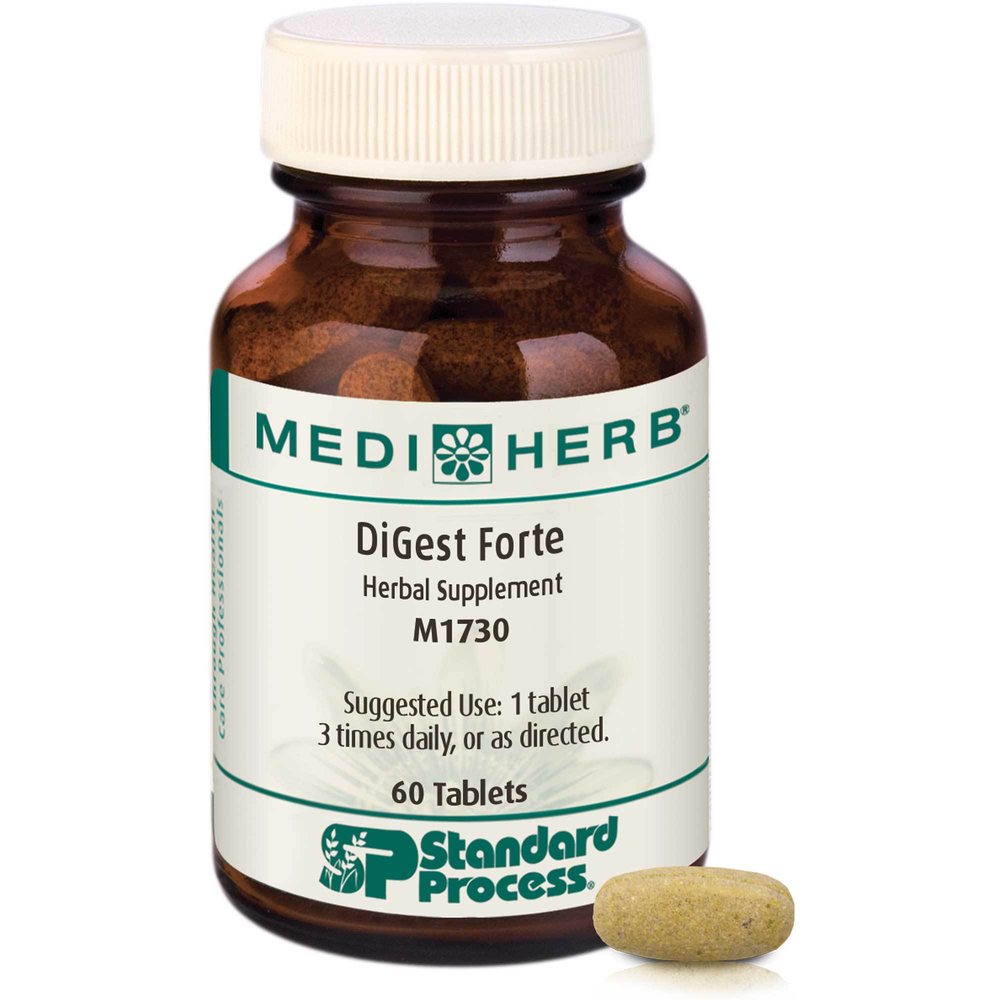 SKU: MDH-M1226
DiGest Forte contains Gentian, Ginger, Tangerine, Wormwood and Feverfew to support healthy digestion.
These herbs have been traditionally used in herbal preparations to:
Stimulate gastric juice output and appetite
Support healthy digestion and intestinal function
Promote healthy gastrointestinal tone
Support the body's natural toxin-elimination function
Increase bile flow as a cholagogue
Promote normal response to environmental stressors*
Take 1 tablet 3 times daily, or as directed.
Serving Size:
1 Tablet
Amount Per ServingGentian root 2:1 extract
... 100mg
from Gentiana lutea root 200 mg
Tangerine fruit peel 5:1 extract
... 100mg
from Citrus reticulata fruit peel 500 mg
Feverfew leaf 3:1 extract
... 66.7mg
from Tanacetum parthenium leaf 200 mg
Ginger rhizome 10:1 extract
... 25mg
from Zingiber officinale rhizome 250 mg
Wormwood herb 4:1 extract
... 25mg
from Artemisia absinthium herb 100 mg
Tangerine fruit peel essential oil, cold pressed
... 12.5mg
(Citrus reticulata)
Other Ingredients:
Microcrystalline cellulose, sodium starch glycolate, croscarmellose sodium, silicon dioxide, hypromellose, magnesium stearate and dibasic calcium phosphate dihydrate.
Caution:
Contraindicated in known allergy to plants of the daisy family. Contraindicated in gastric or duodenal ulcers unless otherwise directed by a qualified health care professional. Use only with professional supervision in the presence of gallstones. Contraindicated in pregnancy and lactation.