Electrolyte Supreme Berry-Licious
Jigsaw Health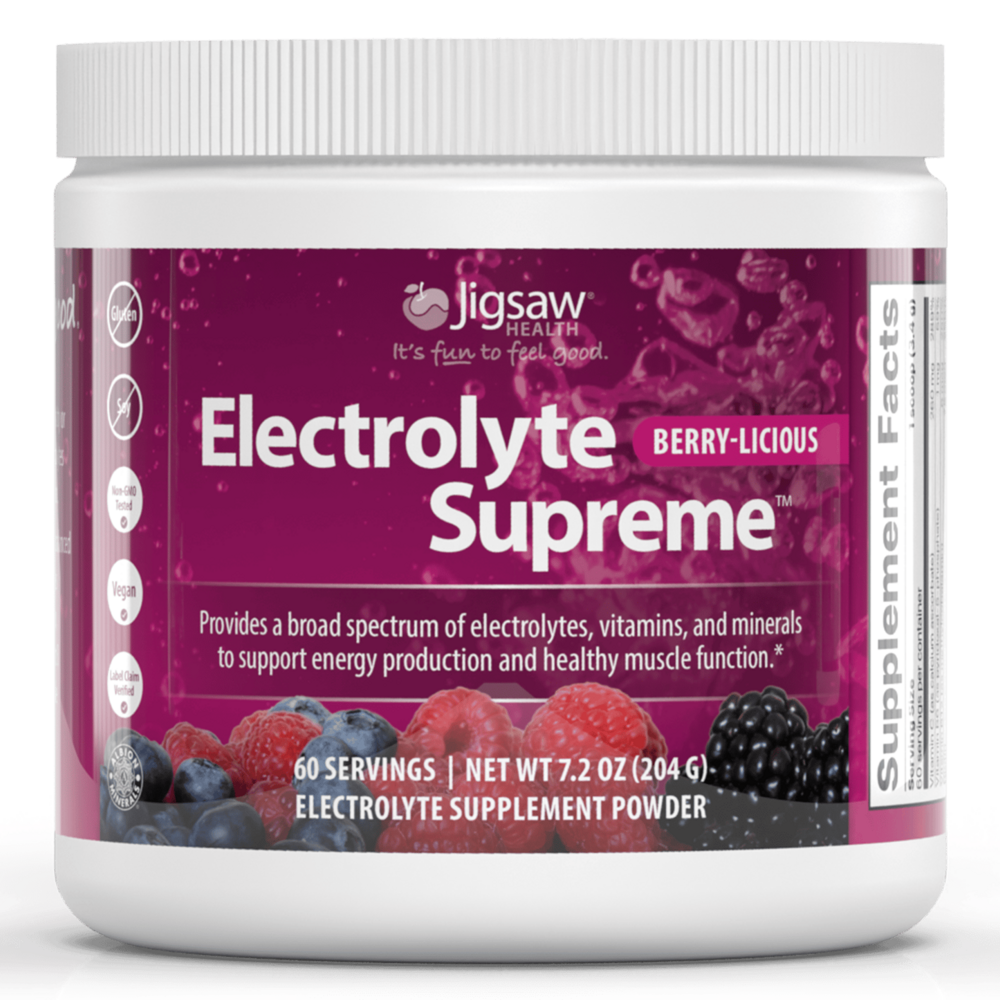 SKU: JIG-JI0046
Jigsaw Electrolyte Supreme™ contains a broad spectrum of electrolytes, minerals and vitamins in each serving. Replenish and rehydrate your body by adding one scoop of Jigsaw Electrolyte Supreme™ to your water for a refreshing and nourishing energy-boosting beverage.
WHAT MAKES JIGSAW ELECTROLYTE SUPREME™ UNIQUE?
Provides a broad profile of important minerals and electrolytes.
Uses only the best ingredients in their active, bioavailable forms.
Good source of active B complex vitamins to support energy production.
Includes dimagnesium malate for superior absorption.
WHAT CAN JIGSAW ELECTROLYTE SUPREME™ HELP ME WITH?*
Replenish minerals, b-vitamins, and electrolytes lost daily through sweat, urination, occasional diarrhea and exercise.*
Promote healthy relaxed muscle tone and function.*
Promote athletic recovery.*
Support steady energy production.*
Enhance hydration.*
Maintain proper fluid balance within cells.*
Support nerve impulses from nervous system to other body parts.*


Suggested Use:
As a dietary supplement, mix 1 packet in 16 fl oz of water, and stir for 5 seconds, once daily. Or use as directed by your healthcare professional.


Serving Size: 1 Packet (5.4g)

Amount Per Serving
Calories ... 10
Total Carbohydrate ... 2g
Total Sugar ... 0g
Includes 0g of Added Sugar
Erythritol ... 2g
Other Carbs ... 2g
Vitamin C ... 260mg
(as calcium ascorbate)
Vitamin B6 ... 1mg
(as pyridoxal-5-phosphate)
Vitamin B12 ... 6mcg
(as methylcobalamin)
Biotin ... 75mcg
Calcium ... 30mg
(as calcium ascorbate)
Iodine ... 50mcg
(as potassium iodide)
Magnesium ... 20mg
(as dimagnesium malate) Albion®
Zinc ... 3.75mg
(as zinc bisglycinate chelate) TRAACS™
Selenium ... 18mcg
(as l-selenomethionine)
Copper ... 200mcg
(as copper bisglycinate chelate)
Manganese ... 0.5mg
(as manganese bisglycinate chelate) TRAACS™
Chromium ... 40mcg
(as chromium nicotinate glycinate chelate) TRACCS™
Sodium ... 270mg
(as sea salt, sodium bicarbonate)
Potassium ... 210mg
(as potassium chloride, potassium bicarbonate, potassium iodide)
Chloride ... 200mg
(as potassium chloride)

Other Ingredients: Organic Erythritol (Pyure®, for sweetness), Citric Acid (as bicarbonate reactor, for flavor), Natural Flavors (no MSG, for tartness), Stevia Leaf Extract (for sweetness), Red Beet Juice & Beta Carotene (for color), Silicon Dioxide (reduces clumping), Monk Fruit Extract (for sweetness), Carrot Concentrate & Hibiscus Concentrate (for color).


JIGSAW ELECTROLYTE SUPREME™ IS:
Gluten free
Soy free
Dairy free
No artificial flavors or colors
No MSG
Sugar free