Electrolyte Supreme - Fruit Punch Packs
Jigsaw Health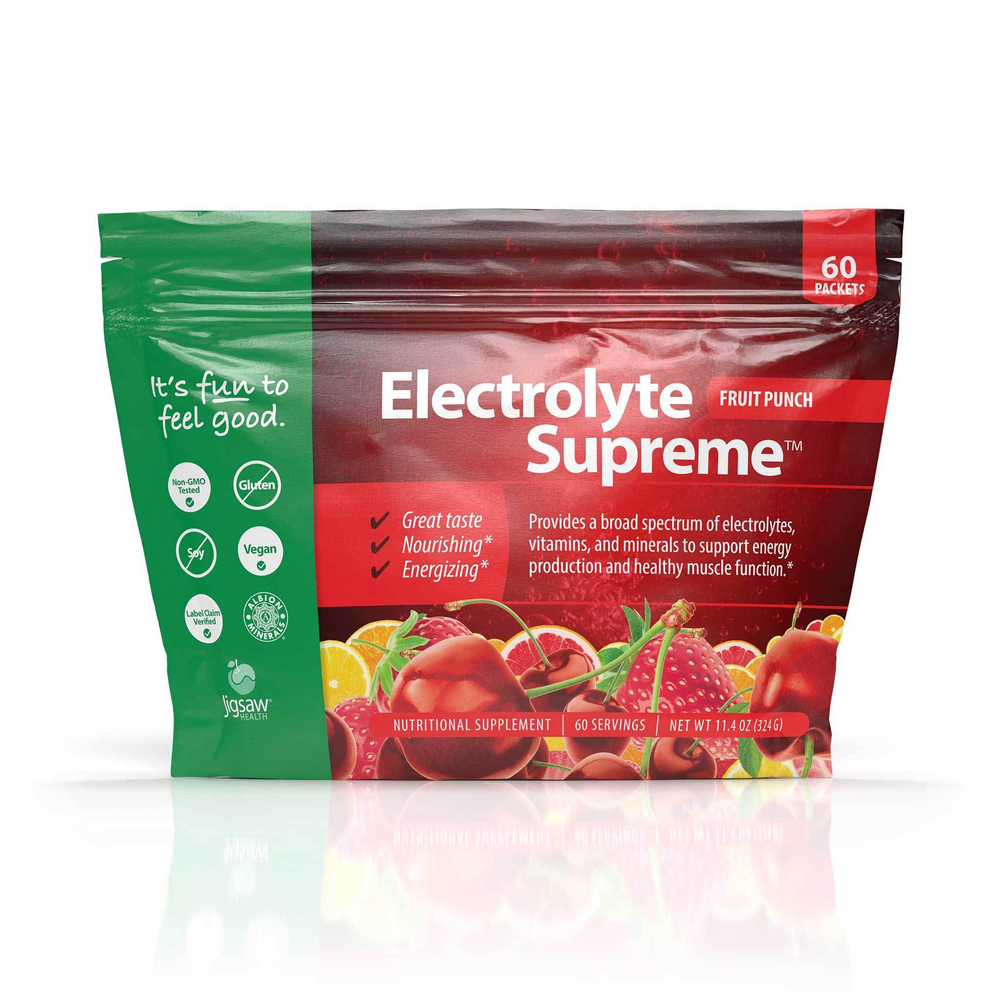 SKU: JIG-ESFPPACKS
A balanced combination of key electrolytes and minerals such as calcium, magnesium, zinc, selenium, sodium and potassium as well as important B-complex vitamins in their active, bioavailable form to enhance energy production.*
As a dietary supplement, mix 1 packet in 16 fl oz of water, and stir for 5 seconds, once daily. Or use as directed by your healthcare professional.

Serving Size: One Packet (5.6g)

Amount Per Serving
Calories ... 10
Total Carbohydrates ... 2g
Total Sugar … 0g
Erythritol … 2g
Other Carbs … 2g
Vitamin C (as calcium ascorbate), Vitamin B6 (as pyridoxal-5-phosphate), Vitamin B12 (as methylcobalamin), Biotin, Calcium (as calcium ascorbate), Iodine (as potassium iodide), Magnesium (as dimagnesium malate), Zinc (as zinc bisglycinate chelate), Selenium (as l-selenomethionine), Copper (as copper bisglycinate chelate), Manganese (as manganese bisglycinate chelate), Chromium (as chromium nicotinate glycinate chelate), Sodium (as sea salt, sodium bicarbonate), Potassium (as potassium chloride, potassium glycinate complex, potassium bicarbonate, potassium Iodide)

Other Ingredients: Organic Erythritol (Pyure®, for sweetness), Citric Acid (as bicarbonate reactor, for flavor), Natural Triple Berry Flavor (no MSG, for tartness), Stevia Leaf Extract (for sweetness), Red Beet Juice (for color), Silicon Dioxide (reduces clumping), Monk Fruit Extract (for sweetness)

Does not contain: wheat, soy
Keep out of reach of children. Store in a cool, dry place.