Endotrim
Designs for Health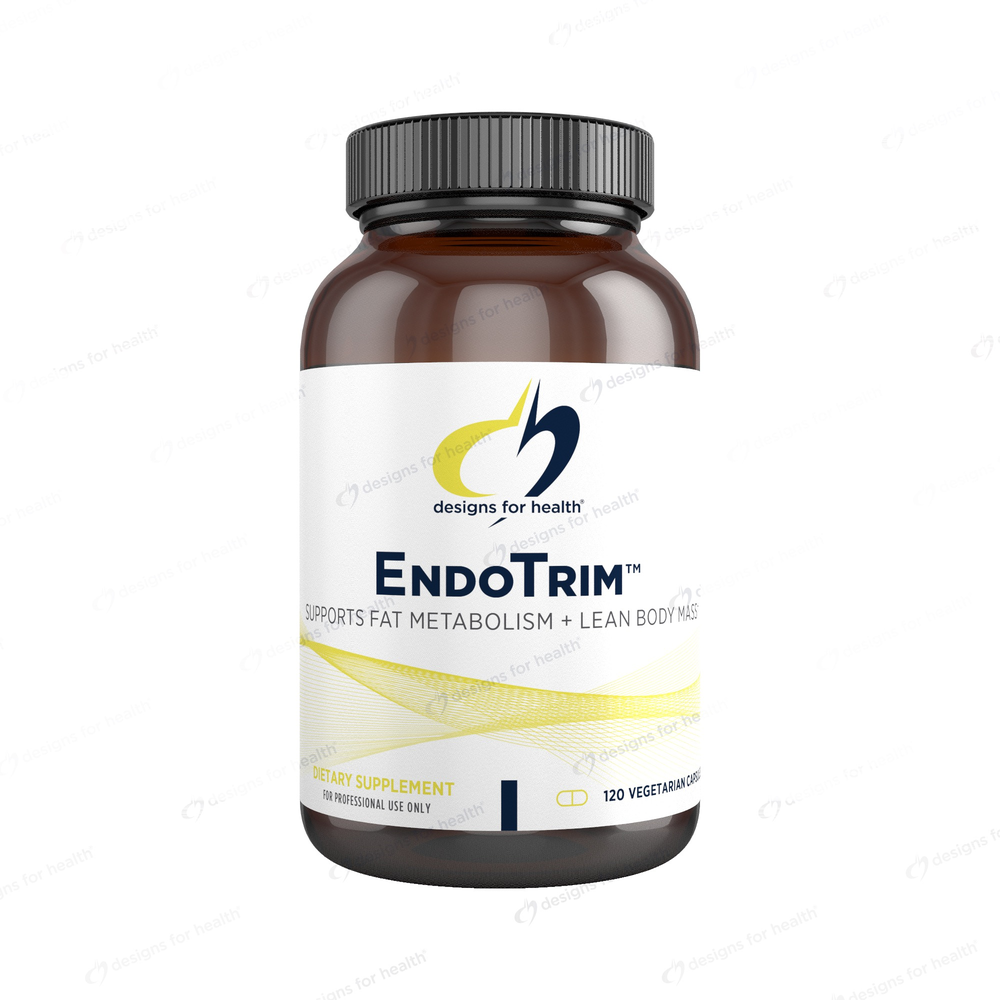 SKU: DFH-END120
EndoTrim™ is a comprehensive endocrine-balancing formula which focuses on healthy insulin, leptin, and cortisol function in order to support safe fat metabolism and maintenance of lean body mass. The inclusion of Garcinia cambogia and EGCg may also help to maintain and improve lean body mass and support basal metabolic rate. This unique array of nutrients and botanicals is also useful for controlling food cravings and helping the body naturally manage blood sugar levels.
Made with non-GMO ingredients.




Suggested Use:
As a dietary supplement, take four capsules per day with meals, or as directed by your health care practitioner.
Serving Size: Four Capsules
Amount Per Serving
Vitamin C ... 100mg
(as Ascorbic Acid)
Vitamin B-6 ... 5mg
(as Pyridoxal-5-Phosphate)
Pantothenic Acid ... 100mg
(as d-Calcium Pantothenate)
Zinc ... 5mg
(as Zinc Bisglycinate Chelate)
Chromium ... 200mcg
(TRAACS® Chromium Nicotinate Glycinate Chelate)
Green Tea Extract ... 300mg
(Camellia sinensis)(leaf)
[standardized to contain 98% polyphenols and 45% EGCg]
Forskolin Extract ... 250mg
(Coleus forskohlii)(root)
[standardized to contain 20% forskolin]
American Ginseng ... 200mg
(Panax quinquefolius)(root)
[standardized to contain 5% ginsenosides]
Garcinia Extract ... 200mg
(Garcinia cambogia)(fruit)
[standardized to contain 50% hydroxycitric acid]
Banaba Extract ... 100mg
(Lagerstroemia speciosa)(leaf)
[standardized to contain 1% corosolic acid]
N-Acetyl-Tyrosine ... 100mg
GABA ... 100mg
(gamma-Aminobutyric Acid)
L-Carnitine ... 100mg
(as Carnitine Fumarate)
Vanadium ... 100mcg
(TRAACS® Vanadium Nicotinate Glycinate Chelate)
Other Ingredients: Cellulose (capsule), microcrystalline cellulose, vegetable stearate, silicon dioxide.
This product does not contain gluten.
TRAACS® is a registered trademark of Albion Laboratories, Inc.


NOTICE
Color, size or shape may appear different between lots.
Store at room temperature. Keep out of reach of children.

WARNING: This product contains a substance known to the State of California to cause birth defects or
other reproductive harm