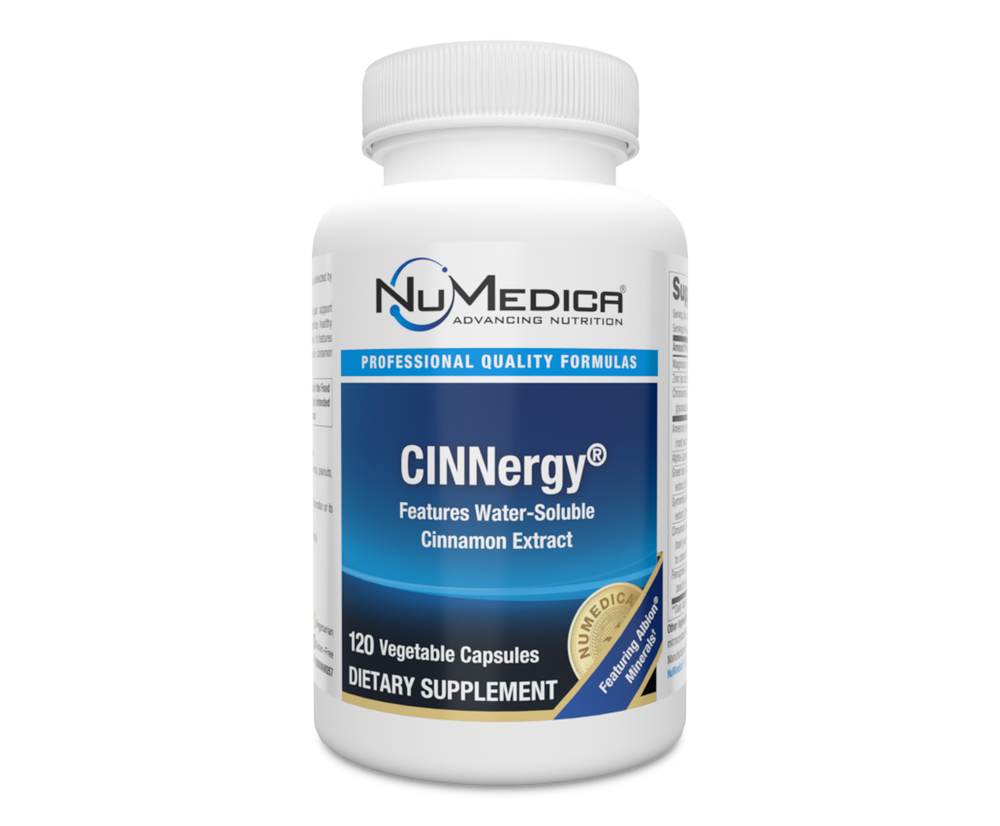 SKU: NMA-NM57
CINNergy®CINNergy®
is NuMedica's advanced blood sugar support formula to support insulin function and optimize healthy postprandial (after mealtime) blood sugar levels.* It features 300 mg of Cinnulin PF®, a 100% water-soluble cinnamon extract. CINNergy® features five key ingredients for healthy blood sugar and insulin function in healthy individuals: cinnamon, American ginseng, gymnema, green tea polyphenols and fenugreek in therapeutic dosages.*
Supplement Facts
Serving Size
:
4 Capsules
Amount Per Serving
Magnesium (as di-magnesium malate)†
Zinc (as zinc bisglycinate chelate)†
15 mg
Chromium (as chromium nicotinate glycinate chelate)†
400mcg
American ginseng (Panax quinquefolius) (root) extract (standardized 20% extract)
750 mg
Green tea (Camellia sinensis) (leaf) extract
(95% polyphenols, 45% EGCG, 75% catechins)
Alpha-lipoic acid
400 mg
Gymnema (Gymnema sylvestre) (leaf) extract (25% gymnemic acids)
Chinese cinnamon (Cinnamomum cassia) (bark) extract (3% type-a polymers)††
300 mg
Fenugreek (Trigonella foenum-graecum) (seed) extract (15:1)
300 mg


Other Ingredients
Hydroxypropyl methylcellulose (vegetable capsule), microcrystalline cellulose, rice flour, ascorbyl palmitate, silica.
Does Not Contain:
Milk, eggs, fish, shellfish, tree nuts, peanuts, wheat, soy.
Suggested Use
Take four capsules per day or as directed by your healthcare practitioner.
††Cinnulin PF® water-soluble extract is a registered trademark of Integrity Nutraceuticals International.®
†Albion®, TRAACS® and the Albion Gold Medallion design are registered trademarks of Albion Laboratories, Inc. Malate covered by U.S. Patent 6,706,904 and patents pending.
*These statements have not been evaluated by the Food & Drug Administration. These products are not intended to diagnose, treat, cure or prevent any disease.