GlucoSupreme Herbal
Designs for Health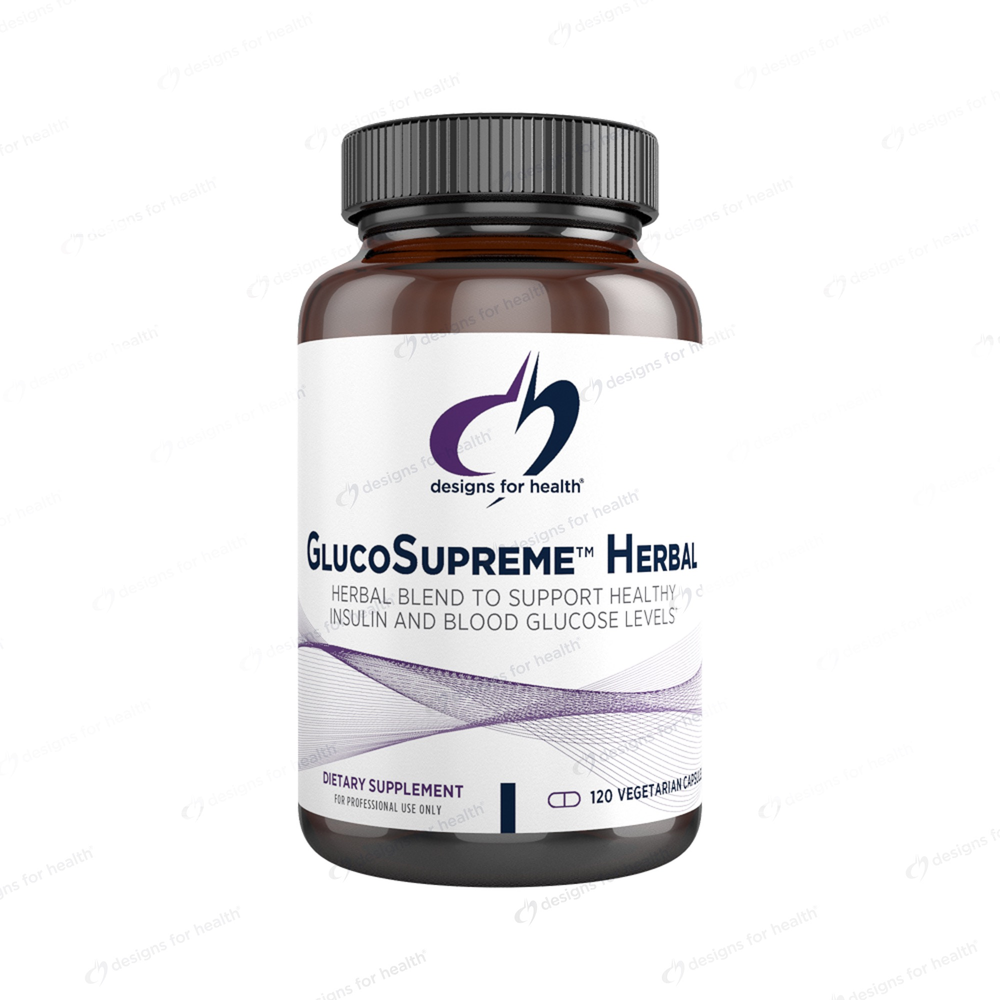 SKU: DFH-GSH120
GlucoSupreme™ Herbal is ideal for supporting healthy insulin and glucose levels. This unique, synergistic formula combines standardized herbs and other botanicals that are shown to support healthy blood sugar through various mechanisms, including cinnamon, corosolic acid from banaba, isoflavones from kudzu, and ginsenosides from ginseng. It also contains berberine (Berberis aristata), a compound highly regarded for its efficacy in supporting healthy blood glucose regulation and insulin sensitivity.
Made with non-GMO ingredients.




Suggested Use:
As a dietary supplement, take four capsules per day with meals, or as directed by your health care practitioner (divided dosing recommended).
Serving Size: Four Capsules
Amount Per Serving
Berberine ... 500mg
(as Berberine HCl)(Berberis aristata)(bark)
Fenugreek Extract ... 200mg
(Trigonella foenum-graecum)(seed)
[standardized to contain 60% saponins]
American Ginseng ... 200mg
(Panax quinquefolius)(root)
[standardized to contain 5% ginsenosides]
Gymnema Extract ... 200mg
(Gymnema sylvestre)(leaf)
[standardized to contain 25% gymnemic acid]
Banaba Extract ... 200mg
(Lagerstroemia speciosa)(leaf)
[standardized to contain 1% corosolic acid]
Kudzu Extract ... 200mg
(Pueraria lobata)(root)
[standardized to contain 40% isoflavones]
Cinnamon Extract ... 200mg
(Cinnamomum cassia)(bark)
Other Ingredients: Cellulose (capsule), microcrystalline cellulose, silicon dioxide, vegetable stearate.
This product does not contain gluten.
WARNING
Use only under the supervision of qualified health care practitioner who can actively monitor your blood sugar levels if you are diabetic and/or are also using blood sugar modulating medication or insulin.
NOTICE
Color, size or shape may appear different between lots.
Store at room temperature. Keep out of reach of children

WARNING: This product contains a substance known to the State of California to cause birth defects or
other reproductive harm.