EstroVantage EM
Bioclinic Naturals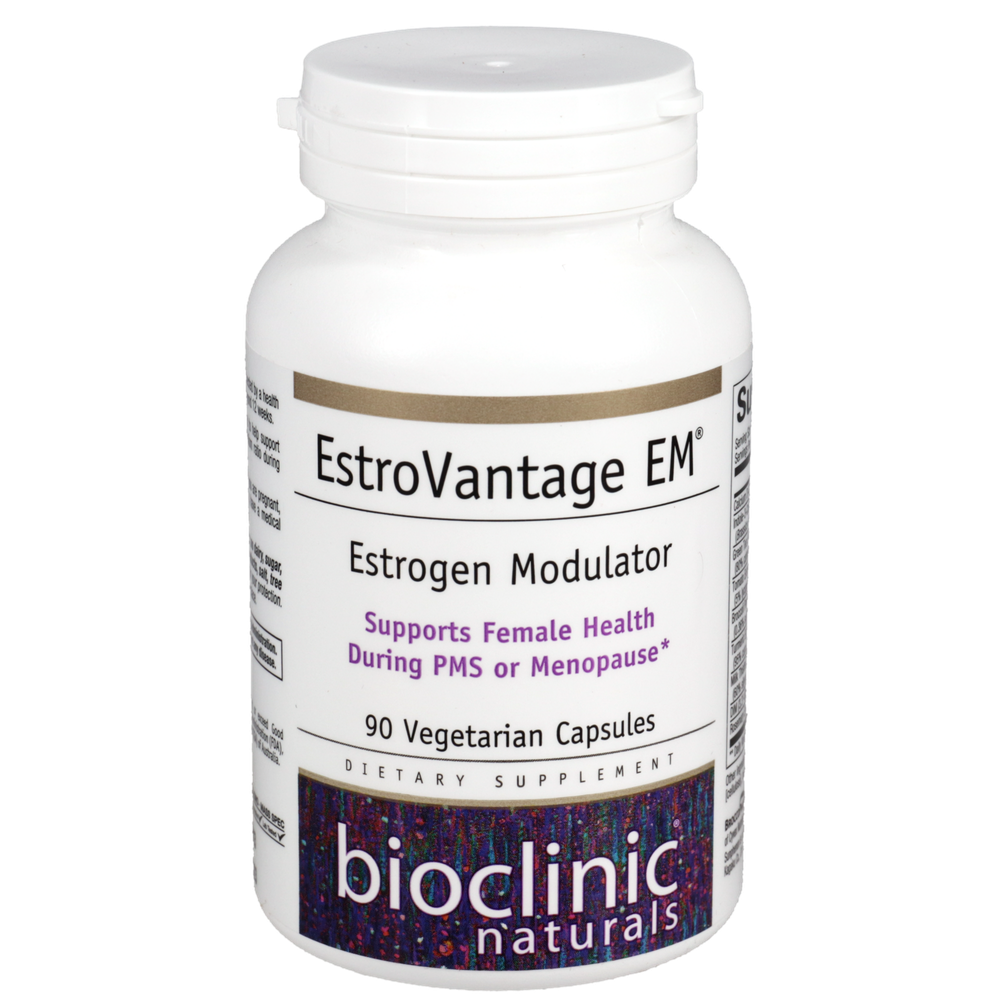 SKU: BCN-9672
In general, estrogen can be divided into several biochemically distinct hormones: estrone (E1), estradiol (E2), estriol (E3), and 17-estradiol. In premenopausal women, estrogen is enzymatically converted to several specific estrogen metabolites including 2-hydroxyestrone (2-OHE1), 2-hydroxyestradiol (2-OHE2), 4-hydroxyestrone (4-OHE1), 4-hydroxyestradiol (4-OHE2) and 16a-hydroxyestrone (16a-OHE1). Both 16a-OHE1 and 2-OHE have contrasting biological activities at the cellular level with 16a-OHE1 being an estrogen agonist and proliferative, while 2-OHE is an estrogen antagonist and antiproliferative. As such, an increased ratio 2-OHE:16a-OHE1 is associated with a reduced risk of invasive breast cancer risk in premenopausal women. Several natural products found in EstroVantage EM support this latter concept including DIM, and indole 3 carbinol (I3C). A human study has confirmed that daily supplementation with 300 mg of I3C daily for 12 weeks significantly increased the 2-OH-estrone: estriol metabolite ratio without notable adverse events. Other compounds in EstroVantage EM, including calcium-d-glucarate, inhibit beta-glucoronidase activity, allowing for the excretion of estrogen before reabsorption. It is estimated that a 4% calcium glucarate supplemented diet inhibits beta-glucuronidase activity by 70%.
Benefits
IGF-1 has a known pathogenic role in cancer, increasing growth of existing cancer cells. Lycopene supplementation decrease IGF-1 by 25%.
In a 34 patient randomized controlled trial foods enriched with bioactive compounds, including rosemary extract (Rosemarinus officinalis), were found to be a promising adjuvant therapy in advanced breast cancer patients
Green tea polyphenols inhibit the proliferation of breast cancer cells in vivo and in
vitro
Silymarin can down-regulate gene products involved in the proliferation of tumor cells (cyclin D1, EGFR, COX-2, TGF-beta, IGF-IR), invasion (MMP-9), angiogenesis (VEGF) and metastasis (adhesion molecules)
Curcumin inhibits human breast cancer cell growth by mediating certain signaling cascades including the modulation of the NF-kB signaling pathway
Sulforaphane can inhibit the expression of estrogen receptor alpha (ERalpha) protein in MCF-7 cells, inhibiting proliferation and down-regulating hormone receptor expression
Standardized extracts
Take 3 capsules per day taken with food or as directed by a health care professional. Consult a health care professional for use beyond 12 weeks.
Serving Size: 3 capsules

Amount Per Serving:
Calcium D-Glucarate ... 225mg
(d-glucaric acid calcium salt)
Indole-3-Carbinol ... 225mg
(3-hydroxymethylindole)
Green Tea Extract ... 150mg
(Camellia sinensis)(leaf)
(80% catchins, 45%EGCg <1% caffeine)
Tomato Extract ... 150mg
(Lycopersicon esculentum)(fruit)
(5% lycopene)
Broccoli Powder ... 83mg
(Brassica oleracea var. italica)(aerial)
(0.36% sulforaphane)
Turmeric Extract ... 75mg
(Curcuma longa)(root)
(95% curcuminoids)
Milk Thistle Extract ... 75mg
(Silybum marianum)(seed)
(60% silymarin)
DIM ... 75mg
(3, 3-diindolylmethane)
Rosemary Extract ... 38mg
(Rosmarinus officinalis)(leaf)
Other Ingredients: Vegetarian capsule
(Carbohydrate gum [cellulose]. purifed
water), microcrystalline cellulose and
magnesium stearate (vegetable grade)
Do not use if you are pregnant or breastfeeding, or if you have iron deficiency. Consult a health care professional prior to use if you have a liver disease or develop symptoms of liver trouble. Hypersensitivity/allergy is known to occur, in which case discontinue use. Consult a health care professional if you have gallstones or a bile duct obstruction, stomach ulcers or excess stomach acids, if you are taking any medication such as antiplatelet medication or blood thinners, or if you are attempting to conceive. Keep out of reach of children.