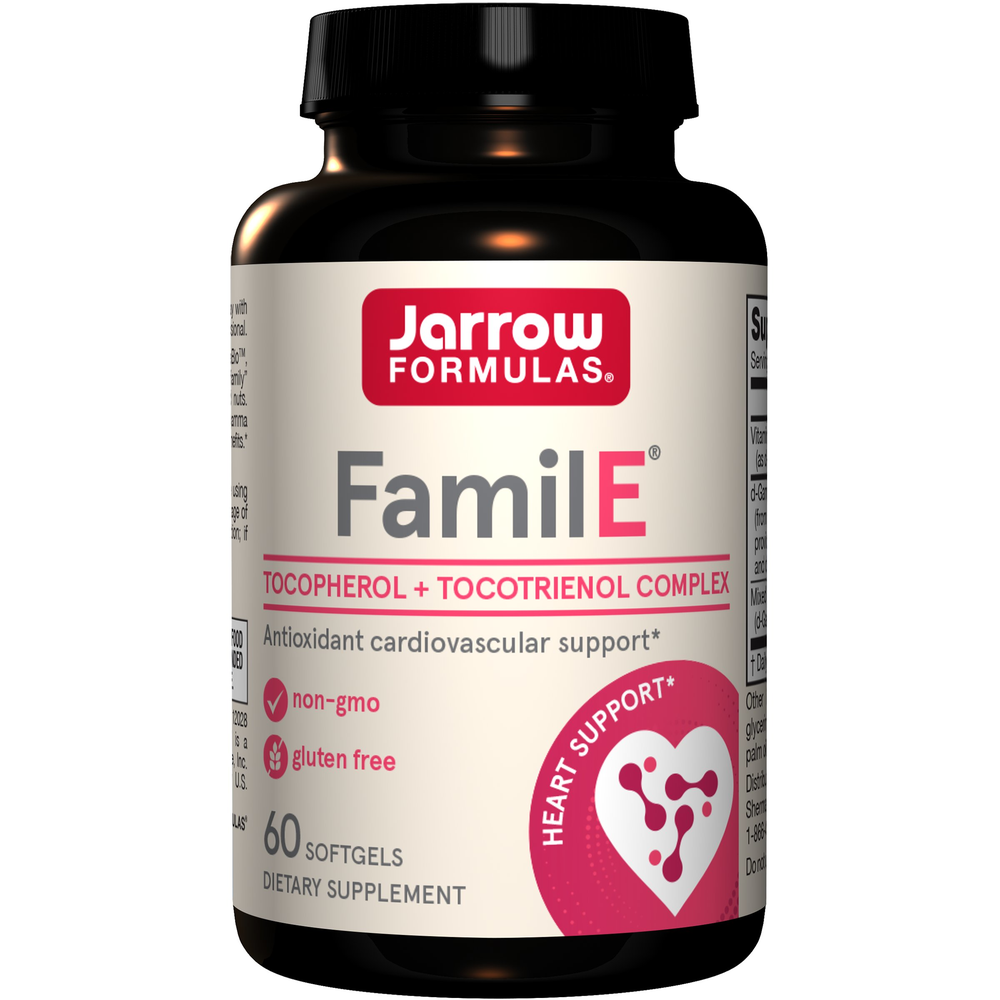 SKU: JAR-EFAM
All 8 Members of the Vitamin E Family
FamilE® contains all 8 members of the vitamin E family. These "Toco's"—4 forms of tocopherol and 4 of tocotrienol—are typically found concentrated in plant seeds and vegetable oils. FamilE® is specifically rich in gamma tocopherol and tocotrienols. (EVNol SupraBio™) for enhanced antioxidant and cardiovascular function.* Excess d-alpha tocopherol depletes gamma tocopherol. FamilE® provides a potent and comprehensive tocotrienol complex that supports cardiovascular function by reducing the oxidation of low-density lipoproteins.*
Take 1 softgel per day with food or as directed by your qualified healthcare professional.
Serving Size: 1 Softgel
Amount Per Serving
Vitamin E ... 41 mg (60IU)
(d-Alpha Tocopherol) (Mixed Tocopherol Complex/EVNol SupraBio™)
d-Gamma Tocopherol ... 250mg
(from Mixed Tocopherol Complex providing d-Alpha, d-Beta, d-Gamma, and d-Delta)
Mixed Tocotrienols ... 38mg
(d-Alpha, d-Beta, d-Gamma and d-Delta)(from EVNol SupraBio™)
Other Ingredients: Soybean oil, palm oil, and polyoxyl castor oil. Softgel consists of bovine gelatin, glycerin, purified water, and annatto.
This product does not contain
wheat
gluten
dairy
shellfish
egg
peanuts/tree nuts
EVNol SupraBio™ is a trademark of ExcelVite, Inc. and is protected by U.S. Patent # 6, 596, 306.
Caution: If you have a medical condition, are preparing for or recovering from surgery, pregnant, lactating, trying to conceive, under the age of 18, or taking medications, consult your healthcare professional before using this product.
Keep out of reach of children.