Finest Pure Fish Oil with Plant Sterols
Pharmax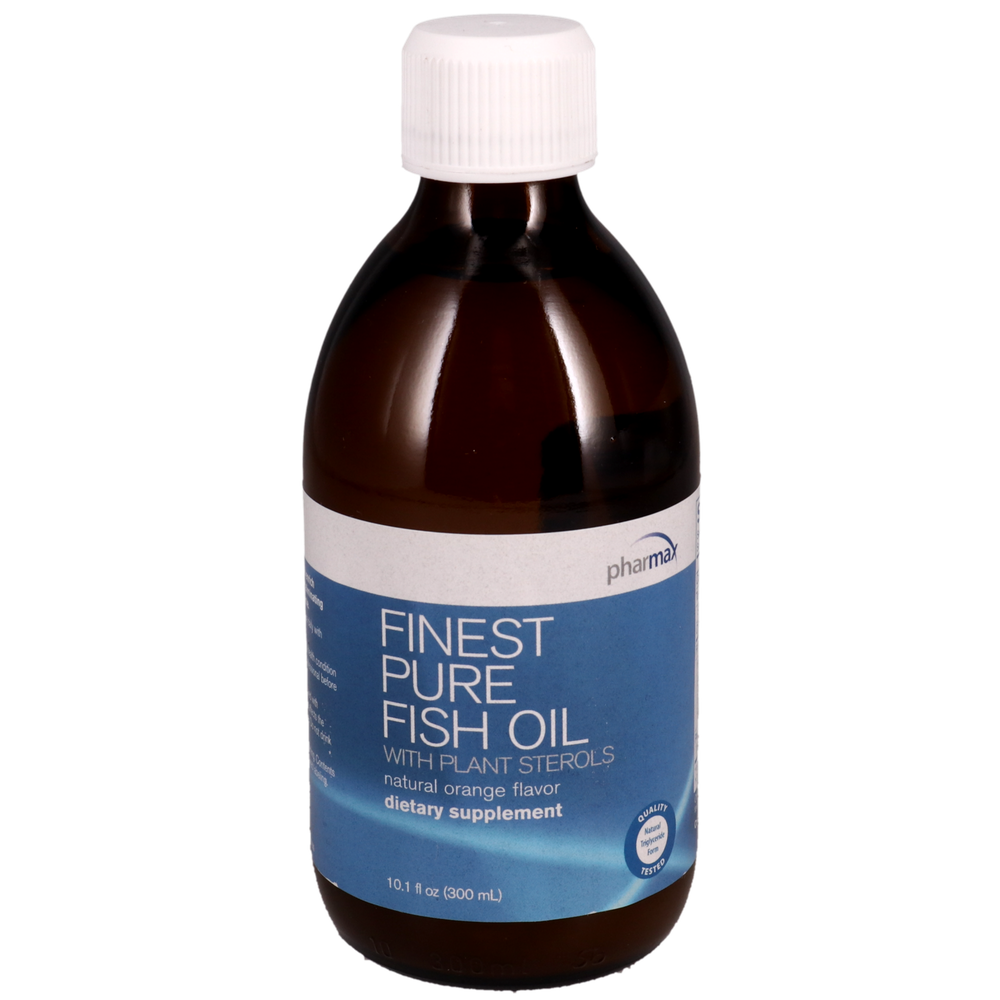 SKU: PX-FA32300
Combination of EPA, DHA, and plant sterols
Helps maintain and support optimal cardiovascular health*
Supports healthy serum triglyceride levels already in the normal range*
Provides 850 mg of EPA and 625 mg of DHA per teaspoon
Provides 650 mg of plant sterol esters per teaspoon serving
Has a delicious natural orange flavor
Recent research indicates that cardiovascular health may be better supported by diets high in monounsaturated fatty acids, plant sterols, and fish oils than by those high in fish oils alone. EPA, DHA, and plant sterols support healthy fatty acid metabolism. In randomized, placebocontrolled trials, daily supplementation with 1.3-1.4 g of EPA and DHA, in combination with 2-2.5 g of plant sterols, for three to four weeks supported healthy serum triglyceride levels. Finest Pure Fish Oil With Plant Sterols provides 1475 mg of EPA and DHA and 650 mg of plant sterols per serving to help support cardiovascular health.*
Adult intake: One teaspoon (5 ml) taken twice daily with meals or as professionally directed.
Serving Size: 1 Teaspoon (5 ml)
Amount Per Serving
Calories ... 35
Calories from Fat ... 35
Total Fat ... 4g
Saturated Fat ... 0.5g
Cholesterol ... 55mg
Eicosapentaenoic acid ... 850mg
(EPA)
Docosahexaenoic acid ... 625mg
(DHA)
Total omega-3 ... 1700mg
(EPA, DHA & total omega-3 provided as sardine & anchovy oils)
Plant sterol esters ... 650mg
(provided as Pinus sp. / Brassica napus)
Other Ingredients: Orange oil, natural mixed tocopherols
Risk information: Consult your healthcare practitioner prior to use if you are pregnant, breastfeeding, taking any medication, or have any health condition. Plant sterols can form cloudy suspensions when mixed with nutritional oil, this is perfectly normal and in no way affects the quality of the product. Always shake well before use.
Vacuum-sealed for your protection and for product freshness. Do not use if outer seal is missing or broken. Refrigerate after opening.
Keep out of reach of children.