Ultimate Probiotic
Global Healing Center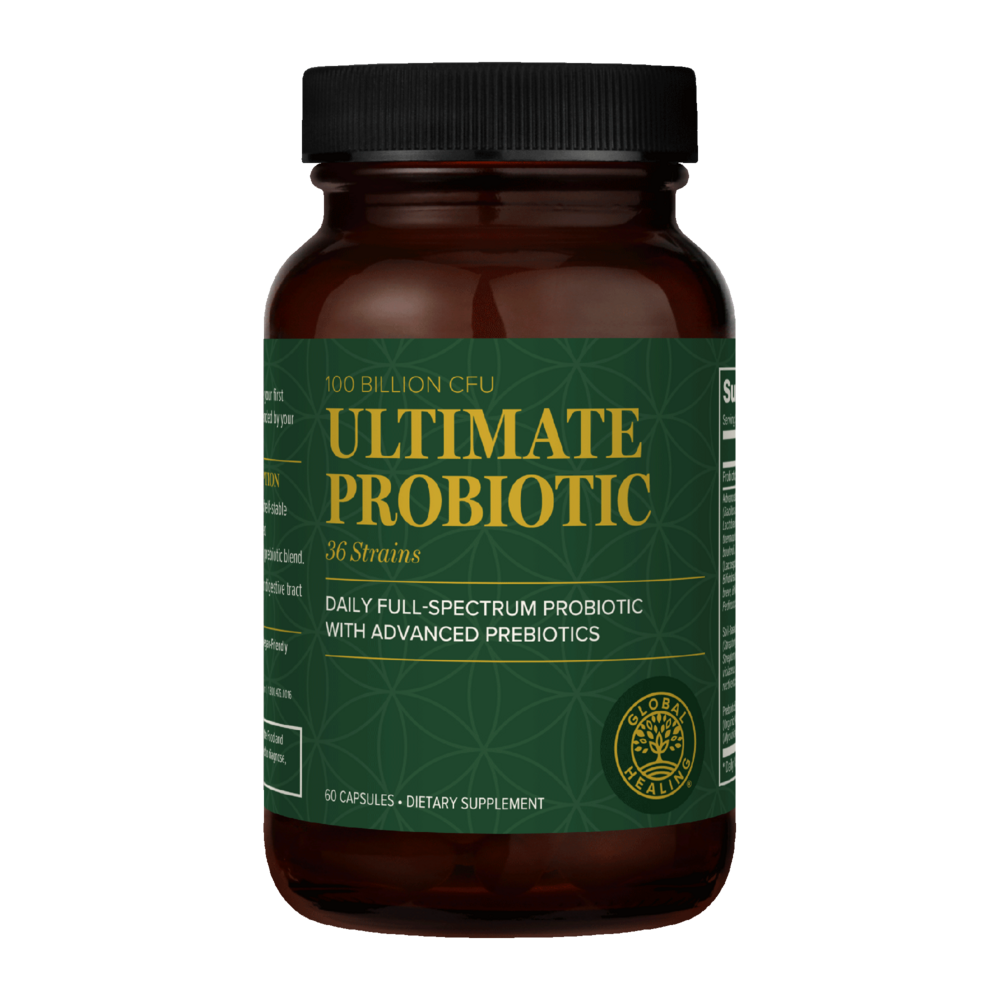 SKU: GLH055-811839030447
With 36 strains and 100 billion CFUs per serving, Ultimate Probiotic is the one of the most value-driven probiotic and prebiotic supplements on the market today. This daily probiotic will help strengthen the digestive system for stronger gut health and immunity. Ultimate Probiotic's premium formula has 24 probiotic strains, 12 soil-based microorganism strains, and an advanced prebiotic blend.
Suggested Use:
Take 2 capsules daily, 20 minutes before your first meal, with water or as recommended by your healthcare provider.


Serving Size: 2 Capsules

Amount Per Serving
Probiotic & Prebiotic Blend ... 860mg
Advanced Probiotic Blend
(Bacillus coagulans, Bacillus subtilis (DE111®), Lactobacillus paracasei, Saccharomyces boulardii, Lactococcus lactis, Lactobacillus plantarum, Lactobacillus acidophilus, Lactobacillus casei, Streptococcus thermophilus, Bifidobacterium animalis lactis, Lactobacillus gasseri, Lactobacillus bulgaricus, Lactobacillus brevis, Bacillus coagulans (Lactospore®), Lactobacillus fermentum, Lactobacillus reuteri, Bacillus clausii (CSI08 Munispore™), Bifidobacterium longum, Bifidobacterium bifidum, Lactobacillus salivarius, Lactobacillus rhamnosus, Bifidobacterium breve, Bifidobacterium animalis lactis (BIOFOLAC™12), Pediococcus acidilactici)
Soil-Based Spore Probiotic Blend
Streptomyces janthinus, Streptomyces cinerochromogenese, Streptomyces chromofuscus, Streptomyces aratus, Streptomyces rimosus, Streptomyces venezuelae, Streptomyces violaceus, Streptomyces violascens, Streptomyces virdodiasticus, Streptomyces rectiverticillatum, Streptomyces Griseus, Bacillus subtillis
Prebiotic Blend
(Organic Agave Inulin, Organic Gum Acacia, PreforPro® Bacteriophage Prebiotic (myoviridae (LH01), siphoviridae (LL5), myoviridae (T4D), myoviridae (LL112)))

Other Ingredients: vegetable capsule (cellulose), organic rice hulls, ormus supercharged minerals.