Multi-Probiotic 40 Billion
Douglas Labs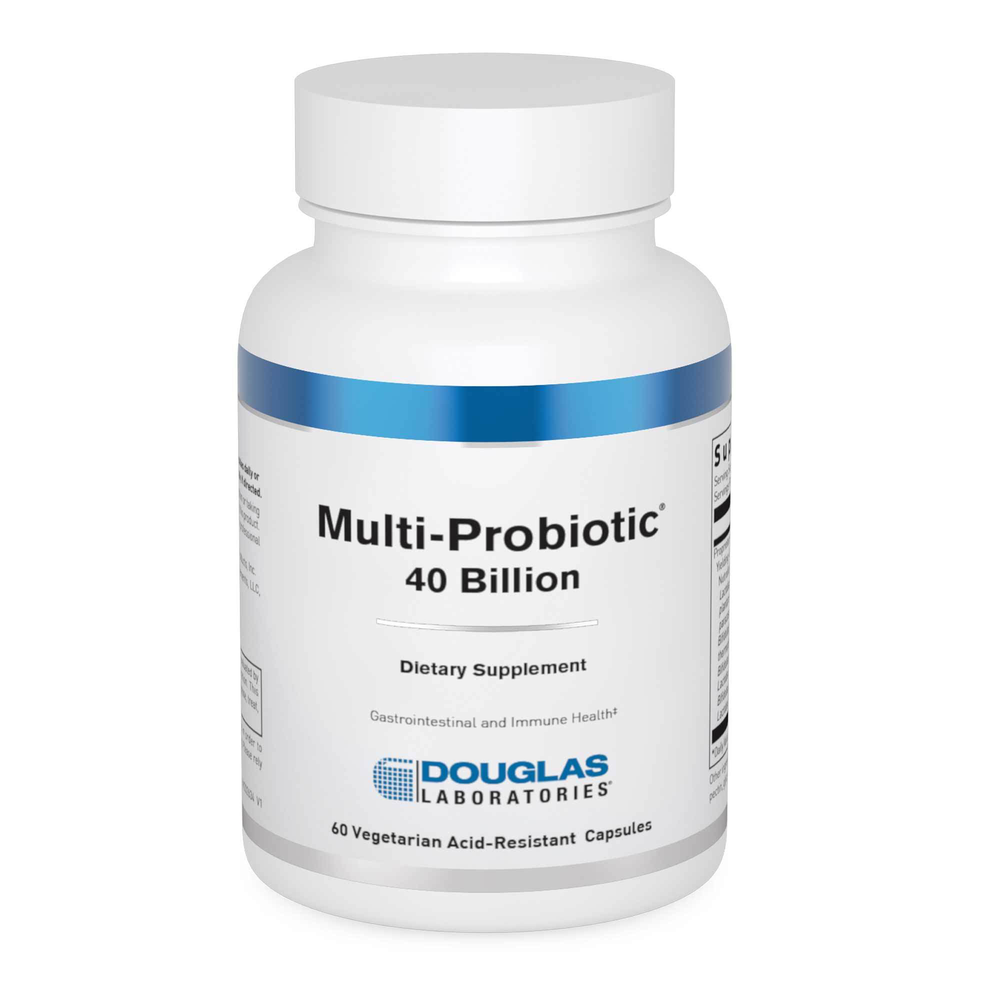 SKU: DL-20211560X
Multi-Probiotic® 40 Billion contains 16 beneficial strains of Lactobacillus, Bifidobacterium and Streptococcus cultures, including the clinically researched Bifidobacterium lactis HN019 that supports gastrointestinal and immune function. Also included in the synbiotic blend is scFOS® prebiotic fiber, which is well tolerated and works synergistically with probiotics to flourish in the intestinal tract.These probiotics are resistant to both acid and bile and undergo a patented cryoprotectant stabilization process for shelf stability.‡
Suggested Use:
As a dietary supplement, adults take 2 capsules daily or as directed by a health professional. May increase up to 4 daily if directed.
Serving Size:
2 Vegetarian Acid-Resistant Capsules
Amount Per ServingProprietary Blend
... 560mg
(yielding 40 Billion CFU)Nutraflora® short-chain FOS prebiotic fiber, Lactobacillus acidophilus, Lactobacillus plantarum, Lactococcuslactis, Lactobacillus paracasei, Bifidobacterium lactis HND19, Bifidobacterium breve, Streptococcus thermophilus, Bifidobacterium lactis [infantis}, Bifidobacterium bifidum, Lactobacillus salivarius, Lactobacillus casei, Lactobacillus brevis, Bifidobacterium longum, Lactobacillus gasseri, Lactobacillus bulgaricus,Lactobacillus rhamnosus
Other Ingredients:
Capsule [hydroxypropyl methylcellulose, pectin, glycerol, purified water), and sunflower lecithin
NutraFlora® is a registered trademark of Corn Development Products, Inc.Multi-Probiotic® is a registered mark of Nutri-Health Supplements, LLC, used with permission.
Warning:
If you are pregnant, nursing, have any health condition, or taking any medication, consult your health professional before using this product.
Caution:
If you are immunocompromised, consult your health professional before using probiotic-containing products.