Frontier Biotics ll
Nutritional Frontiers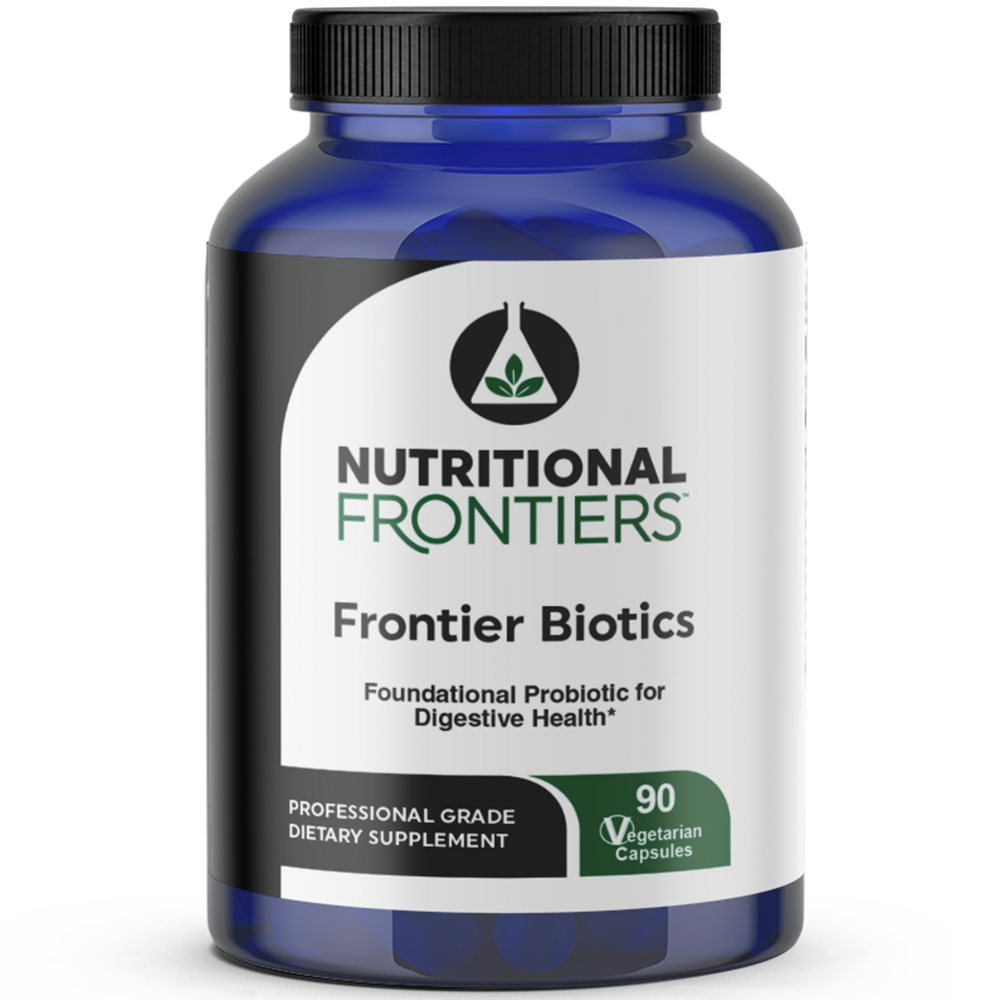 SKU: NUT412-05NF346A090
Frontier Biotics II by Nutritional Frontiers is a non-dairy probiotic formulation produced from an all-natural source of beneficial microorganisms. It is designed to support digestive tract health and provide ingredients that support proper immune function and microbial balance in adults.* Frontier Biotic II contains some species of the numerous microorganisms that naturally populate the human gastrointestinal tract. Probiotic bacteria, or "good bacteria," promote favorable balance of intestinal microflora.*
As a dietary supplement, take 1 capsule one to two times per day; either in the morning or night, between meals, or as directed by your healthcare practitioner.



Serving Size: 1 Capsule

Amount Per Serving
Probiotic Bacteria Complex ... 6 Billion CFU
Lactobacillus acidophilus (La-14) 3 Billion
Bifidobacterium lactis (Bl-04) 1 Billion
Bifidobacterium longum (Bl-05) 0.25 Billion
Bifidobacterium bifidum (Bb-06) 0.25 Billion
Lactobacillus rhamnosus (Lr-32) 0.25 Billion
Lactobacillus gasseri (Lg-36) 0.25 Billion
Lactobacillus casei (Lc-11) 0.25 Billion
Lactobacillus salivarius (Ls-33) 0.25 Billion
Bifidobacterium breve (Bb-03) 0.25 Billion
Lactobacillus plantarum (Lp-115) 0.25 Billion

Other Ingredients: Microcrystalline Cellulose, Vegetable Capsule (HPMC, Water), Magnesium Stearate, Silicon Dioxide.
Frontier Biotics II is guaranteed to contain 6 billion microorganisms in each vegetarian capsule until the expiration date.*

Color of this product may vary due to the color variation of the natural ingredients.

Warning: If pregnant or nursing, consult your healthcare practitioner before taking this product.

Keep out of reach of children. Store in a cool, dry place.

Refrigerate after opening for freshness.