Probiotic-10 100 Billion
Protocol for Life Balance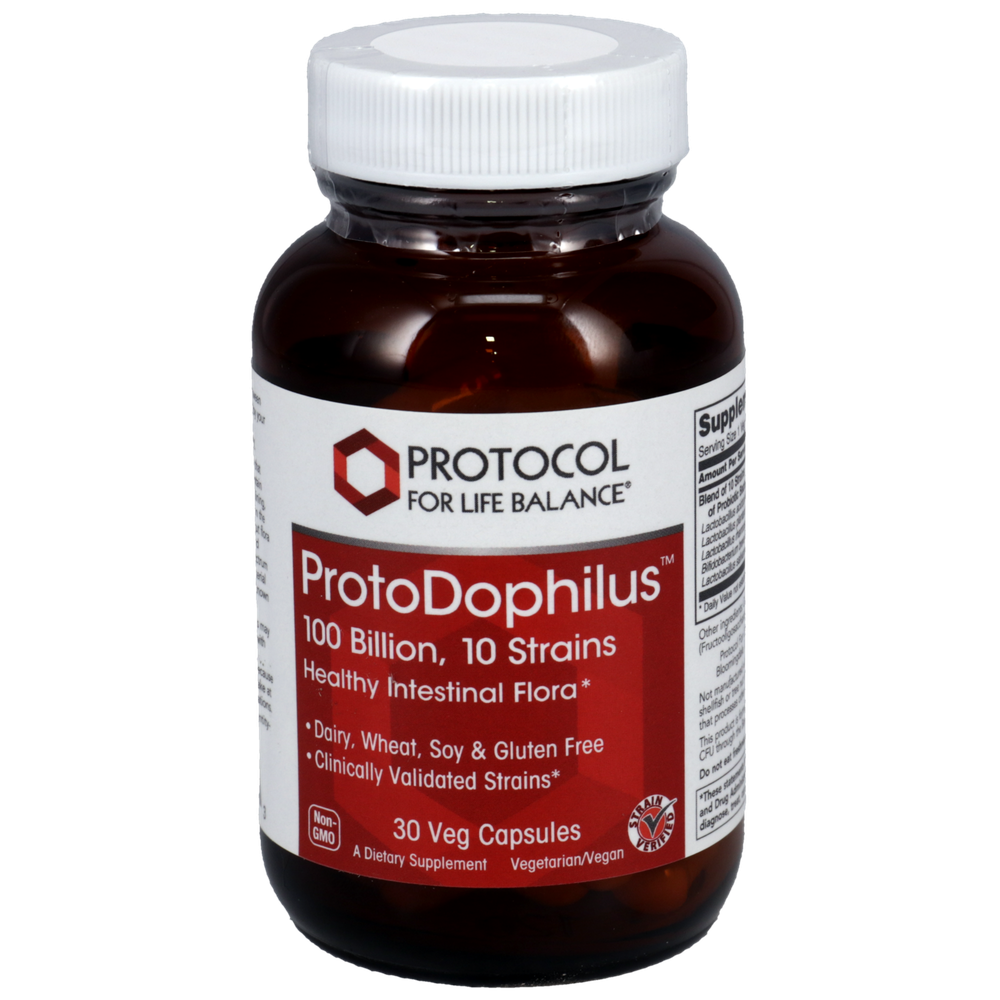 SKU: PROT-P2931
Probiotics are friendly bacteria that normally colonize the gut where they help to maintain structural and functional integrity of the intestinal lining, support, proper intestinal motility, and participate in the detoxification process.* The presence of healthy gut flora is also known to be critical for normal digestion and immune function.* ProtoDophilus™ is a broad spectrum probiotic consisting of acid-resistant probiotic bacterial strains that have been clinically validated and are known to naturally colonize the human GI tract.*
Take 1 capsule between meals or on an empty stomach, or as directed by your healthcare practitioner. KEEP REFRIGERATED TO MAINTAIN HIGH POTENCY.
Serving Size: 1 Veg Capsule
Amount Per Serving
Proprietary Blend of 10 Strains of Probiotic Bacteria ... 100 Billion CFU
Lactobacillus acidophilus (La-14), Bifidobacterium lactis (Bl-04), Lactobacillus plantarum (Lp-115), Lactobacillus casei (Lc-11), Lactobacillus rhamnosus (Lr-32), Lactobacillus paracasei (Lpc-37), Bifidobacterium breve (Bb-03), Streptococcus thermophilus (St-21), Lactobacillus salivarius (Ls-33), Bifidobacterium longum (Bl-05)
Other Ingredients: Cellulose Powder, Cellulose (capsule), FOS (Fructooligosaccharides), Ascorbyl Palmitate and Silica.
Not manufactured with wheat, gluten, soy, milk, egg, fish, shellfish or tree nut ingredients. Produced in a GMP facility that processes other ingredients containing these allergens.
Cautions / Interactions:
Probiotic supplements may cause mild, but transient GI discomfort. Individuals with severe immune system deficit should consult their healthcare practitioner before taking this product. Because antibiotics may inactivate some probiotic bacteria, take at least 2 hours before or after taking antibiotic medications.