GI Fortify* capsules
Pure Encapsulations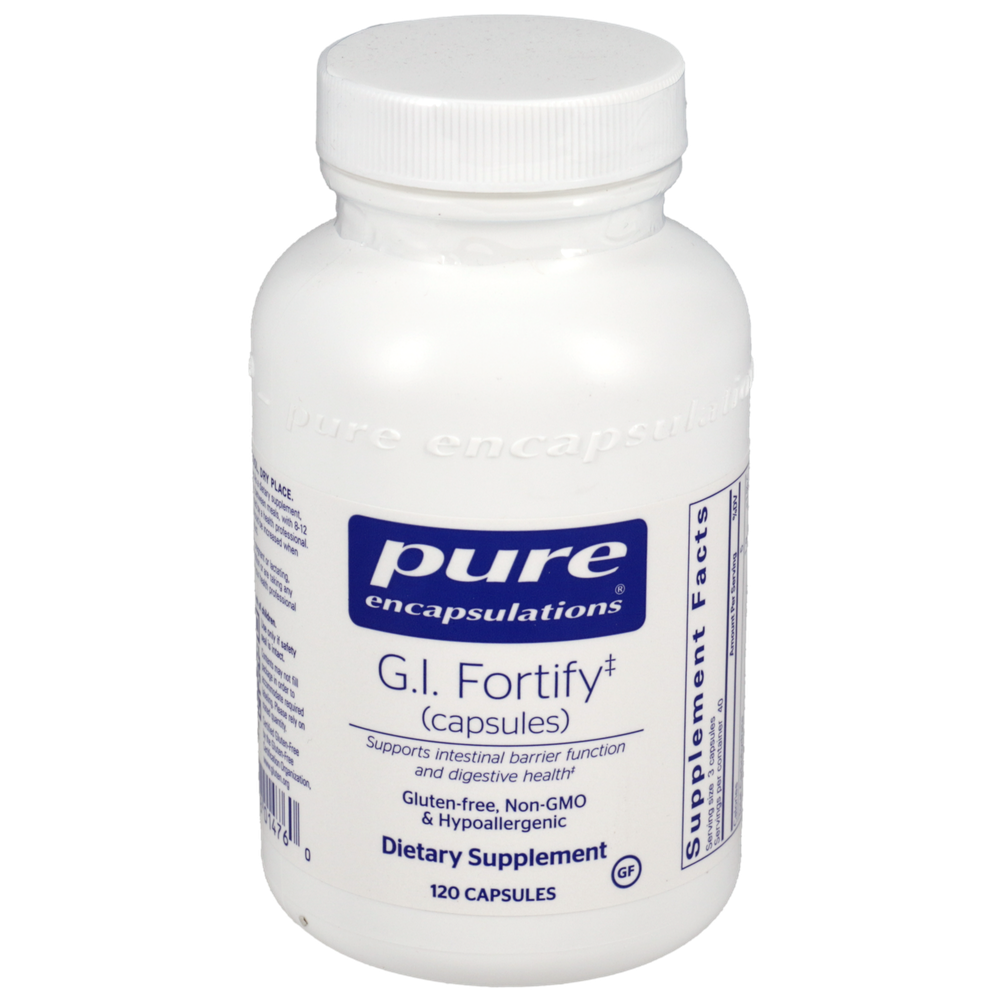 SKU: PUR-GIFC1
G.I. Fortify (capsules)* are a blend of high-impact fiber, herbs and nutrients to support overall gastrointestinal function and health. G.I. Fortify (capsules)* specifically support the function, microflora balance, cellular health and detoxification of the G.I. tract.*
Supports gastrointestinal health*
Promotes healthy bowel movement frequency*
Made with hypoallergenic, vegan ingredients
Convenient powder formula for easy dispensing
Take 3 capsules daily, with a meal and 8-12 oz water, or as directed by a health professional. Daily water intake should be increased when consuming this product.
Serving Size: Three Vegetarian Capsules
Amount Per Serving
Calories ... 5
Total Carbohydrate ... 1g
Dietary Fiber ... 1g
Psyllium Powder ... 1, 100mg
(plantago indica)(husk)
Flax Powder ... 400mg
(linum usitatissimum)(seed)
l-Glutamine ... 500mg
(free-form)
Aloe Vera Extract ... 100mg
(aloe barbadensis)(inner fillet)
(standardized to contain 10% polysaccharides)
Chlorella Powder ... 100mg
(chlorella pyrenoidosa)(cracked cell wall)
Other Ingredients: vegetarian capsule (cellulose, water)
Not to be taken by pregnant or lactating women. Psyllium and flaxseed may cause gastrointestinal discomfort, including bloating, flatulence, addominal pain or diarrhea. In rare cases, psyllium has been associated with headache, backache, rhinitis, increased cough, and sinusitis. Psyllium should be consumed with adequate water, as case reports indicate a potential for bowel obstruction when it is consumed without water. Rarely, individuals can have an allergic response to psyllium, with symptoms including runny nose, sneezing, conjunctivitis, skin rash, itching, flushing, chest and throat tightness, congestion, hypotension or anaphylactic shock. Consult your physician for more information.
l-Glutamine is contra-indicated with anticonvulsant medications. Psyllium and flaxseed may be contra-indicated with oral anti-hyperglycemic and/or blood thinning medications. Consult your physician for more information.