Gamma E 400 w/Tocotrienols
Source Naturals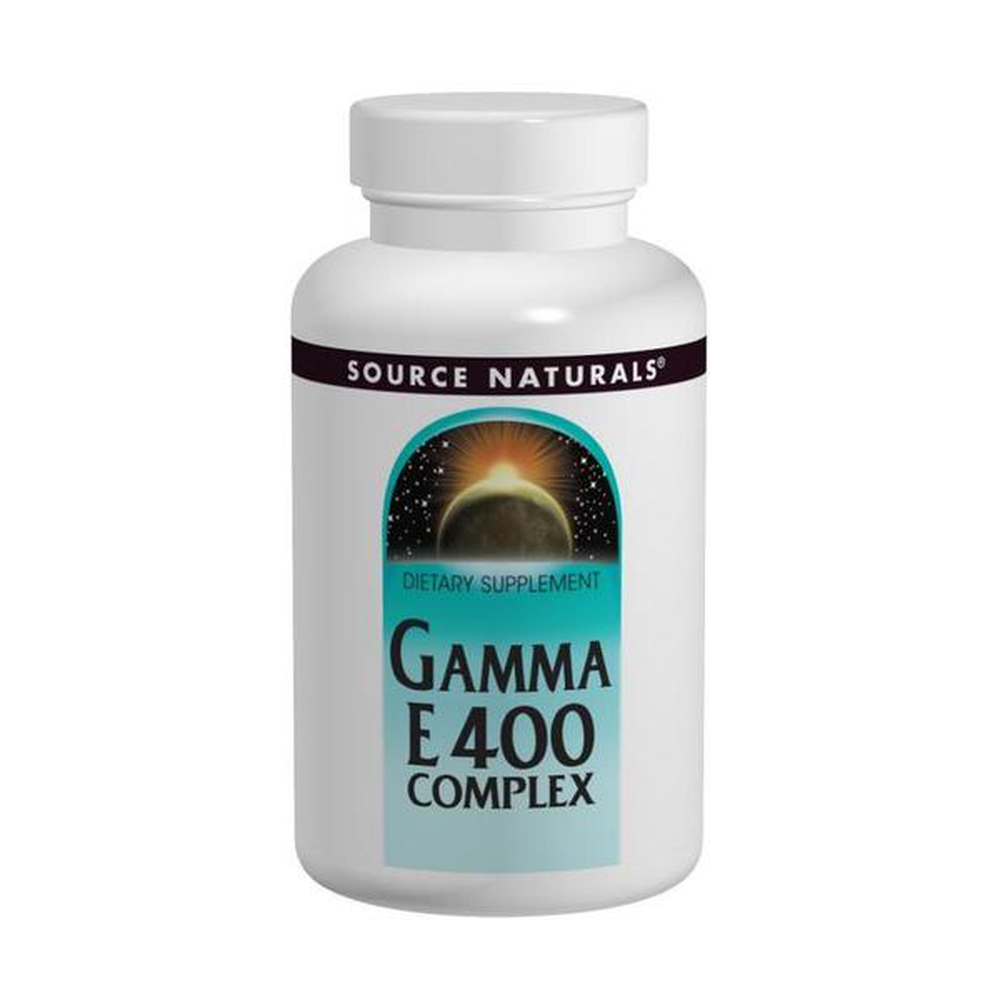 SKU: SOU-SN1697
Complete Vitamin E Complex with Tocotrienols


Recent research has demonstrated that
gamma
-tocopherol, the main dietary source of vitamin E, has a very important role in supporting health.
Gamma
-tocopherol is a more effective antioxidant than
alpha
-tocopherol and may be an important factor for a healthy cardiovascular system. It also inhibits the COX-2 enzyme, according to
in vitro
tests. Research indicates that a ratio of
gamma
to
alpha
-tocopherol greater than 1:1 increases levels of both tocopherols in the body and that
alpha
-tocopherol alone may not be adequate to combat oxidative stress. Source Naturals
Gamma E 400
offers a 3:1
gamma
- to
alpha
-tocopherol ratio (190 IU equals 126 mg) and also contains tocotrienols from palm fruit which provides high concentrations of all four tocotrienols:
alpha
,
beta
,
gamma
, and
delta
. Sesame seed oil, rich in
gamma
-tocopherol, is used as the base.
Supplement Facts
Serving Size: 1 Softgel
Vitamin E (D-alpha-Tocopherol)
190 IU
633%
Tocopherol Blend Yielding:
667 mg
gamma-, delta-, beta-Tocopherol
500 mg
Sesame Seed Oil
30 mg
Tocotrienol Complex (Tocomin®)
5 mg
Other Ingredients
: gelatin, glycerin, and purified water.
Allergies:
Contains soy.
Contains no yeast, dairy, egg, gluten, corn or wheat. Contains no sugar, starch, salt, preservatives, or artificial color, flavor or fragrance.
Warning:
If you are pregnant, may become pregnant, or breastfeeding, consult your health care professional before using this product.
Do not use if either tamper-evident seal is broken or missing. Keep out of the reach of children.
Contains soy.
Suggested Use:
1 to 2 softgels daily with a meal.
Disclaimer:
These statements have not been evaluated by the FDA. This product is not intended to diagnose, treat, cure, or prevent disease.