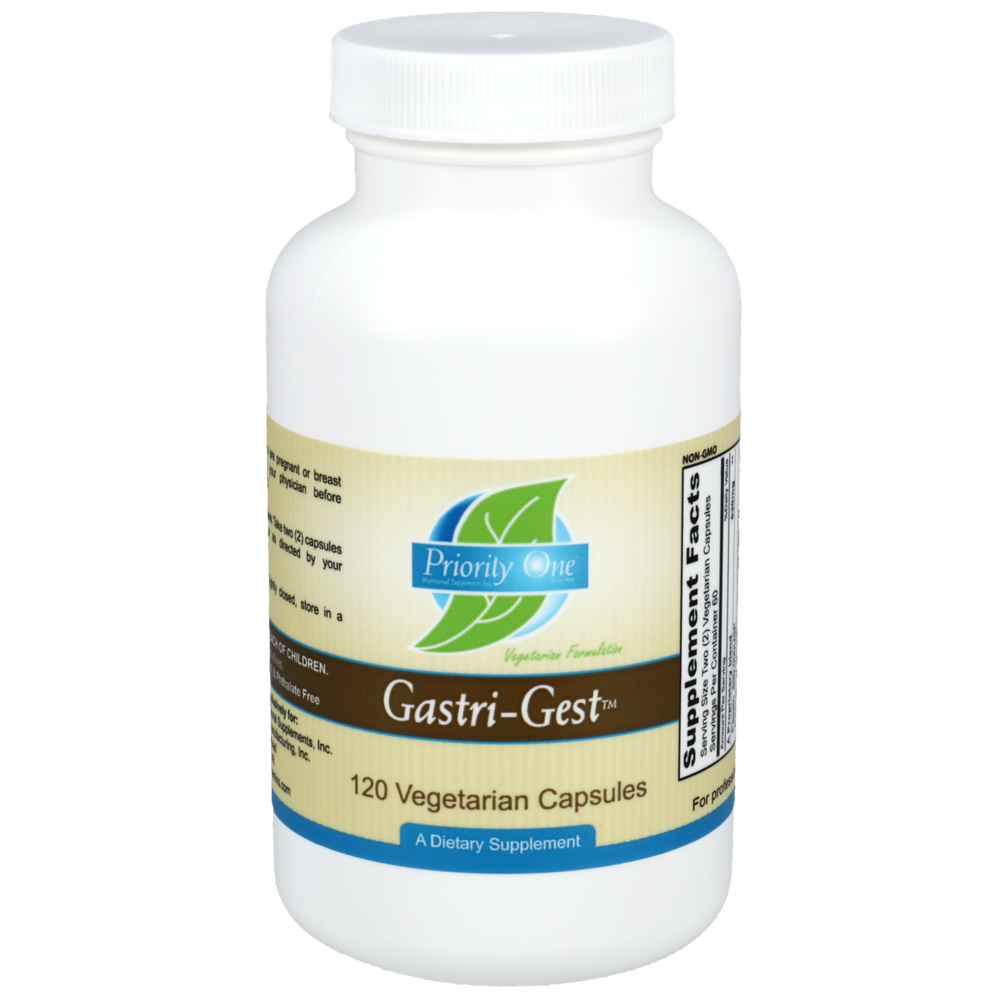 SKU: PR7-1321
Gastri-Gest is a powerful combination of plant enzymes that help maintain healthy digestion and intestinal enzyme activity.*
Beneficial for those with occasional indigestion.*
Enzymes promote absorption in a healthy gastrointestinal tract.*
Take two (2) capsules before meals, or as directed by a physician.
Serving Size: 2 Vegetarian Capsules
Amount Per Serving
A Proprietary Blend ... 630mg**
Papain 690, 000USP
Protease (Aspergillus oryzae) 53, 000HUT
Sucrase (Saccharomyces cerevisiae) 1000Su
Maltase (Hordeum vulgare) 700DP
Amylase (Aspergillus oryzae) 1, 000SKB
Cellulase (Trichoderma longibrachiatum) 720CU
Lipase (Aspergillus niger/ Candida rugosa) 2, 240LU
Lactase (Aspergillus oryzae) 1, 600ALU
Bifidobacterium Bifidum 260 Million CFU
Lactobacillus Acidophilus 260 Million CFU
Gamma Oryzanol ... 130mg**
Marshmallow ... 60mg**
(root)(extract 4:1)
(Althaea officinalis)
Slippery Elm ... 60mg**
(bark)(extract 4:1)
(Ulmus fulva)
Other Ingredients: Rice chelate, dicalcium phosphate, silicon dioxide, calcium carbonate, gum arabic, gluten free maltodextrin, vegetarian capsule (hypromellose, purified water).
This product does not contain
preservatives
Bisphenol-A (BPA)
Phthalate Free
GMOs
Warning: If you are pregnant or breast feeding, consult your physician before using this product.
Keep container tightly closed, store in a cool, dry place.

Keep out of reach of children.