Gastro-D Complex
D'Adamo Personalized Nutrition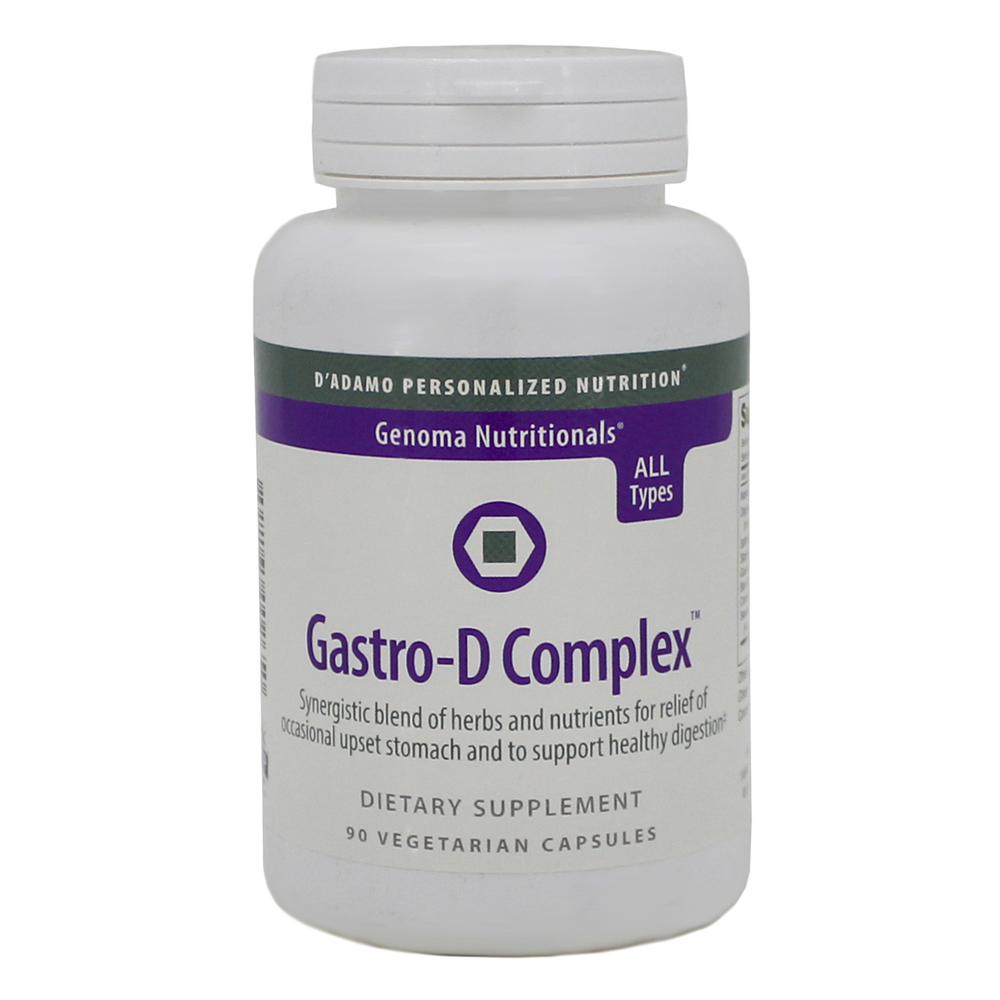 SKU: NAP-NP042
To support a healthy intestinal tract, Dr. Peter J. DAdamo, ND and chief developer of the Opus23 genomic software program, has designed Gastro-D Complex; a unique combination of herbs and minerals designed to soothe and calm gastric discomfort.
Gastro-D Complex contains a unique blend of five minerals including old-world remedies like licorice and slippery elm to support occasional heartburn, ease discomfort and provide general soothing to your stomach.
Gastro-D is free of sugar, salt, gluten, wheat, yeast, corn, soy, eggs, dairy, preservatives, colors or flavors and artificial ingredients. It is 100% vegetarian and made in the USA.
Suggested Use:
Take 2 capsules, twice daily, or as directed by a physician
Serving Size: 2 Capsules
Amount Per Serving
Mastic Gum ... 200mg
(from Pistacia lentiscus)
Deglycyrrhizinated Licorice ... 150mg
(from Glycyrrhiza glabra)
Safflower Tops ... 150mg
(Carthamus tinctorius)
Slippery Elm Bark ... 75mg
(Ulmus rubra)
Guava Leaf ... 50mg
(Psidium guajava)
Bismuth ... 50mg
(as Citrate)
Cranesbill Root ... 25mg
(Geranium maculatum)
Seaweed Kelp Whole Plant ... 25mg
(Fucus vesiculosus)
Other Ingredients: Vegetable Cellulose, Magnesium Citrate, Organic Rice Extract, Organic Rice Concentrate, and Silica.



This 100% vegetarian product contains no: sugar, salt, gluten, wheat, yeast, corn, soy, eggs or dairy, no preservatives, color or flavors, and no artificial ingredients.
Please note: Occasional heartburn or bloating is common, however, persistent or regular occurrences of these discomforts may be a sign of more serious problems. If these symptoms persist or worsen, we advise you to seek guidance from a healthcare professional.