GlucoFunction
Pure Encapsulations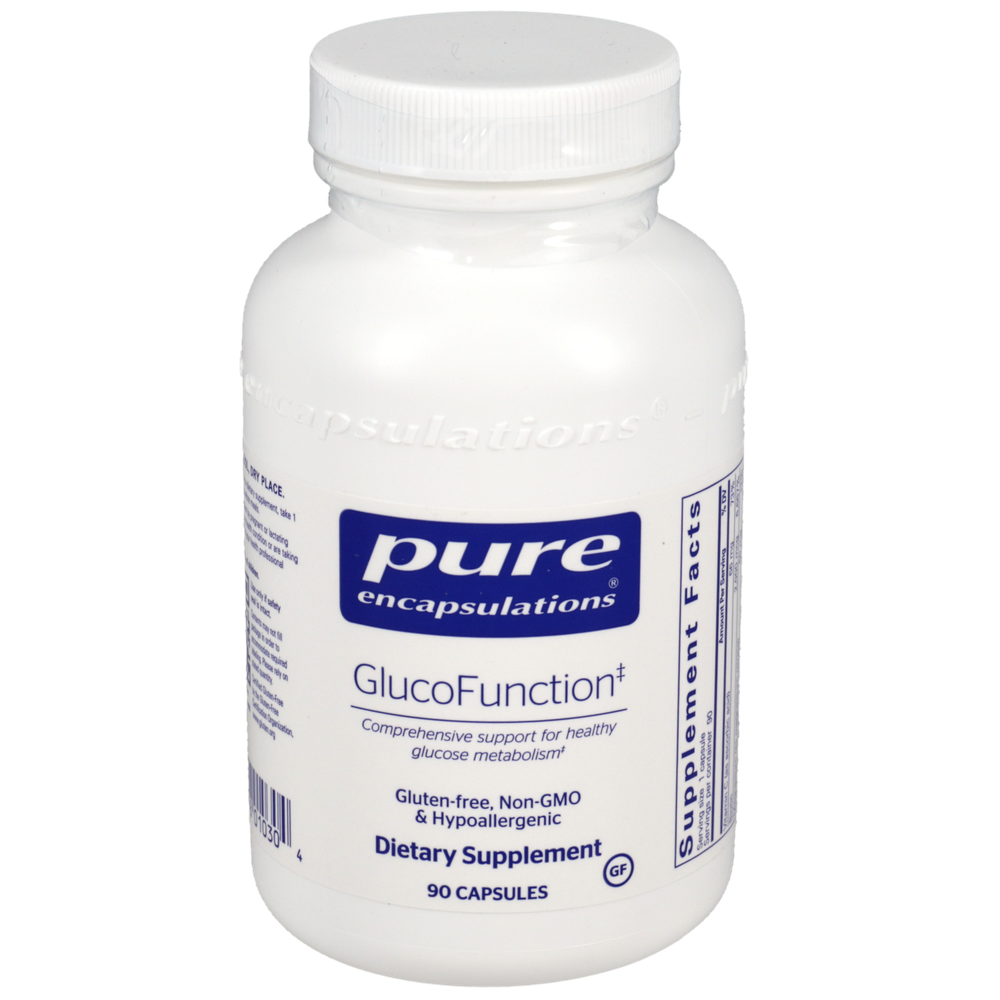 SKU: PUR-GF9
GlucoFunction is a blend of key nutrients, antioxidants and herbal extracts in one dietary supplement to provide comprehensive support for healthy glucose metabolism.*
Promotes healthy glucose metabolism*
May support healthy lipid metabolism and blood flow*
Made with vitamin C for antioxidant support*
Made with hypoallergenic, vegan ingredients
Minerals including chromium, magnesium and zinc are associated with healthy glucose metabolism and may be synergistic with biotin. Bis-glycinato oxo vanadium is an organic complex of glycine and vanadium specially designed for enhanced absorption and tolerability. Vanadium promotes healthy glucose metabolism by supporting healthy liver and skeletal muscle function. The water-soluble polyphenol polymers found in CinSulin® cinnamon extract promote healthy glucose function, lipid metabolism and blood flow. Momordica charantia, or bitter melon, and Gymnema sylvestre provide traditional support for healthy pancreas and glucose function. Vitamin C is a powerful antioxidant that also maintains healthy red blood cell sorbitol levels. Alpha lipoic acid supports healthy glucose metabolism by promoting healthy mitochondrial function.
Take 3 capsules daily, in divided doses, before meals.
Serving Size: Three Vegetarian Capsules
Amount Per Serving
Vitamin C ... 200mg
(as ascorbic acid)
Biotin ... 6mg
Magnesium ... 150mg
(as magnesium citrate)
Zinc ... 15mg
(as zinc citrate)
Chromium ... 400mcg
(as chromium polynicotinate)
Vanadium ... 1.5mg
(as bis-glycinato oxo vanadium (BGOV))
Alpha Lipoic Acid ... 300mg
(thioctic acid)
Cinnamon Extract ... 250mg
(cinnamomum cassia)(dried bark)
Gymnema Extract ... 150mg
(gymnema sylvestre)(leaf)
Bitter Melon Extract ... 225mg
(momordica charantia)(fruit)
Other Ingredients: vegetarian capsule (cellulose, water)
Individuals taking this product with anti-hyperglycemicmedications may require blood glucose monitoring. Consult your physician for more information.
Not to be taken by pregnant or lactating women. In rare cases, alpha lipoic acid has caused gastrointestinal upset or skin rash. Consult your physician for more information.