Glucosamine Chondroitin W/ Manganese
Pure Encapsulations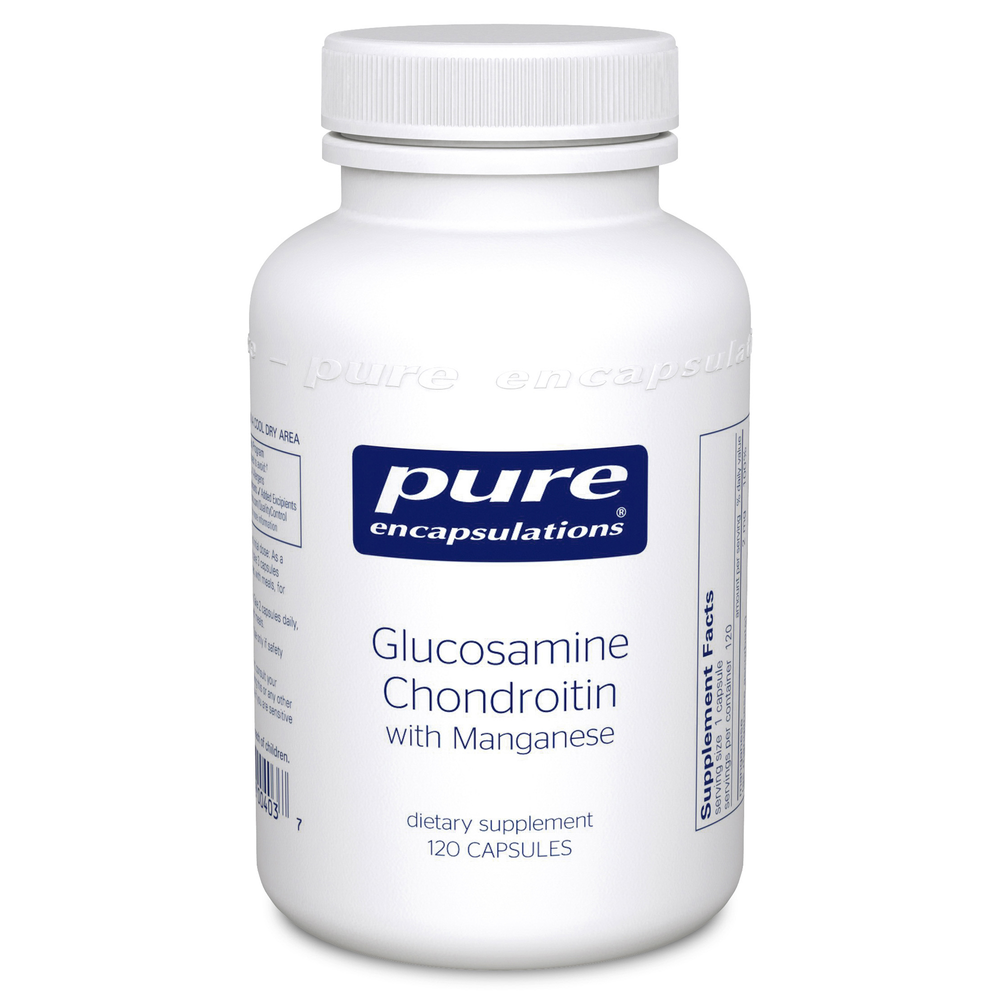 SKU: PUR-GCM1
Enhanced cartilage synthesis and antioxidant support
*This convenient formula combines two of the most important cartilage building blocks, glucosamine and chondroitin, with manganese ascorbate for enhanced connective tissue support. Glucosamine promotes the synthesis of glycosaminoglycans, such as chondroitin sulfate. The primary structural compound of articular cartilage, chondroitin sulfate also helps to block the activity of degradative enzymes. Together, glucosamine and chondroitin may provide synergistic support for healthy hyaluronic acid content and synovial fluid. The trace mineral manganese plays a key role in supporting glycosaminoglycan and mucopolysaccharide production and encourages the antioxidant activity of superoxide dismutase. Ascorbate is a vital nutrient for proper collagen formation and also serves as an antioxidant. In a recent study, the combination of glucosamine HCl, chondroitin sulfate and manganese ascorbate demonstrated the ability to promote joint function.
Pure Encapsulations Glucosamine/Chondroitin with Manganese is a powerful, complementary formula supporting optimal joint mobility and integrity.
Initial dose: 3 capsules per day, in divided doses, with meals, for 2-3 weeks.
Maintenance dose: 2 capsules per day, in divided doses, with meals.
Serving Size: 1 vegetable capsules
Amount Per Serving
manganese ... 2mg
(as manganese ascorbate)
glucosamine HCl ... 500mg
(from crab, shrimp)
chondroitin sulfate ... 400mg
(from bovine)
ascorbyl palmitate ... 5mg
(fat-soluble vitamin C)
other ingredients: vegetarian capsule (cellulose, water)
Rarely, ingredients in this formula have caused mild gastrointestinal symptoms, such as abdominal bloating, diarrhea or nausea. If pregnant or lactating, consult your physician before taking this product.
This product may be contra-indicated with certain blood thinning medications. Consult your physician for more information.
*These statements have not been evaluated by the Food & Drug Administration. This product is not intended to diagnose, treat, cure or prevent any disease.