Glutathione Complex
Quicksilver Scientific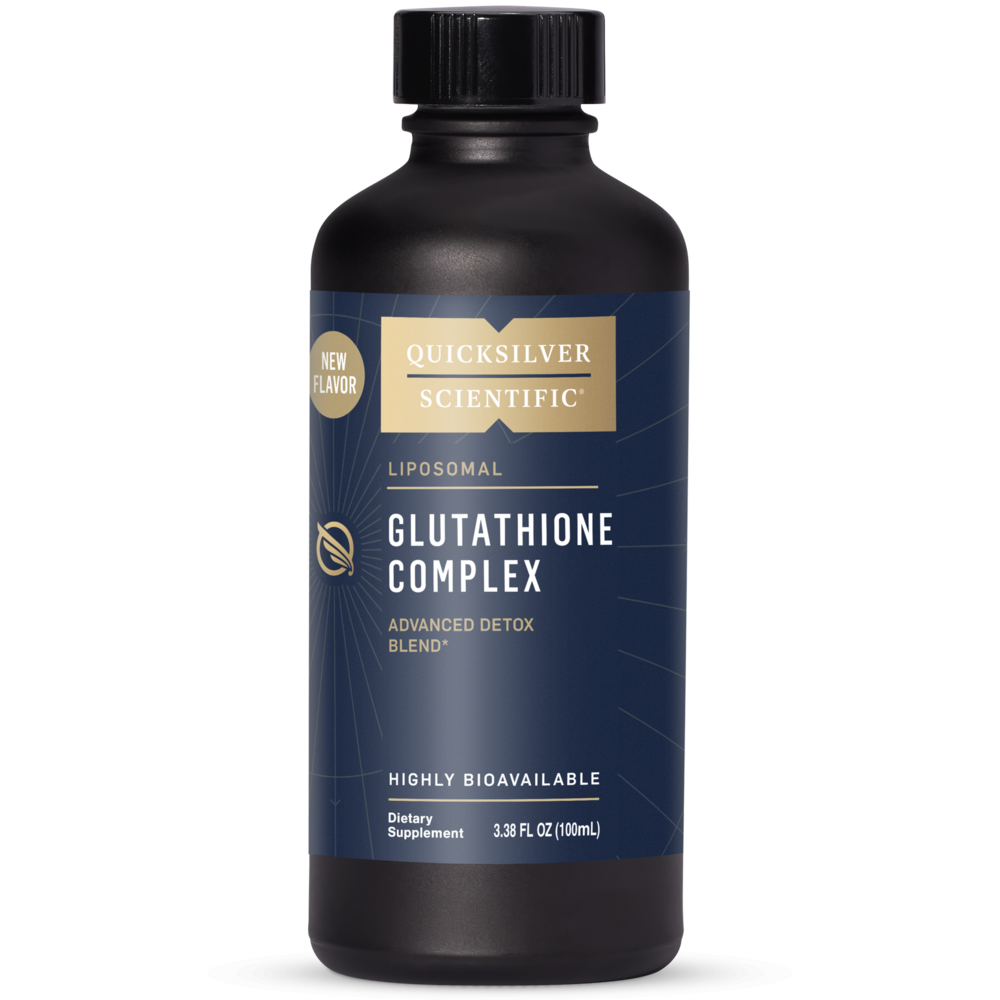 SKU: QSL-Q1060
Cleansing, Liver, Immune + Energy Support with Active B Vitamins, Milk Thistle, Antioxidant Liquid Glutathione (3.38oz / 100ml)

Heighten the detoxifying properties of our bestselling Glutathione with a combination of three products in one. B Complex and milk thistle complement glutathione for a more comprehensive, formula.

All-In-One Detox Blend*
Antioxidant Glutathione – Glutathione helps safeguard our cells from the negative effects of toxins, helping to neutralize and remove them from the body. It can also support a balanced immune system.†
B Complex + Milk Thistle – Bioavailable B vitamins are included to optimize energy and meet the extra metabolic demands of detox. Milk thistle supports the liver, gallbladder, digestion, and proper bile flow.
Unsurpassed Absorption – Common glutathione, B vitamins and milk thistle supplements have poor bioavailability. Liposomal delivery beings to flood the body with nutrients and botanicals when it hits the tongue and is ingested.†


Suggested Use:
Take 1 tsp. 1-4 times per day. Hold in mouth 30 seconds before swallowing. Repeat to desired dosage or as directed by a healthcare professional. Take on an empty stomach, at least 10 minutes before meals. Use within 30 days of opening. Store away from light. If pregnant, breast-feeding or planning to become pregnant, consult your physician before use.
Serving Size:
5.0mL (1tsp.)
Amount Per ServingThiamin
... 12.5mg
(Vitamin B1)(as Thiamine hydrochloride)
Riboflavin
... 7.5mg
(Vitamin B2)(as Riboflavin 5-Phosphate)
Niacin
... 10mg
(Vitamin B3)(as Niacin, Niacinamide)
Vitamin B6
... 7.5mg
(as Pyridoxine hydrochloride)
Folate
... 500mcg
(as Calcium folinate)
Vitamin B12
... 500mcg
(as Methylcobalamin)
Biotin
... 500mcg
Pantothenic acid
... 25mg
(as d-Calcium pantothenate)
Sodium
... 20mg
OpitacTM Glutathione
... 325mg**
Betain Anhydrous
... 25mg**
(Trimethylglycine)
Milk Thistle Extract
... 57.5mg**
Phospholipids
... 400mg**
(from purified sunflower seed lecithin)
Other Ingredients:
Water, Glycerin, Ethanol, Tocofersolan, EDTA (as preservative) Natural Plant Flavoring (no MSG), Naturl Mixed Tocopherols, Natural Citrus and Mint Oils.
Refrigerate upon receipt.
If pregnant, consult physician before use.