MerProtect Detox
Quicksilver Scientific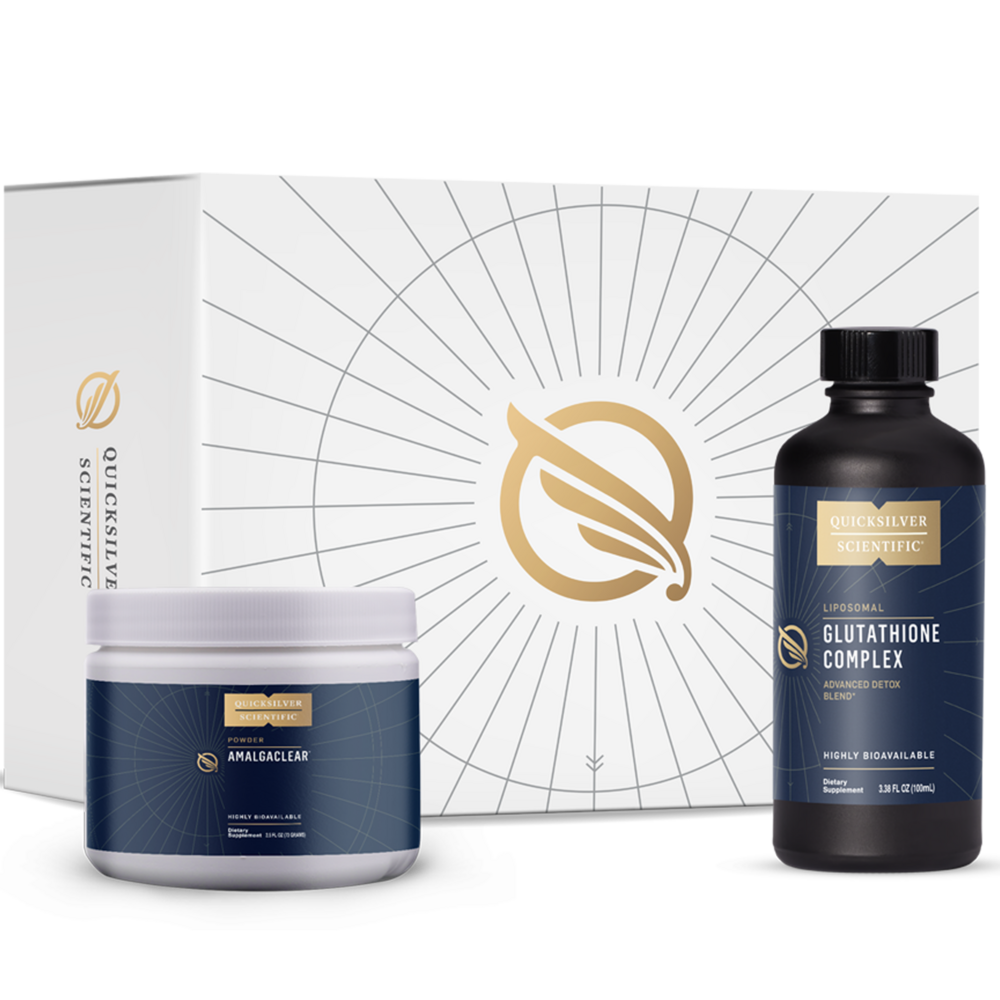 SKU: QSL-S2030
The MerProtect™ Protocol is designed to support the body in detoxifying and eliminating mercury and other metals released during removal of "silver" dental amalgams. Dental amalgam is a mixture of 50% elemental mercury, along with a powdered alloy of silver, tin, and copper. The two products that compose this protocol contain all the elements necessary to safely enable enhanced detoxification during and after amalgam removal, and to capture and bind mercury and other toxic metals that may be released during drilling.
Our elegant and powerful formulation and delivery chemistry derives from Dr. Shade's extensive research into the pathways that mercury, a potent neurotoxin, can take as it is released into the body. This protocol can minimize the redistribution and reabsorption of mobilized metals.
Supports metals detoxification and elimination*
Supports the body's powerful internal protective and antioxidant defenses*
Promotes detoxification with targeted phytonutrients and biomolecules*
1 x Amalgaclear
1 x Glutathione Complex
One complete dosing cycle completed at least 20-30 minutes before a meal. Take a dose of Liposomal Glutthione Complex™, (hold in mouth 30-60 seconds before swallowing.) 30 minutes later take a dose of AmalgaClear™, then wait 30 minutes before eating.
Liposomal Glutathione Complex™:Serving Size:
5ml (1 Pumps)
Amount Per ServingThiamin
... 12.5mg
(Vitamin B1)(as Thiamine hydrochloride)
Niacin
... 10 mg
(Vitamin B3)(as Niacin, Niacinamide)
Vitamin B6
... 7.5 mg
(as Pyridoxine hydrochloride)
Folate
... 500 mcg
(as Calcium folinate)
Vitamin B12
... 500 mcg
(as Methylcobalamin)
Biotin
... 500mcg
Pantothenic acid
... 25 mg
(as d-Calcium pantothenate)
Sodium
... 20mg
OpitacTM Glutathione
... 325mg
Trimethylglycine
... 20 mg
(from betaine)
Riboflavin 5-Phosphate
... 7 mg
(Coenzyme Vitamin B2)
Milk Thistle Seed Extract
... 57.5 mg
Phospholipids
... 400 mg
(from purified sunflower seed lecithin)
Other Ingredients:
Water, Glycerin, Ethanol, Vitamin E (as Tocofersolan and Natural Mixed Tocopherols), EDTA (as preservative) Natural Plant Flavoring (no MSG), Natural Citrus and Mint Oils
Amalgaclear:Serving Size:
1 Tsp (3.64g)
Amount Per ServingQuali™ -C Vitamin C
... 784mg
(from European Sodium Ascorbate)
Sodium
... 100mg
Dietary Fiber
... 1g
Silica Extract†
... 100mg
Proprietary Blend
... 2,658mg
Efistab™, AA (Acacia Gum), PectaSol-C® Modified Citrus Pectin†IMD (Proprietary thiol-functionalized silica)
In a perfect setting, waiting 30 minutes is optimal, but intervals may be adjusted down to 20 minutes to accommodate a hectic schedule. As long as the dosing cycles are spaced at intervals throughout the day the protocol will be effective.
Store in a cool, dry place.
Amalgaclear is a California Prop 65 item.