Ultra Vitamin®
Quicksilver Scientific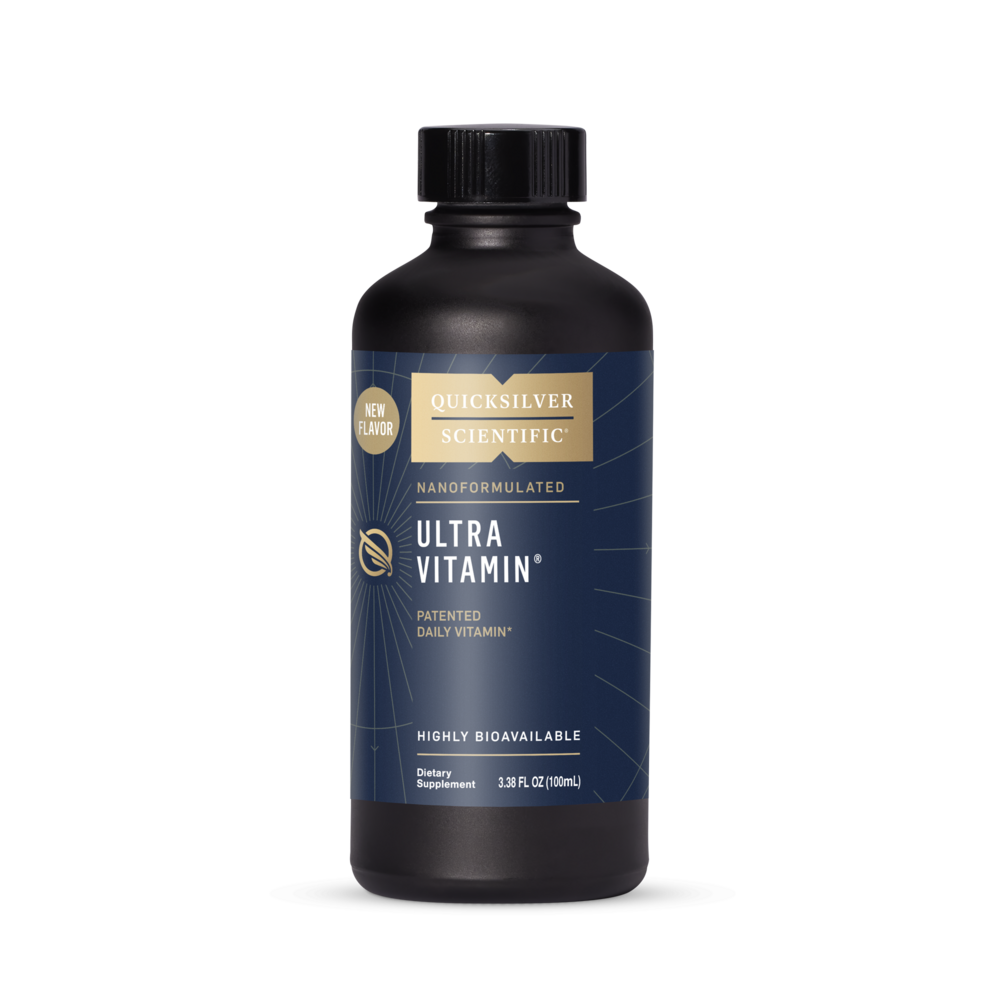 SKU: QSL-Q1024
The ultimate state-of-the-art multivitamin blend offers maximum absorption and efficacy. The formula includes many active forms of B vitamins along with a comprehensive blend of stable and metabolically active vitamins and antioxidants. Three of the most potent carotenoids known – lutein, zeaxanthin, and lycopene — are included to broaden the spectrum of protection.
Protects vision*
Protects and supports the nervous system*
Take 1 teaspoon by mouth once daily. Hold in mouth 30 seconds before swallowing. Repeat to desired dosage or as directed by a healthcare professional. Take on an empty stomach, at least 10 minutes before meals. Use within 30 days of opening.
Serving Size:
5 ml (1 tsp)
Amount Per Serving
Vitamin A ... 3800mcg
(as Palmitate, Beta Carotene)
Vitamin C ... 110mg
(as Sodium Ascorbate)
Vitamin D ... 62.5mcg
(as Cholecalciferol)
Vitamin E ... 24mg
(as Natural Mixed Tocopherols, Tocofersolan)
Vitamin K, K1 ... 90mcg
(MK7, Phytonadione)
Thiamin ... 12.5mg
(Vitamin B1, Thiamine HCl)
Riboflavin ... 5.6mg
(as Riboflavin-5-Phosphate)
Niacin ... 10mg
(as Niacin, Niacinamide)
Vitamin B6 ... 6.7mg
(as Pyridoxine HCl)
Folate ... 850mcg
(as Calcium Folinate)
Vitamin B12 ... 500mcg
(as Methylcobalamin)
Biotin ... 500mcg
Pantothenic acid ... 25mg
(as Calcium d-Pantothenate)
Sodium ... 10mg
(as Sodium Ascorbate)
Trimethylglycine ... 20mg
(from betaine)
Proprietary Blend ... 363mg
Phospholipids (from purified sunflower seed lecithin), liquid Milk Thistle seed extract, Tocotrienols (from annatto), Lycopene, Zeaxanthin, Lutein
Other Ingredients:
Water, Glycerin, Ethanol, EDTA (as preservative), Natural Citrus Oil, and Natural Flavoring.
If pregnant, consult physician before use.