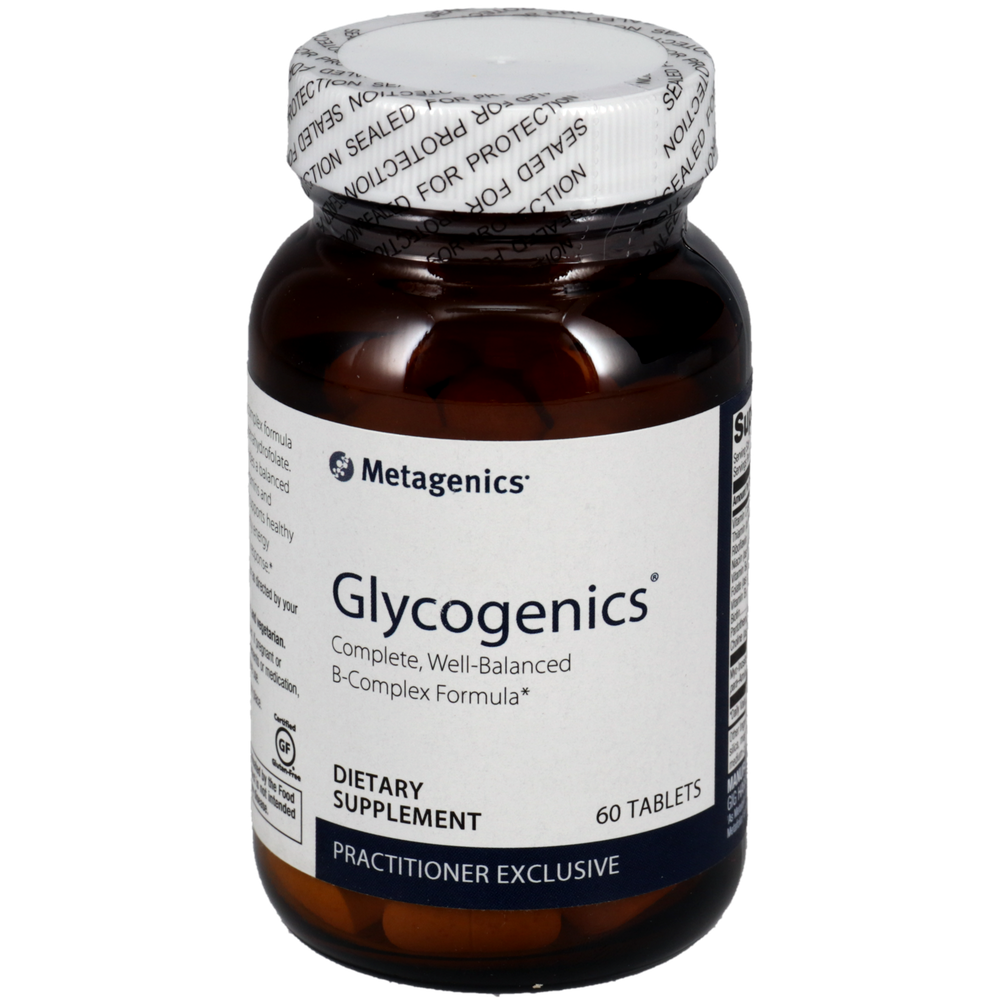 SKU: MET-GL022
Glycogenics® is an advanced B-complex formula that features calcium L-5-methyltetrahydrofolate, a nature-identical folate. This innovative formula also provides a balanced blend of other high potency B vitamins and supportive nutrients. B-complex supports healthy homocysteine metabolism, healthy energy metabolism, and a healthy stress response.*
Suggested Use:
Take one tablet twice daily or as directed by your healthcare practitioner.


Serving Size: 1 Tablet
Amount Per Serving / Daily Value
Vitamin C ... 125 mg 139%
(as ascorbic acid)
Thiamin ...14 mg 1,167%
(as thiamin mononitrate)
Riboflavin ... 16 mg 1,231%
Niacin ... 200 mg 1,250%
(as niacinamide and niacin)
Vitamin B6 ... 22 mg 1,294%
(as pyridoxine HCl)
Folate .... 665 mcg DFE 166%
(as calcium L-5-methyltetrahydrofolate)†
Vitamin B12 ... 250 mcg 10,417%
(as methylcobalamin)
Biotin ... 250 mcg 833%
Pantothenic Acid ... 75 mg 1,500%
(as D-calcium pantothenate)
Choline ... 100 mg 18%
(as choline bitartrate)
Myo-Inositol ... 94 mg *
para-Aminobenzoic Acid (PABA) ... 15 mg *
Other Ingredients: Microcrystalline cellulose, stearic acid (vegetable), silica, magnesium stearate (vegetable), and coating (hypromellose, medium-chain triglycerides, and hydroxypropylcellulose).
This product is non-GMO, gluten-free, and vegetarian.
*Daily Value not established.
†As Metafolin® U.S. Patent Nos. 5,997,915; 6,254,904. Metafolin® is a registered trademark of Merck KGaA, Darmstadt Germany
Caution: Keep out of the reach of children. If pregnant or nursing, or taking other nutritional supplements or medication, consult your healthcare practitioner before use.
Storage: Keep tightly closed in a cool, dry place.