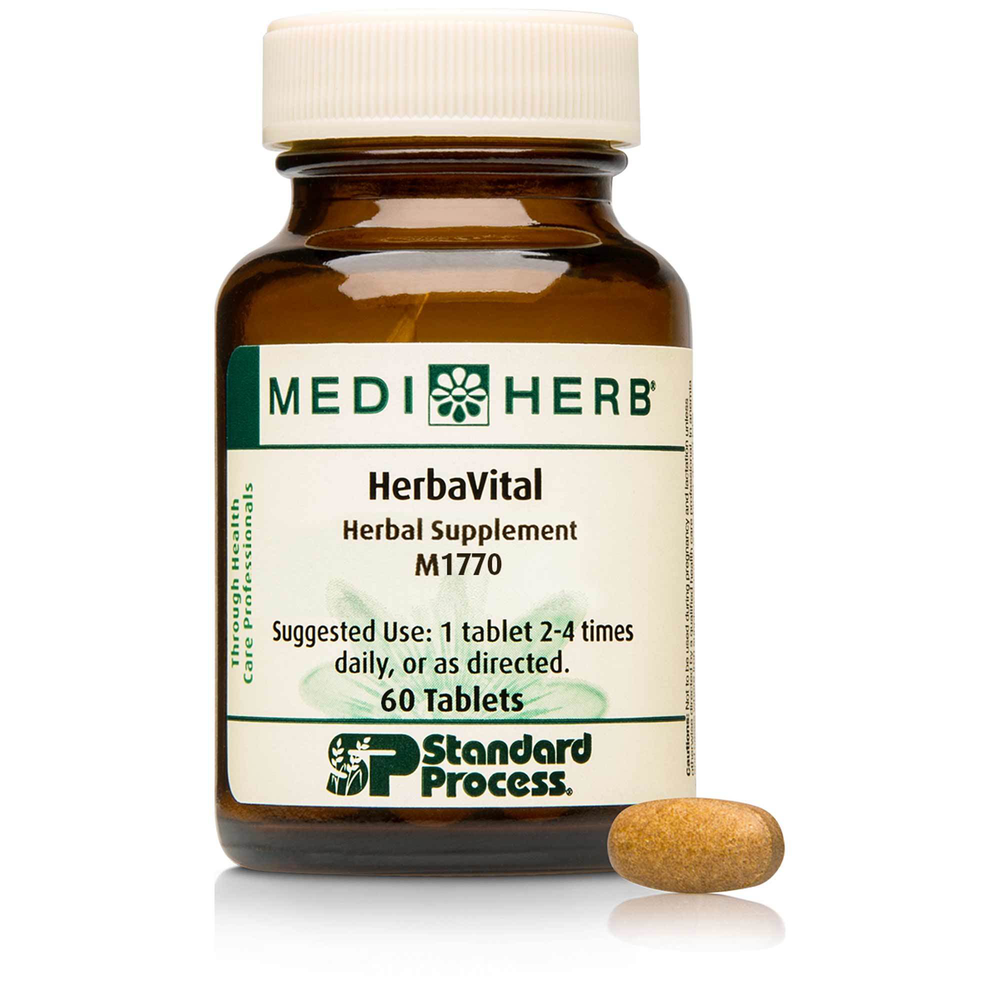 SKU: MDH-M1770
HerbaVital
provides multi-action support for healthy aging and contains Japanese Knotweed, Milk Thistle, Korean Ginseng, Grape seed and Ginkgo leaf. These herbs have been traditionally used in herbal preparations to:
Support and maintain the body as it ages
Promote vitality and stamina in older adults
Support healthy circulation in mature men and women
Work as a tonic to benefit the entire body*
Suggested Use:

Take 1 tablet 2-4 times daily, or as directed.
Serving Size:
1 Tablet
Amount Per ServingCalcium
... 73mg
Japanese Knotweed root 100:1 extract
... 80mg
from Polygonum cuspidatum root 8.0 gContaining resveratrol 36 mg
Milk thistle seed 70:1 extract
... 68.6mg
from Silybum marianum seed 4.8 gContaining flavanolignans calc. as silybin 48 mg
Korean Ginseng root 5:1 extract
... 50mg
from Panax ginseng root 250 mgContaining ginsenosides* 4.2 mg
Grape Seed 120:1 extract
... 40mg
from Vitis vinifera seed 4.8 gContaining procyanidins 38 mg
Ginkgo leaf 50:1 extract
... 30mg
from Ginkgo biloba leaf 1.5 gContaining ginkgo flavonglycosides 7.2 mgContaining ginkgolides and bilobalide 1.8 mg
Other Ingredients:
Dibasic calcium phosphate dihydrate, microcrystalline cellulose, sodium starch glycolate, magnesium stearate, hypromellose, dextrose and silicon dioxide.
Caution:
Not to be used during pregnancy and lactation unless otherwise directed by a qualified health care professional. In anemia and cases where iron supplementation is required, do not take simultaneously with meals or iron supplements. Discontinue during an acute infection or fever.