HLC MindLinx Powder
Pharmax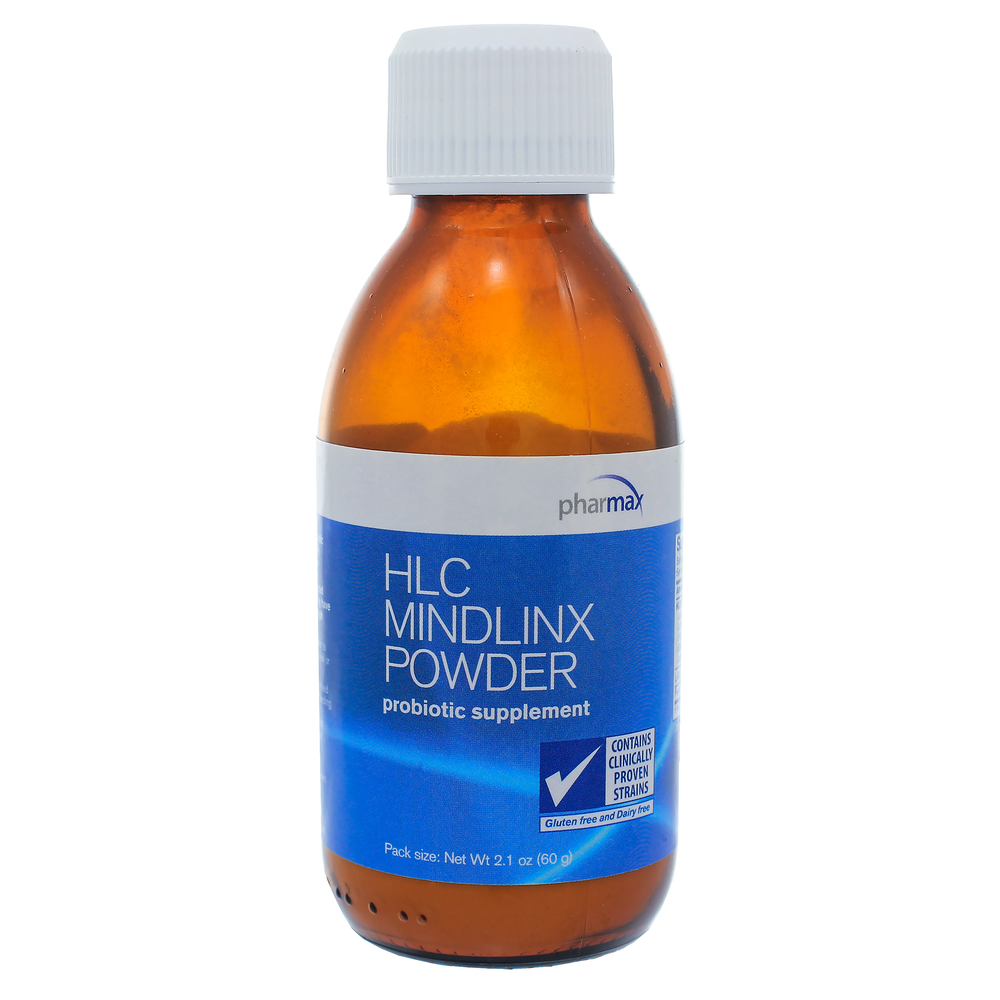 SKU: PX-PB2060
Supports gastrointestinal health in adults*
Contains L. rhamnosus, a probiotic that has shown exorphindegrading activity in vitro*
Provides 24 billion CFU per daily dose
Includes 1000 mg of L-glutamine and 500 mg of fructooligosaccharides (FOS) per daily dose
Great-tasting apricot flavor
HLC MindLinx Powder provides a combination of five proprietary, human-sourced probiotics, plus the amino acid L-glutamine and FOS in a delicious apricot-flavored powder. This probiotic blend includes L. rhamnosus, a strain that has demonstrated exorphin-degrading activity in vitro. Exorphins are peptides produced during the digestion of certain foods, including wheat and dairy products. In intestinallystimulated conditions, L. rhamnosus has been shown to extensively eliminate exorphins from wheat and milk. This probiotic helps to support gastrointestinal health and contribute to a favorable gut flora along with four other proprietary, research-driven strains.*
In a glass, add water to ¼ teaspoon (1 g) and mix. Take twice daily with a meal or as professionally directed.
Serving Size: 1/4 Teaspoon (1g)
Amount Per Serving
HLC Consortium ... 12 billion viable cells†
Lactobacillus acidophilus (CUL-60)
Lactobacillus acidophilus (CUL-21) (CUL-34)
Bifidobacterium bifidum (CUL-20)
Bifidobacterium animalis subsp. lactis (CUL-34)
Lactobacillus rhamnosus (CUL-63)
L-glutamine ... 500mg†
Fructooligosaccharides (FOS) ... 250mg
Other Ingredients: Apricot powder
If you have an immune-compromised condition, do not use. If you are pregnant or
breastfeeding, consult your healthcare practitioner prior to use. If symptoms
of digestive upset occur, worsen or persist beyond three days, discontinue use
and consult your healthcare practitioner.
Vacuum-sealed for your protection and for product freshness. Do not use if
outer seal is missing or broken. Store under refrigeration (below 46° F).
Keep out of reach of children.