HMF™ Forte
Seroyal/Genestra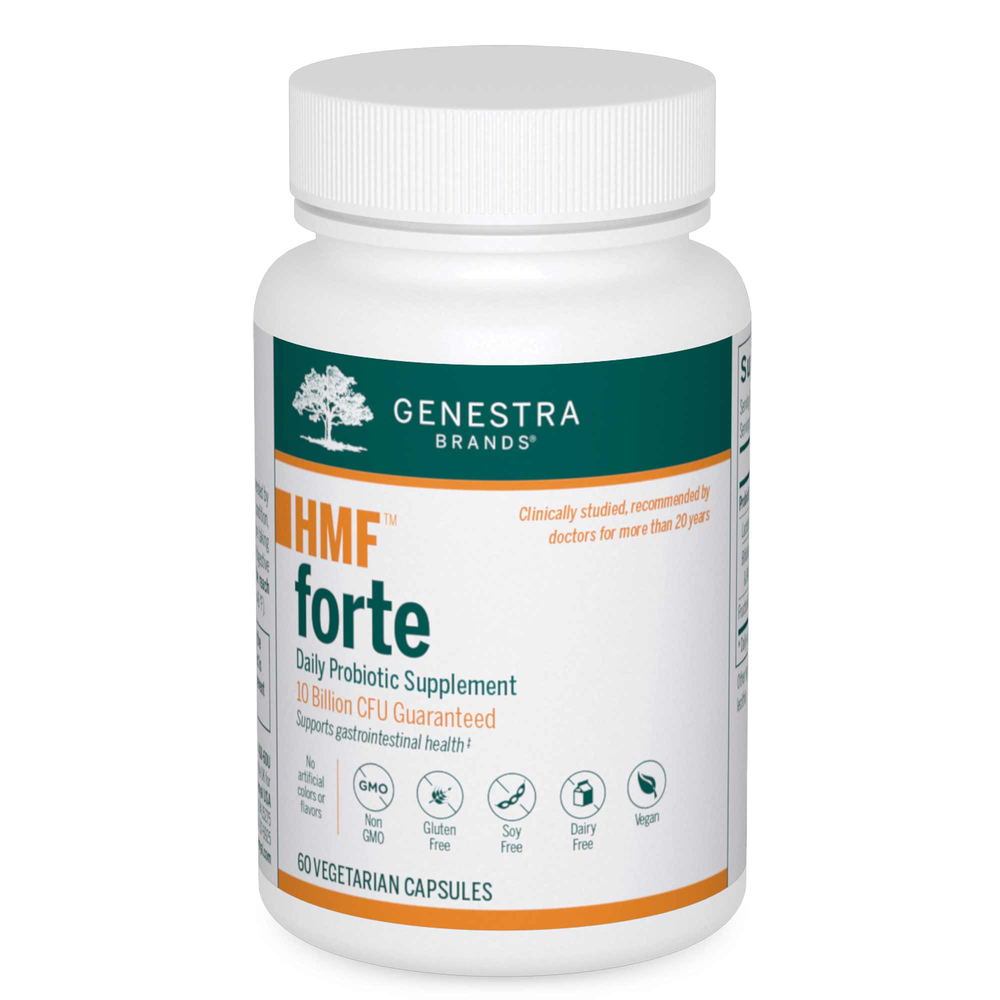 SKU: GN-10418
Promotes optimal intestinal health in adults and children*
Supports healthy gut microflora balance*
Provides 20 billion CFU per day from two strains of Lactobacillus acidophilus, Bifidobacterium bifidum, and Bifidobacterium animalis subsp. lactis
HMF™ Forte is a unique combination of four strains of proprietary, human-sourced probiotics that helps to promote gastrointestinal health in adults and children. Supplementation with large numbers of a combination of microorganisms will help maximize intestinal colonization, supporting the growth of beneficial bacteria. Lactobacilli and Bifidobacteria, the most commonly used probiotics, help colonize the intestines and mediate the permeability of epithelial cells. In a randomized, placebo-controlled trial involving 22 adults, daily supplementation with a probiotic containing Lactobacillus acidophilus supported a healthy microflora balance.*


Suggested Use:
Take one capsule two times daily with meals or as recommended by your healthcare practitioner.


Serving Size: 1 Capsule

Amount Per Serving
Probiotic Consortium ... 10 billion CFU*
Lactobacillus acidophilus (CUL-60 & CUL-21)
Bifidobacterium animalis subsp. lactis (CUL-34) & Bifidobacterium bifidum (CUL-20)
Fructooligosaccharides (FOS) ... 100mg

Other Ingredients: Hypromellose, cellulose, silica, sunflower lecithin.


Non GMO, Gluten Free, Soy Free, Dairy Free, Vegan, No artificial colors and flavors.


Warning: Do not use if you have an immune compromised condition. Consult your healthcare practitioner prior to use if you are pregnant, breastfeeding, taking any medication, or have any health condition. If symptoms of digestive upset occur, discontinue use and consult your healthcare practitioner.
Safety-sealed for your protection and for product freshness. Do not use if outer seal is missing or broken. Store under refrigeration (below 46 °F). Keep out of reach of children.