Homocysteine Cardioplex
Patient One MediNutritionals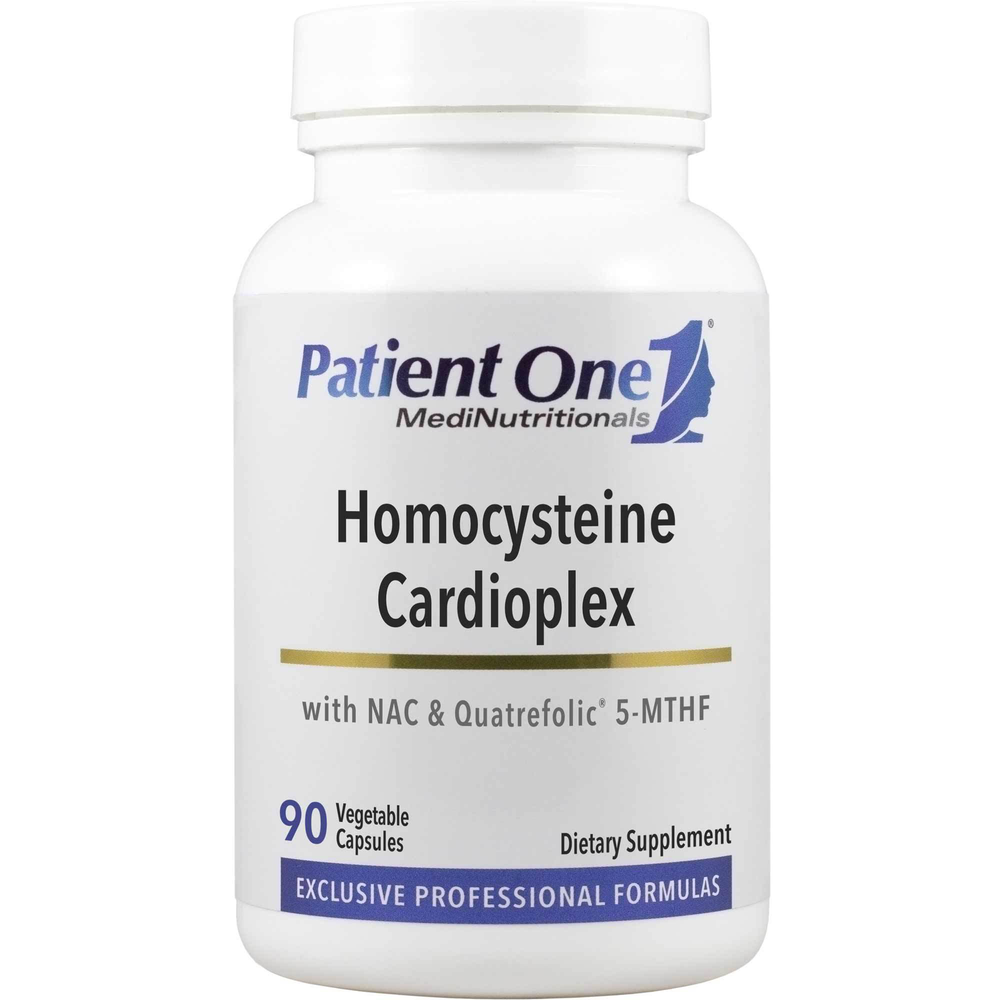 SKU: ONE631-P105890
Maintains homocysteine levels for optimal cardiovascular well-being
Promotes overall cardiovascular health
Modulates homocysteine's metabolic pathways
Supports homocysteine conversion into methionine and cysteine
Optimizes endothelial health and function
Unique Properties
Patient One Homocysteine Cardioplex supplies evidence-backed, broad-spectrum nutritional support for maintaining homocysteine levels already within normal range. Plasma homocysteine can be a serious cardiovascular, endothelial and renal risk factor. Certain B vitamins promote healthy homocysteine; however, B vitamin absorption can decline significantly with age and some patients do not respond to B-6 supplementation. Further, some patients may have genetic enzyme deficiencies that may impair homocysteine metabolism. Homocysteine Cardioplex overcomes these challenges by supplying highly absorbable and bioavailable forms of key B vitamins along with diverse methyl donor nutrients. As it opens multiple pathways for catalyzing homocysteine remethylation to methionine, Homocysteine Cardioplex balances plasma homocysteine levels and promotes overall cardiovascular wellness.
Key Ingredients
Quatrefolic®:
A reduced and active form of folate (vitamin B-9), Quatrefolic, the advanced 5-methyltetrahydrofolate (5 MTHF) form, is bound with natural glucosamine salt to promote easy and complete absorption. Considered the "Fourth Generation" folate, Quatrefolic is significantly more stable and bioavailable than 5 MTHF that is bound to calcium salt. Because Quatrefolic is active when it enters the body, it is better able to influence pathways for homocysteine metabolism. Quatrefolic's pre-converted status may be especially beneficial for patients with a genetic defect of the folate-converting enzyme methylentetrahydrofolate reductase.
Vitamins B-6 and B-12:
Supplying vitamins B-6 (as pyridoxal-5-phosphate) and B-12 (as methylcobalamin), Homocysteine Cardioplex provides two extensively researched clinical standards for nutritional homocysteine management. B-6 modulates homocysteine's conversion into cystathione, a key step in its excretion. B-12 is an important donor for enabling homocysteine to be remethylated into methionine. B-12 also works in concert with the coenzyme methionine synthase, creating a primary pathway of remethylation of homocysteine.
N-Acetyl L-Cysteine (NAC):
A free-form amino acid, N-Acetyl L-Cysteine (NAC) is believed to block homocysteine formation at plasma protein binding sites while encouraging efficient elimination of homocysteine via urinary excretion. Studies have suggested NAC appears to be especially beneficial in promoting healthy homocysteine levels in patients who have undergone kidney transplants. As it works to promote healthy endothelial function, NAC offers further support for overall cardiovascular wellness.
Trimethylglycine (as betaine anhydrous):
Trimethylglycine, also known as betaine, is considered a key player in homocysteine metabolism and has long been administered as a methyl donor for remethylating homocysteine back into methionine. Trimethylglycine (TMG) betaine is a necessary cofactor in the secondary pathway of homocysteine metabolism. Betaine is typically administered to patients who are not responsive to pyridoxine (B-6) and other B vitamins.
Magnesium as TRAACS®:
An acronym for The Real Amino Acid Chelate System, TRAACS is a patented range of proprietary mineral amino acid chelates. TRAACS magnesium (Magnesium Glycinate Chelate Buffered Powder) is an organic mineral form known for its safety and ease of absorption. Featuring a biological advantage in assimilation, TRAACS requi

Take 3 capsules daily, in divided doses with meals, as a dietary supplement or as directed by a qualified health care professional.
Serving Size: 3 Capsules
Amount Per Serving
Vitamin B-6 ... 100mg
(as pyridoxal-5-phosphate)
Folate ... 800mcg
[as Quatrefolic® (6S)-5-Methyltetrahydrofolic acid equivalent to 1600 mcg of (6S)-5-Methyltetrahydrofolic acid, Glucosamine Salt]
Vitamin B-12 ... 500mcg
(as Methylcobalamin)
Magnesium ... 150mg
(as TRAACS® Magnesium Glycinate Chelate Buffered Powder)
N-Acetyl-L-Cysteine ... 600mg
Trimethylglycine ... 500mg
(as betaine anhydrous)
Other Ingredients: Cellulose, rice flour, l-leucine
This product contains NO milk, egg, fish, peanuts, crustacean shellfish (lobster, crab or shrimp), soybeans, tree nuts, wheat, yeast, gluten, beef, or pork. Contains NO artificial sweeteners, flavors, colors or preservatives.
This product is free of ingredients derived from genetically modified organisms (GMOs).
Quatrefolic® is a registered trademark of Gnosis S.p.A. TRAACS® is a registered trademark of Albion Laboratories Inc.
Warnings
If you are pregnant, nursing, or taking any medications, consult your doctor before use. Discontinue use and consult doctor if any adverse reactions occur.