Homocysteine Plus
Allergy Research Group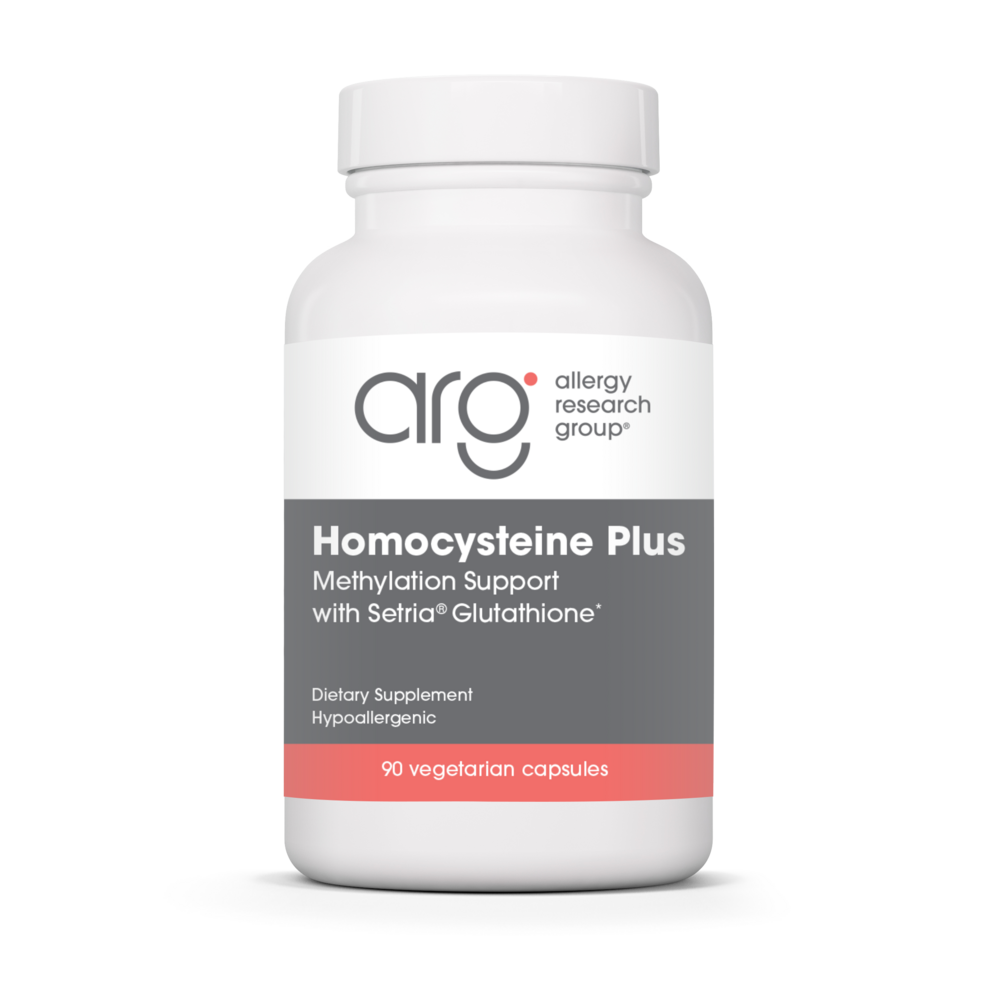 SKU: ARG-72580
Homocysteine Plus

is an updated version of our original Homocysteine Metabolite Formula. It provides the primary nutrients known to be necessary for the breakdown of homocysteine into methionine and other metabolites, including vitamin B6 as pyridoxine and pyridoxal-5'-phosphate (P5P), vitamin B12 as methylcobalamin, folate as 5-methyltetrahydrofolate (5-MTHF), trimethylglycine (TMG), and L-serine.* It is now enhanced with vitamin B2 as riboflavin-5-phosphate, Setria® glutathione, zinc, and increased amounts of activated pyridoxal-5'-phosphate.*
As a dietary supplement, 1 capsule one or two times daily with meals, or as directed by a healthcare practitioner.
Serving Size: 1 capsule
Amount Per Serving:
Vitamin B2 ... 10mg
(as Riboflavin-5-Phosphate)
Vitamin B6 ... 30mg
(50% as Pyridoxine Hydrochloride and 50% as Pyridoxal-5-Phosphate)
5-Methyltetrahydrofolate ... 400µg
(from 740 μg [6S]-5-methyltetrahydrofolic acid, glucosamine salt)
Vitamin B12 ... 400µg
(as Methylcobalamin)
Zinc Picolinate ... 5mg
Trimethylglycine ... 500mg
L-Serine ... 100mg
L-Glutathione (reduced) ... 50mg
Other Ingredients: Hydroxypropyl methylcellulose, magnesium stearate, microcrystalline cellulose, silicon dioxide.
Warning: If you experience any fatigue or adverse reaction, reduce dose or discontinue use.
Variations in product color may occur. Keep in a cool, dry place, tightly capped.