Hormone Balance
Vital Nutrients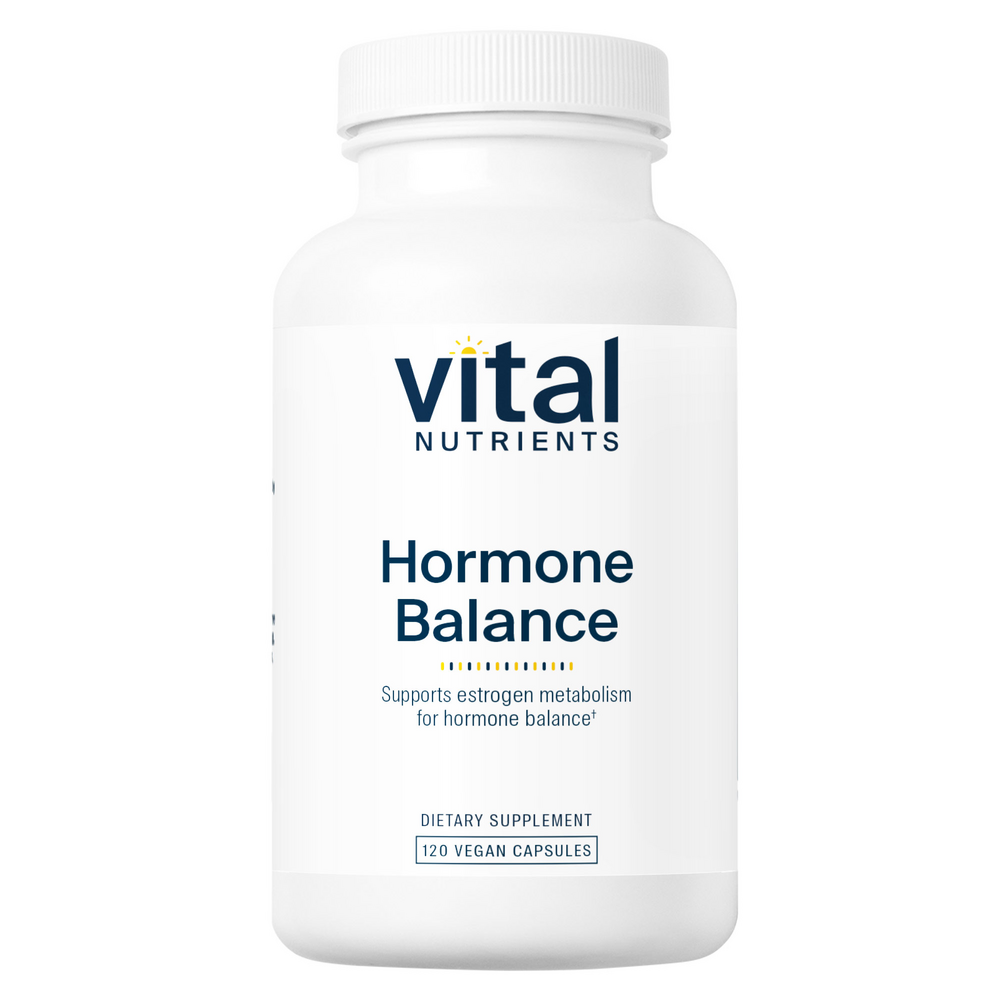 SKU: VN-EB
promotes healthy estrogen metabolism*
increases absorption of flavonoids*
supports breast and prostate health*
Hormone Balance is a unique formula designed to support healthy hormone metabolism.* It contains DIM (diindolylmethane) and concentrated Flax Lignans, both shown to favorably promote normal estrogen metabolism by maintaining the 2/16 hydroxy estrogen ratios in both pre- and post-menopausal women.* This formula contains those nutrients and herbs best supported by research to promote breast and prostate health.* In addition, the formula contains piperine, which has been shown to dramatically increase the absorption of beneficial flavonoids.* It would be prudent to use this formula in combination with a Multi-Nutrients vitamin-mineral supplement in order to assist utilization and nutritional benefits.*
Take 1-2 capsules, 2 times daily, or as directed by a healthcare practitioner.
Serving Size: 2 capsules
Amount Per Serving
Vitamin B6 ... 40mg
(as pyridoxine HCl)
Folate Metafolin® ... 200mcg
(as L-5-MTHF)
Vitamin B12 ... 200mcg
(as methylcobalamin)
Magnesium ... 24mg
(as magnesium citrate)
Diindolylmethane ... 100mg
(DIM)
Broccoli Sprout Powder ... 100mg
SDG ... 54mg
(secoisolariciresinol diglycoside) (from flax lignan powder; 4 caps= 2 tablespoons of flax seed powder)
Curcuma longa Rhizome Extract ... 100mg
(total curcuminoids min. 85-90% by HPLC)
Green Tea Leaf Extract 80% Catechins ... 50mg
(caffeine <1%)
Rosemary Leaf Extract ... 50mg
Black Pepper Fruit/Berry Extract ... 2.5mg
(Bioperine® piperine)
Trans Resveratrol ... 10mg
Other Ingredients: Gelatin Capsule, Cellulose, Ascorbyl Palmitate, and Silica.
Contains: Gluten.
Warning: If pregnant, consult your physician before taking.