N.A.S. Enhancer
Neurobiologix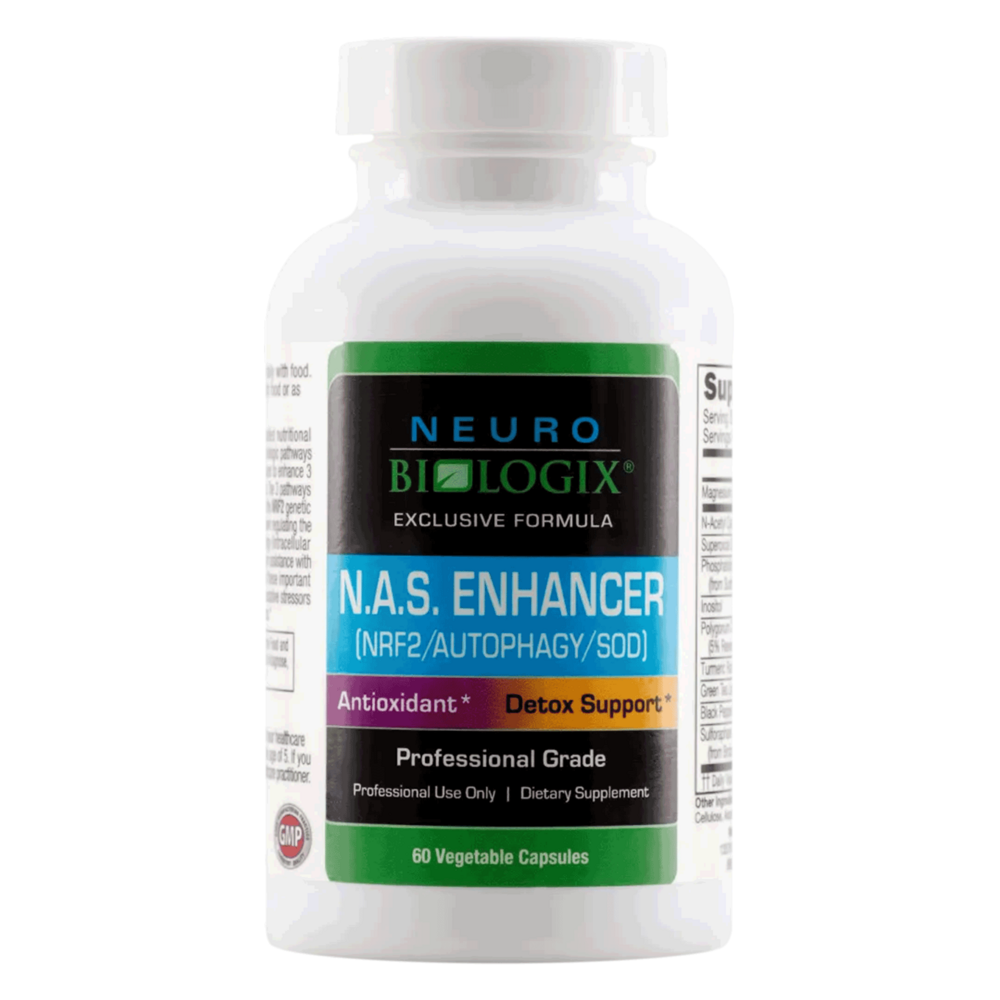 SKU: NEU866-302
NAS Enhancer™ is a formula created by genomic specialist, Kendal Stewart, MD, for the NRF2 pathway, autophagy enhancement and SOD support. This combination of well-studied nutritional ingredients are known to enhance multiple biologic pathways within the cell. This unique combination was chosen to enhance 3 important pathways of intracellular detoxification.*
The 3 pathways include:
1) Activating the leucine zipper protein in the NRF2 genetic pathway to enhance glutathione production*
2) Down regulating the mTOR system of the cell and activate autophagy (intracellular cleansing of by-products)*
3) Providing maximum assistance with antioxidant neutralization within the cell*
Each of these important activities has been shown to protect cells from oxidative stressors and damage while combating the aging process and stimulating autophagy.*

Suggested Use:
Adults take 2 capsules with food. Or as directed by your healthcare practitioner.


Serving Size: 2 Capsules 

Amount Per Serving
Magnesium … 20mg
(as Magnesium Ascorbate)
N-Acetyl Cysteine ... 300mg
Superoxide Dismutase (2000 MFU) … 250mg
Phosphatidylserine 20% ... 200mg
(from Sunflower Seed Extract)
Inositol ... 150mg
Polygonum Cuspdatum Root Extract … 150mg
(Resveratrol 5%)
Turmeric Root Extract ... 100mg
(95% Curcuminoids)
Green Tea Leaf Extract ... 50mg
Black Pepper Extract ... 5mg
(Piper Nigrum)
Sulphorophane ... 60mcg
(Brassica oleracea var italica)


Other Ingredients: Hypromellose (capsule), Microcrystalline Cellulose, Ascorbyl Palmitate and Silicon Dioxide.


Free of: Gluten, Soy, Dairy.
CAUTION:
Women who are pregnant or breastfeeding or children under the age of 5 need to consult with their healthcare provider prior to use. Keep away from direct sunlight and store in dry area.