HTN 180 Px - Extra Strength
Restorative Formulations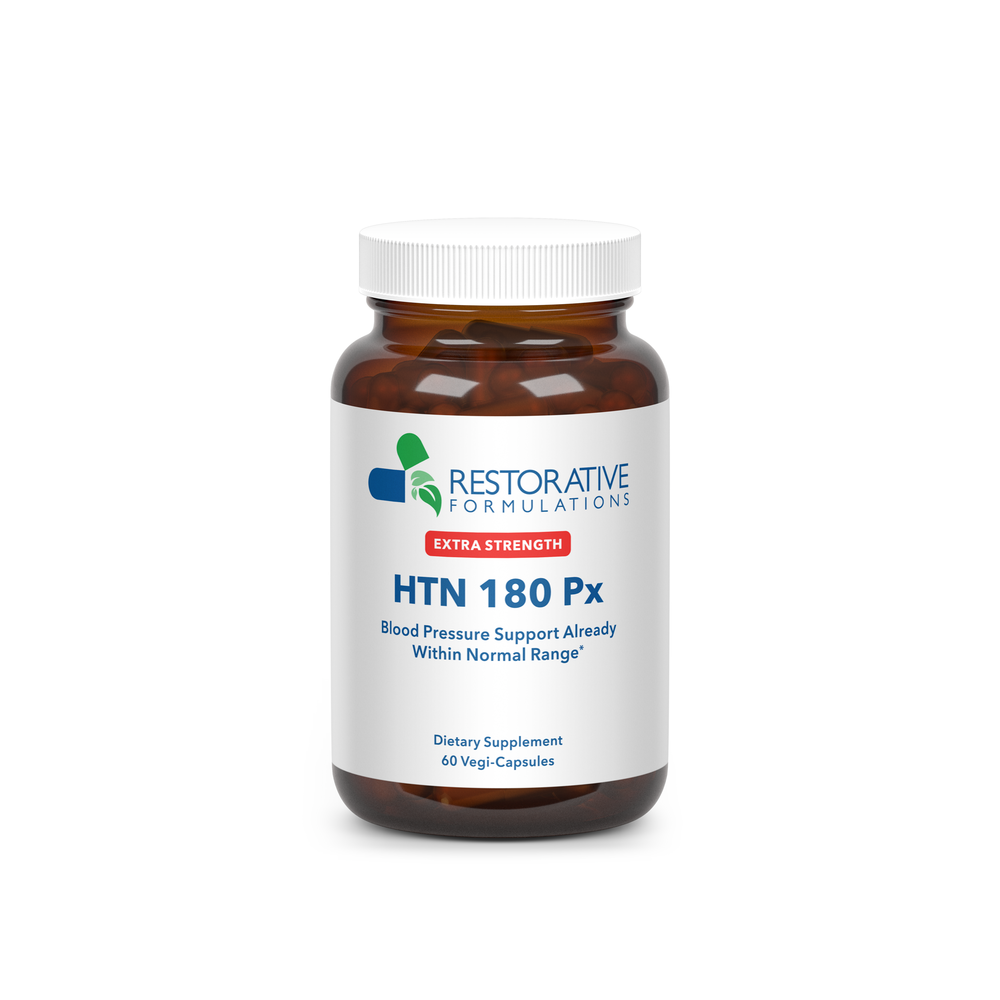 SKU: RF-1175
May promote healthy coronary blood flow and reinforces healthy blood vessel integrity. Helps to support immune function. Contains 8xs the dosage of African Snakeroot,as compared to HTN 180-Px Original.
-Cardiovascular Support
-Preserves Healthy Blood Pressure
-Healthy Parasympathetic Activity
-Optimal Vascular Tone
-Blood Vessel Relaxation Support
HTN 180 Px Extra Strength is designed to optimize cardiovascular function by supporting blood vessel relaxation and coronary blood flow. This formula provides powerful alkaloids such as ajmaline and sparteine that have been investigated for their ability to invoke parasympathetic activity in the brain,potentially helping to calm the mind and body.
This Extra Strength formula contains a higher concentration of snake root than our Original HTN 180-Px formula by eight-fold. The inclusion of mistletoe leaf and Hawthorn berry provide vasoactive amines that have been shown in research to support healthy vascular function.
Adults take 1 vegi capsule once or twice daily, or as directed by your health care practitioner.
Serving Size:
1 capsule
Amount Per ServingAfrican Snake root
... 150mg
Proprietary blend with Organic Rice Flour (Rauwolfia vomitoria)
Organic Motherwort herb
... 145mg
(Leonurus cardiaca)Organic Hawthorn leaf and flower 1.25%
Vitexins
... 100mg
(Crataegus spp)
Organic Passionflower herb
... 100mg
(Passiflora spp.)
Organic European Mistletoe herb
... 50mg
(Viscum album)
Other Ingredients:
Pullulan Capsule
Product is free of GMOs, wheat, gluten, nuts, eggs, soy, dairy, binders, preservatives and animal derived ingredients.
Do not use if clear safety seal around bottle neck is broken or missing
Caution:
This product may potentiate blood pressure lowering medications. Monitor blood pressure while taking this product. If pregnant, nursing, considering pregnancy or have a history of depression, do not use without first consulting with your health care practitioner. Keep out of reach of children. Do not exceed recommended amount.