Adrenal Px Balance Capsules
Restorative Formulations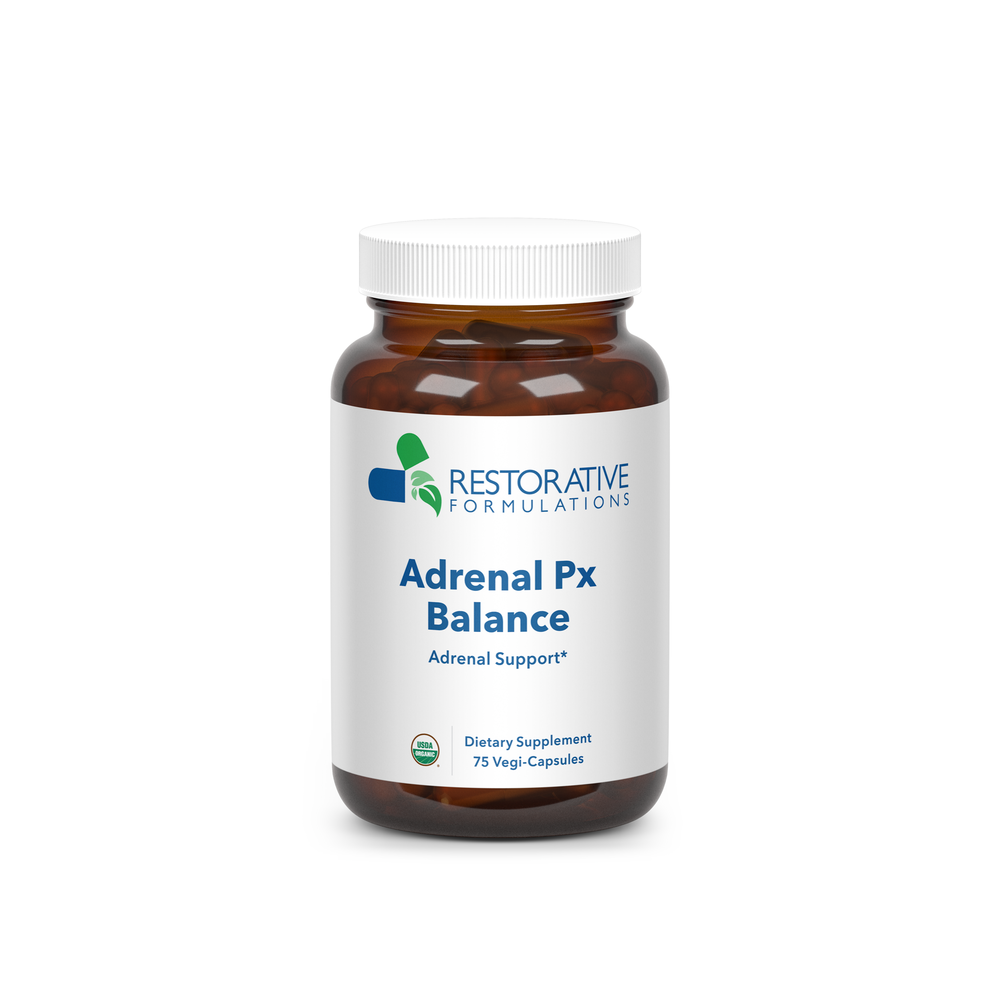 SKU: RF-1020
Supports antioxidant defenses to provide protection from harmful free radicals. Gently supports adrenal function to promote physical vitality and mental sharpness. Calming to the nervous system. Supports blood vessel integrity.
Adrenal Support
Supports Healthy Mental Performance
Moderates DHEA Levels
DHEA/Cortisol Ratio
Combats Occasional Fatigue
Adrenal Px Balance products provide highly concentrated adaptogenic herbal support for adrenal function. This formula was specifically designed to reduce occasional fatigue, increase resistance to stress and help maintain healthy cortisol levels during stressful life events. The addition of the adaptogenic herbal extracts of Holy Basil and Rhodiola offer an enhanced calming effect on the nervous system along with providing adrenal support. Adrenal Px Balance Capsules contain a similar formula as Adrenal Px Balance Syrup, with the addition of Rhodiola and Holy Basil, and a difference in the dosage form. When compared to Adrenal Px L-BP, Adrenal Px Balance capsules and syrup are meant for more general indications.
Suggested Use:
Take 1 to 2 capsules twice daily. or as recommended by your healthcare practitioner. Can be taken with or without food.
Serving Size: 2 capsules

Amount Per Serving
Vitamin C ... 30mg
(Ascorbic acid)
Organic Rhodiola root ... 500mg
(Rhodiola rosea). (1.0% Rosaving, 5mg)
Organic Holy Basil Leaf ... 400mg
(Ocimum sanctum) (0.5% Volatile oils, 2mg)
Organic Hawthorn Leaf and Flower ... 300mg
(Crataegus monogyna) (1.25% Vitexins, 3.75 mg)
Organic Alfalfa Herb ... 100mg
(Medicago sativa)

Other Ingredients: Vegetable Capsule (cellulose).
Caution: If pregnant, nursing or considering pregnancy do not use without first consulting with your health care provider.

Keep out of reach of children.

Discontinue use if rapid heart rate, or skin reactions occurs. Due to potential drug-herbal interactions, tell your physician about any medications you are taking.