Hydration + Collagen Tropical Blast
Vital Proteins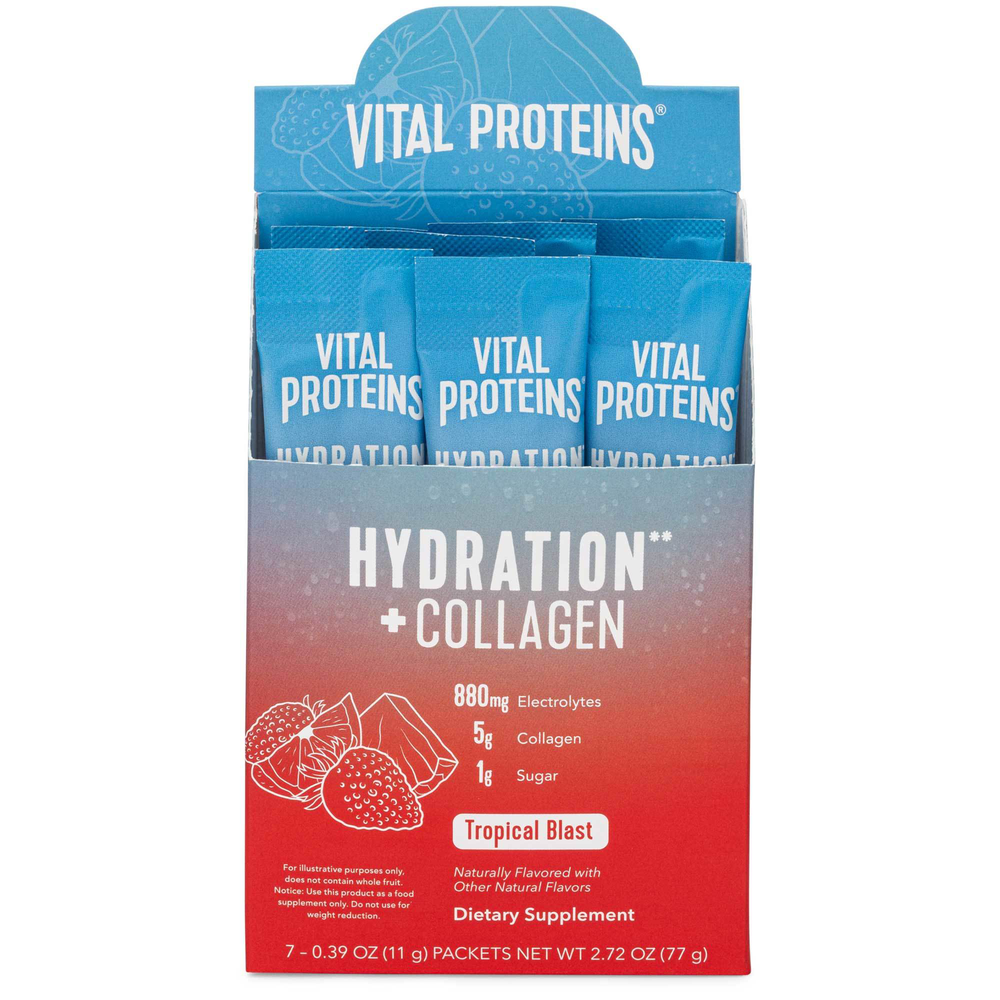 SKU: VIT363-VPHT7SPBTV2
Vital Proteins Hydration** + Collagen is the only electrolyte powder on the market that combines 5g of grass-fed, pasture-raised collagen, 800mg of electrolytes and 1g of functional sugar per serving for effective hydration.* This powder combines low-sodium electrolyte ratio, collagen, vitamin C and B vitamins. In two refreshing flavors — Lemon Lime and Tropical Blast — it can be easily mixed with water, is made without dyes, and boosted with functional ingredients that users can feel good consuming every single day, anytime of the day. - 800mg electrolytes - 2% DV Sodium - 1g Functional Sugar - 5g Collagen Peptides - 100% DV Vitamin C - B Vitamins Active Ingredients Bovine Collagen: 5g per serving of grass-fed, pasture-raised bovine hide collagen helps promote collagen synthesis and supports healthy hair, skin, nails, bones and joints** Other ingredients: Citric Acid, Natural Flavors, Tapioca Dextrose (D-Glucose), Dipotassium Phosphate, Potassium Chloride, Magnesium Carbonate, Calcium Carbonate, Vitamin C (Ascorbic Acid), Sea Salt, Stevia Leaf RebM, Niacin (as niacinamide), Pantothenic acid (as d-calcium pantothenate), Monk Fruit Extract, Vitamin B6 (as Pyridoxine HCl), Vitamin B12 (as cyanocobalamin). Easy To Use Combine 1 packet with 12 fl. oz. of water, mix thoroughly or as directed by your healthcare provider. Cool with ice after mixing. Product Information Low Sodium, Low Sugar, Made without Top 8 Allergens (dairy, gluten, peanut, tree nut, fish, shellfish, egg, soy) Each batch of collagen is third party lab tested for mircorganisms and heavy metals to ensure quality and safety. Our recyclable canisters are BPA/BPS free and filled at our cGMP and NSF certified facility.
Combine 1 sachet with 12 fl oz of water, mix thoroughly. Use as directed by your healthcare provider.

Serving Size: 1 Packet (11g)

Amount Per Serving
Calories ... 25
Total Carbohydrates ... 1g
Total Sugars ... 1g
Added Sugars ... 1g
Protein ... 5g
Vitamin C ... 90mg
(as ascorbic acid)
Niacin ... 23mg NE
(as niacinamide)
Vitamin B6 ... 2.3mg
(as pyridoxine HCl)
Vitamin b12 ... 7mcg
(as cyanocobalamin)
Pantothenic Acid ... 11.4mg
(as D-calcium pantothenate)
Calcium ... 99mg
(as calcium carbonate)
Magnesium ... 72mg
(as magnesium carbonate)
Sodium ... 45mg
Potassium ... 670mg
Collagen Peptides ... 5g
(from bovine)

Other Ingredients: Citric acid, natural flavors, tapioca dextrose (D-Glucose), dipotassium phosphate, potassium chloride, sea salt, stevia leaf Reb M, monk fruit extract
If you are pregnant, nursing or have a medical condition, consult your physician before use.