Intestinal Repair Mixed Berry
Barlean's Organic Oils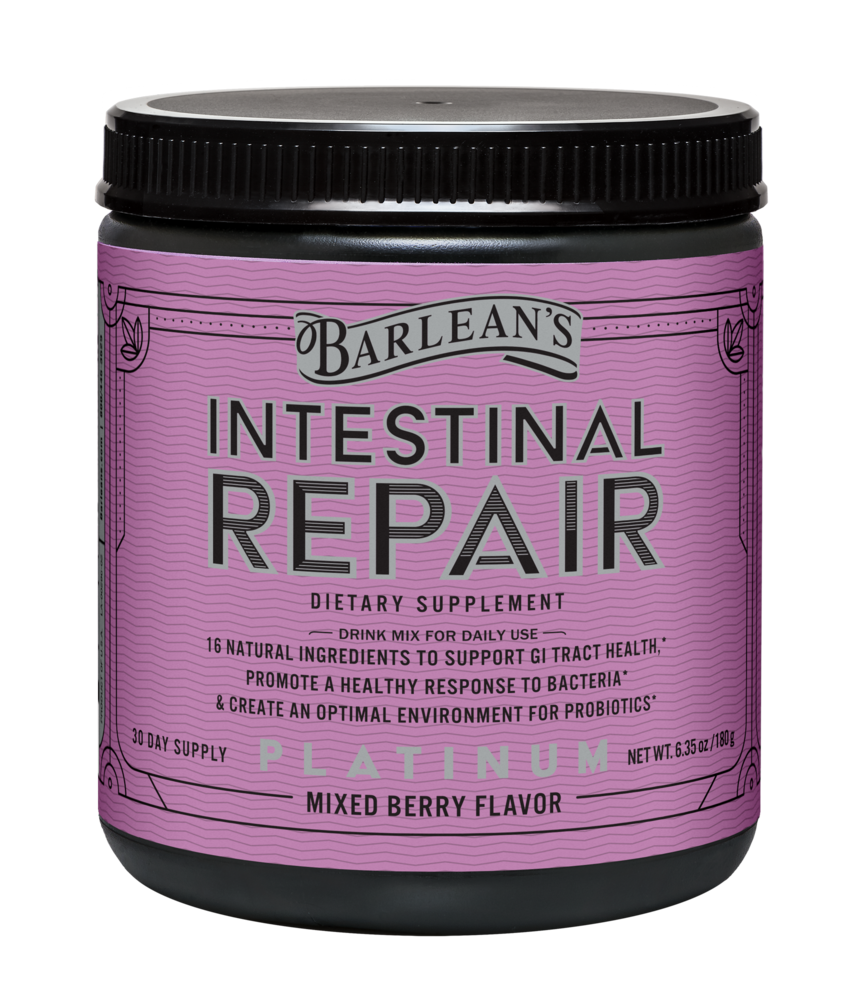 SKU: BAR-FG10102
Our goal was to create the best and most complete intestinal repair product on the market. We started with a long list of gut-health support ingredients*--L-Glutamine, N-Acetyl Glucosamine, Quercertin, MSM, Sweet Wormwood, Zinc and more--then combined them in the most optimal quantities of each. Barlean's Intestinal Repair is a three-in-one product formulated to support the health of your intestinal terrain* with a powerful blend of ingredients including: Natural anti-fungal and anti-bacterial herbs to help eliminate harmful bacteria* Prebiotics to feed beneficial bowel flora Terrain healing ingredients to repair and support the semi-permeable lining of the intestines* Daily use can help to: Repair and maintain GI tract health* Support repair of leaky gut* Kill candida and other harmful bacteria* Create an optimal environmental for probiotics*

Suggested Use:
Take 2 tsp daily. Mix into 8 oz of water or your favorite juice or smoothie


Serving Size: 2 Tsp (6 g)

Amount Per Serving
Calories ... 15
Total Carbohydrate ... 4 g
Dietary Fiber ... 2 g
Protein ... 1 g
Zinc ... 3 mg
(as Zinc carnosine)
L-Glutamine ... 500 mg
N-Acetyl Glucosamine ... 300 mg
Deglycyrrhizinated Licorice Root Extract ... 300 mg
Marshmallow Extract 4:1 ... 300 mg
Sweet Wormwood ... 200 mg
(Artemisia annua)
Methylsulfonylmethane ... 150 mg
(MSM)
Banana Powder ... 150 mg
Quercetin ... 100 mg
Plum Juice Powder ... 100 mg
Aloe Vera 200X ... 50 mg
Perilla Extract ... 50 mg
Berberine ... 1 mg
Fiber Blend ... 2,400 mg
(Chicory inulin, flaxseed, and arabinogalactan)

Other Ingredients: Tapioca starch, natural flavor, citric acid, stevia leaf extract, red beet (for color), silicon dioxide
Best kept refrigerated after opening. Keep out of reach of children.