K2-D3 w/Astaxanthin 30c
Douglas Labs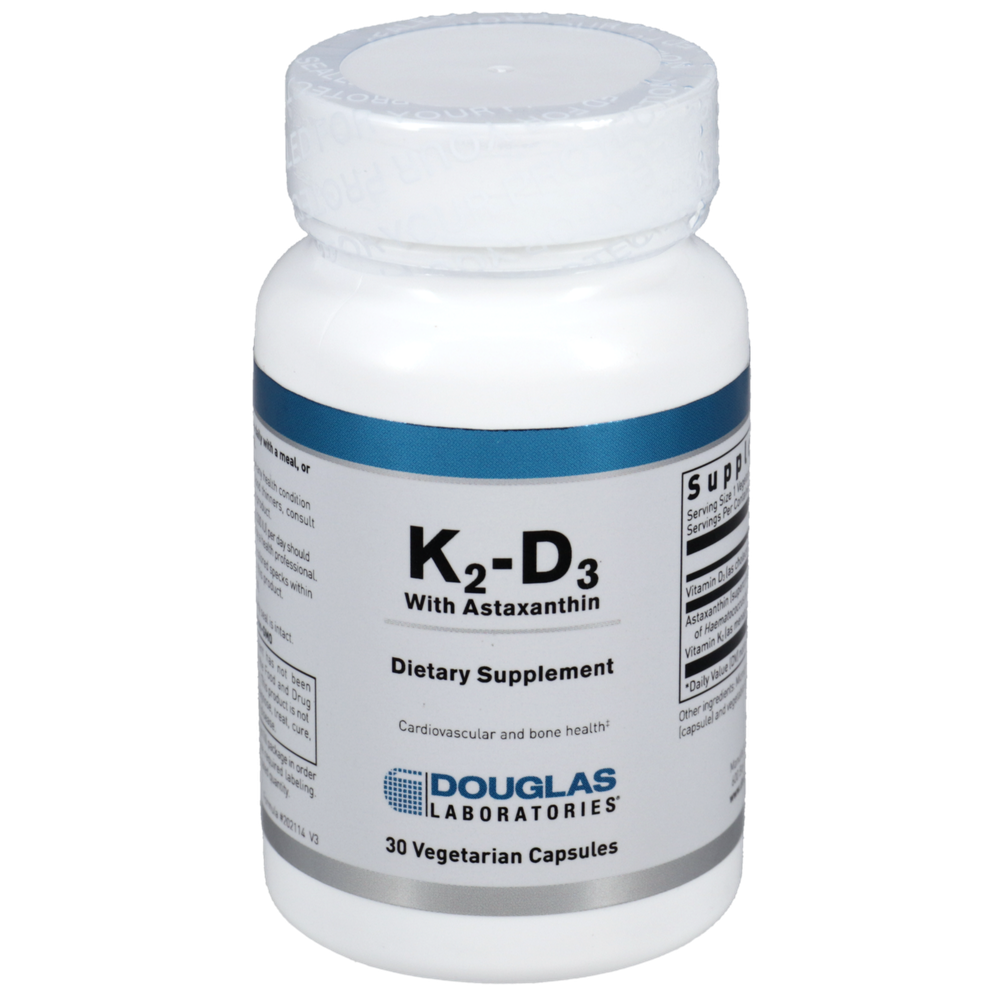 SKU: DL-20211430X
High potency Vitamin K2 with Vitamin D-3 and Astaxanthin for bone and heart health‡
K2-D3 With Astaxanthin supplies a significant amount of biologically active vitamin K2 in the form of menaquinone-7 (MK-7) (soy-free), plus Vitamin D3 for cardiovascular and bone health. Astaxanthin, an antioxidant, helps to support vascular health.‡
Suggested Use:
Adults take 1 capsule daily with a meal or immediately following a meal, or as directed by your healthcare professional.
Serving Size: 1 Softgel
Amount Per Serving
Vitamin D3 … 2,500 IU
(cholecalciferol)
Vitamin K2 … 180 mcg
(as menaquinone-7)
Astaxanthin … 2 mg
(Supercritical CO2 extract of Haematococcus, pluvialis, entire plant)
Other ingredients: Hydroxypropyl methylcellulose (capsule), cellulose, vegetable stearate.
*MK-7 is soy-free
This product contains NO yeast, wheat, gluten, soy, sodium, starch, artificial coloring, artificial preservatives or genetically modified organisms (GMOs).
Warning: This product contains Vitamin K, which interferes with the prescription drug Coumadin (Warfarin) and blood thinners. Consult your physician before taking this product.
Note: People consuming more than 2,000 IU per day should have their vitamin D blood levels monitored by a healthcare professional.
Store in a cool, dry place, away from direct light. Keep out of reach of children.