Keto-Elemental Nutrition - Chocolate
Vita Aid Professional Therapeutics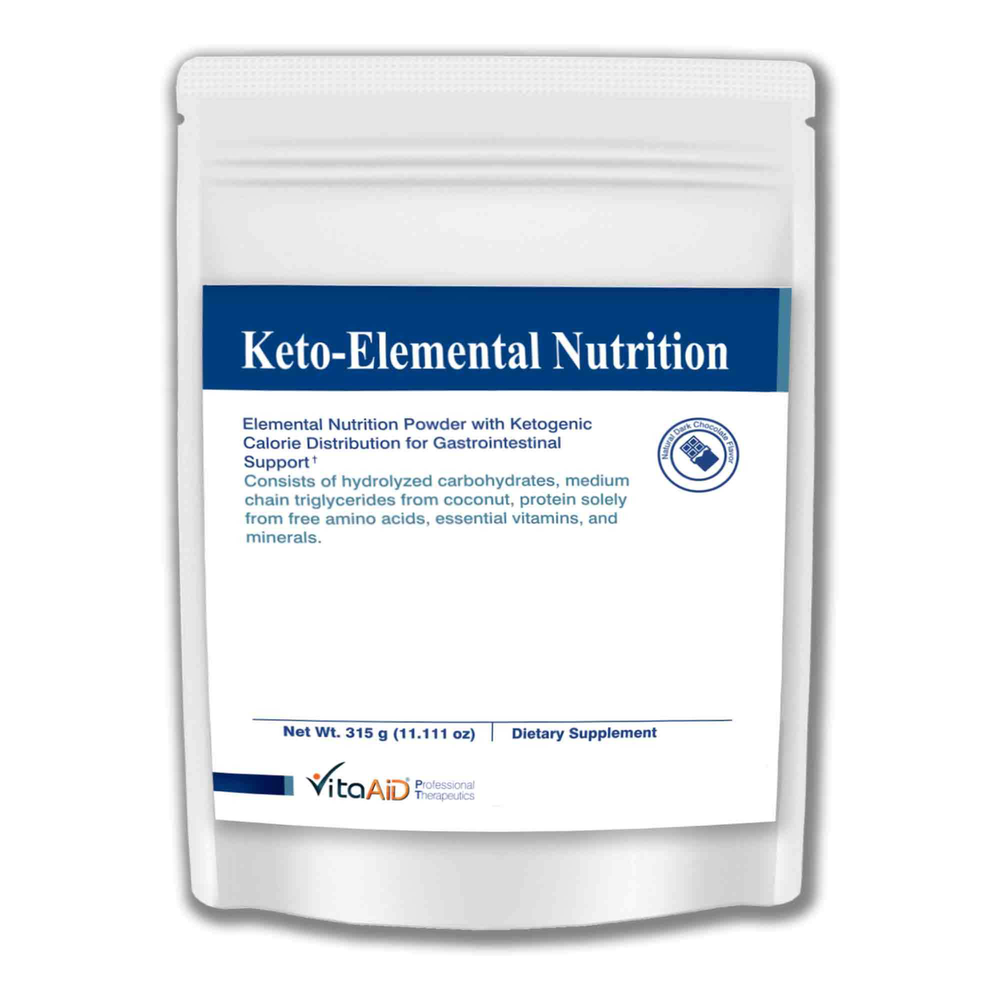 SKU: NAP604-VA962
Elemental Nutrition Powder with Ketogenic Caloric Distributions for Gastrointestinal Support*

Consists of hydrolyzed carbohydrates, medium-chain triglycerides from coconut, and protein solely from free amino acids. essential vitamins, and minerals.
Suggested Use:
Adults - Thoroughly mix 2 scoopfuls (1 serving) in 6-8oz (178-236mL) room temperature water. Additional water may be added to the mixture as desired. Take 1-2 servings, 2-3 times a day, or as directed by a health care practitioner.

Once mixed with water, any product that is not consumed within 60 minutes should be discarded.


Serving Size: 2 Scoops (approx 35g)

Amount Per Serving
Total Calories ... 240
Total Fats ... 15.6g
Total Carbohydrates ... 8.5g
Sugar ... 0g
Added Sugar ... 0g
Protein ... 7.5g
Sodium ... 14mg
Potassium ... 85mg
Vitamin A ... 255mcg RAE
(850 IU) (from vitamin A palmitate)
Vitamin C ... 20mg
(ascorbic acid)
Vitamin D3 ... 2.5mcg
(100 IU) (cholecalciferol)
Vitamin E ... 6.7mg AT
(10 IU) (d-alpha tocopheryl acetate)
Vitamin K2 ... 10mcg
(menaquinone-7)
Vitamin B1 ... 0.5mg
(from thiamine hydrochloride)
Vitamin B2 ... 0.5mg
(from riboflavin-5-phosphate, sodium)
Vitamin B3 ... 4mg
(niacinamide)
Vitamin B6 ... 1mg
(pyridoxal-5-phosphate, calcium)
Folate ... 60mcg
(from L-5-MTHF, calcium)
Vitamin B12 ... 1.5mcg
(methylcobalamin)
Biotin ... 50mcg
Vitamin B5 ... 4mg
(from calcium d-pantothenate)
Calcium ... 85mg
(from calcium bisglycinate)
Iron ... 2mg
(from iron (II) bisglycinate)
Phosphorus ... 85mg
(from potassium phosphate)
Iodine ... 20mcg
(from potassium iodide)
Magnesium ... 40mg
(from magnesium bisglycinate)
Zinc ... 2.5mg
(from zinc gluconate)
Selenium ... 25mcg
(from selenium glycinate)
Copper ... 150mcg
(from copper (II) bisglycinate)
Manganese ... 200mcg
(from manganese (II) bisglycinate)
Chromium ... 15mcg
(from chromium (III) nicotinate bisglycinate)
Molybdenum ... 10mcg
(from molybdenum (VI) bisglycinate)
Choline ... 35mg
(from choline bitartrate)
L-Serine ... 200mg

Other Ingredients: Medium chain triglycerides (from coconut), tapioca maltodextrin, glycine, taurine, L-alanine, L-arginine, L-cysteine, L-glutamine, L-histidine, L-leucine, L-lysine, L-methionine, L-proline, L-threonine, L-tryptophan, L-tyrosine, L-valine, L-aspartic acid, L-isoleucine, L-phenylalanine, L-carnitine, rebaudioside M, natural flavor, sodium chloride

Contains no gluten, dairy allergen, fructose, sucrose, lactose, artificial colors, and flavors, or preservatives

*IU- International Units
Caution: Consult a health care practitioner prior to use if you are on a fat-restricted diet, or if you are using this product as a meal replacement.

*This product may be used in conjunction with a ketogenic diet. Starting on a ketogenic diet may initially cause nausea/vomiting due to the stimulation of bile secretions; in which case, you may reduce the amount of each serving and/or drink slowly (e.g. 45 minutes/serving).

Store at room temperature away from heat and moisture (<85°F/<60%RH). Please finish consuming the product within 7 days after opening. Do not use if the package is not properly sealed. Keep out of reach of children.