Perinatal Multi+ Kit
Vita Aid Professional Therapeutics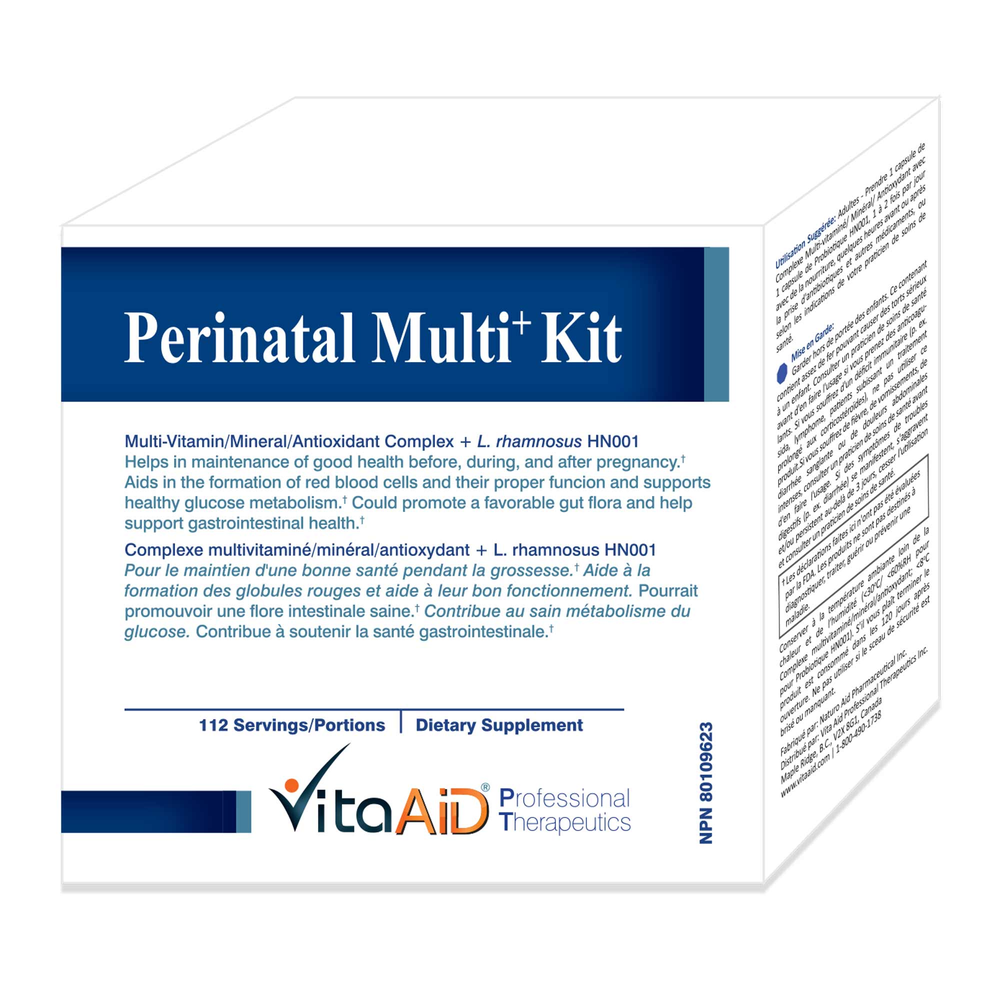 SKU: NAP604-VA921
Perinatal Multi+ Kit is a comprehensive multi-formula for women planning to get pregnant, during pregnancy, and breastfeeding. It provides essential vitamins and minerals, plus probiotic L. rhamnosus (HN001) to support the gut and immune heath of both mother and child.
* Provides essential vitamins & minerals for women before, during, and after pregnancy.
* Formulated with Active Forms of B-Vitamins (ie. 5-MTHF [800 mcg/day], methylcobalamin, P5P, R5P).
* Perinatal supplementation of L. rhamnosus HN001 has been clinically shown to support healthy blood sugar metabolism during gestation and healthy immune functions of newborns.
* All minerals included are amino acid chelates to ensure optimal absorption and avoid toxicity.
* Natural Mixed Carotenoids as the only source of vitamin A.
Suggested Use:
Adults: Take 1 capsule of Multi-Vitamin/ Mineral/Antioxidant Complex with 1 capsule of Probiotic HN001, 1-2 times daily, with food, a few hours away from antibiotics and other medications, or as directed by a healthcare practitioner.
Serving Size: One Capsule of Perinatal Multi-Vitamins + One Capsule of L. rhamonsus HN001
Amount Per Serving
Vitamin C ...50 mg
(ascorbic acid)
Vitamin D3 ... 12.5 mcg
(500 IU) (cholecalciferol)
Vitamin K2 ... 45 mcg
(menaquinone-7)
Vitamin B1 ... 10 mg
(from thiamine HCl)
Vitamin B2 ... 5 mg
(from riboflavin-5-phosphate (sodium salt))
Vitamin B3 ... 12.5 mg
(niacinamide)
Vitamin B6 ... 30 mg
(pyridoxal-5-phosphate)
Folate ... 400 mcg
(from calcium L-5-MTHF)
Vitamin B12 ... 250 mcg
(methylcobalamin)
Biotin ... 50 mcg
Vitamin B5 ... 15 mg
(from calcium-d-pantothenate)
Choline ... 10 mg
(from choline bitartrate)
Calcium ... 75 mg
(from calcium bisglycinate)
Iron ... 15 mg
(from iron bisglycinate) (Ferrochel®)
Iodine ... 65 mcg
(from potassium iodide)
Magnesium ... 40 mg
(from magensium bisglycinate)
Zinc ... 7.5 mg
(from zinc bisglycinate)
Selenium ... 25 mcg
(from selenium glycinate)
Copper ... 300 mcg
(from copper bisglycinate)
Manganese ... 0.5 mg
(from manganese bisglycinate)
Chromium ... 25 mcg
(from chromium nicotinate glycinate)
Molybdenum ... 25 mcg
(from molybdenum bisglycinate)
Inositol ... 5 mg
Mixed Natural Carotenoids ... 0.75 mg
Mixed Tocopherols ... 20 mg
Lutein ...1,000 mcg
(isolated from Tagetes erecta)
Lactobacillus rhamnosus (HN001) ... 3 billion CFU††
Other Ingredients: Silicon dioxide, L-leucine, tapioca maltodextrin, microcrystalline cellulose, hypromellose (capsule).
Does not contain: gluten, dairy, GMOs.
Ideal for Vegetarians
Warning: Accidental overdose of iron-containing products is a leading cause of fatal
poisoning in children under 6. Keep this product out of reach of children. In case of
accidental overdose, call a doctor or poison control center immediately.