Keto-Elemental Nutrition (Thai Soup)
Vita Aid Professional Therapeutics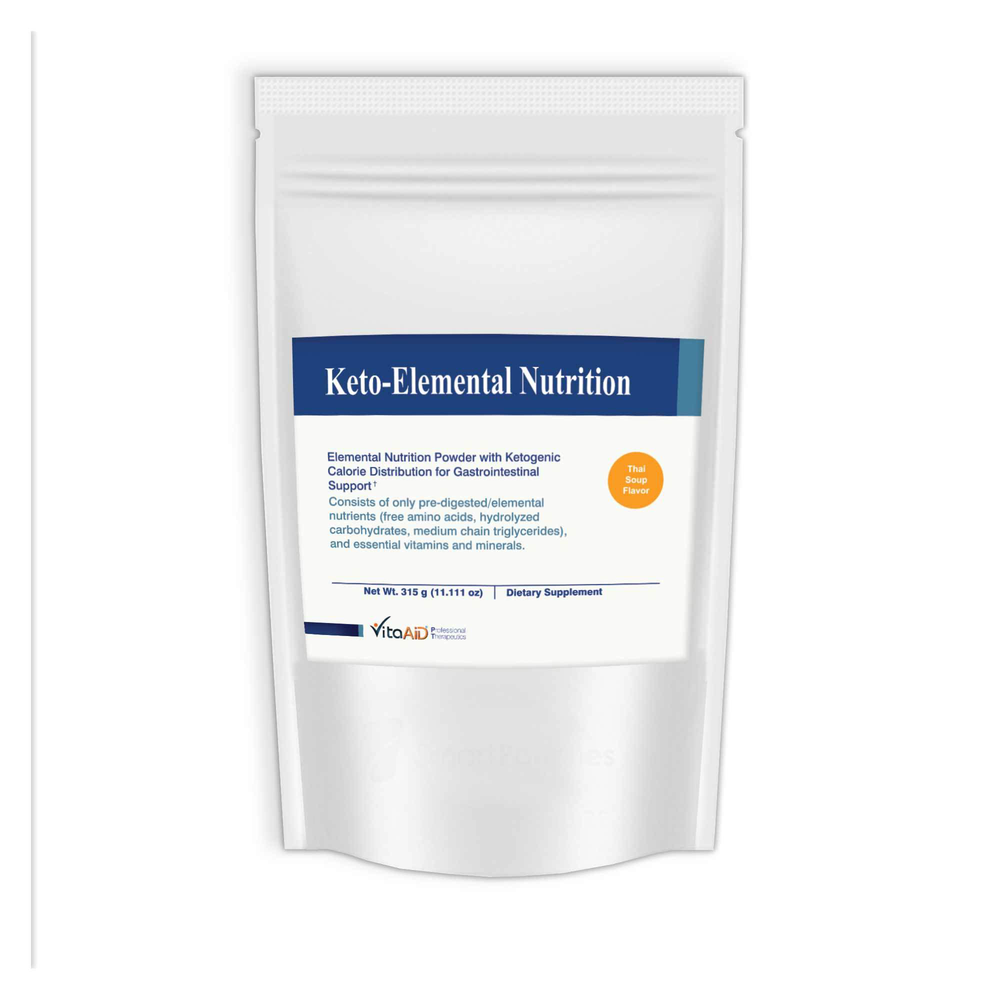 SKU: NAP604-VA958
For patients with duodenal overgrowth or co-existing fungal overgrowth, even simple carbohydrates like maltodextrin can potentially be utilized by the bacteria/fungi before they can be absorbed by the body. By incorporating ketogenesis in Elemental Nutrition, we can further limit the food sources of the bacterial overgrowth, as well as providing a better sense of satiety.


Suggested Use:
Thoroughly mix 2 scoopful (1 serving) in 6-8 oz. (178-236 mL) lukewarm water (<43˚C). Additional water may be added to the mixture as desired. Take 1-3 servings per meal, or as directed by a health care practitioner.
Once mixed with water, any product that is not consumed within 60 minutes should be discarded.

Servings Size: 2 Scoops (approx. 35 g)

Amount Per Serving
Total Calories ... 204 kcal
Total Fats.....15.6 g (140 kcal)
Total Carbohydrates.....8.5 g (34 kcal)
Sugar.....0 g
Added Sugar.....0 g
Protein.....7.5 g (30 kcal)
Sodium.....195 mg
Potassium.....85 mg
Vitamin A (from vitamin A palmitate) (850 IU).....255 mcg RAE
Vitamin C (ascorbic acid).....20 mg
Vitamin D3 (cholecalciferol) (100 IU).....2.5 mcg
Vitamin E (d-alpha tocopheryl acetate) (10 IU).....6.7 mg AT
Vitamin K2 (menaquinone-7).....10 mcg
Vitamin B1 (from thiamine hydrochloride).....0.5 mg
Vitamin B2 (from riboflavin 5'-phosphate, sodium).....0.5 mg
Vitamin B3 (niacinamide).....4 mg
Vitamin B6 (from pyridoxal 5'-phosphate, calcium).....1 mg
Folate (from L-5-MTHF, calcium).....60 mcg
Vitamin B12 (methylcobalamin).....1.5 mcg
Biotin.....50 mcg
Vitamin B5 (from calcium d-pantothenate).....4 mg
Calcium (from calcium bisglycinate).....85 mg
Iron (from iron (II) bisglycinate).....2 mg
Phosphorus (from potassium phosphate).....85 mg
Iodine (from potassium iodide).....20 mcg
Magnesium (from magnesium bisglycinate).....40 mg
Zinc (from zinc gluconate).....2.5 mg
Selenium (from selenium glycinate).....25 mcg
Copper (from copper (II) bisglycinate).....150 mcg
Manganese (from manganese (II) bisglycinate).....200 mcg
Chromium (from chromium (III) nicotinate glycinate).....15 mcg
Molybdenum (from molybdenum (VI) bisglycinate).....10 mcg
Choline (from choline bitartrate).....35 mg
L-Serine ... 200 mg

Other Ingredients: Medium chain triglycerides (from coconut), tapioca maltodextrin, natural flavors, sodium chloride, mixed carotenoids, glycine, taurine, L-alanine, L-arginine, L-cysteine, L-glutamine, L-histidine, L-leucine, L-lysine, L-methionine, L-proline, L-threonine, L-tryptophan, L-tyrosine, L-valine, L-aspartic acid, L-isoleucine, L-phenylalanine, L-carnitine

Contains no wheat, gluten, soy, dairy products, fructose, sucrose, lactose, artificial colors and flavors, or preservatives.


Consult a health care practitioner prior to use if you are on a fat-restricted diet.